Prepare your garden for winter blooms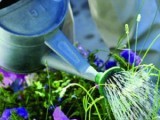 Once you have decided which crops and flowers you want in your garden this fall,  get ready to plant some seeds for your winter garden.
When to sow seeds?
For a winter harvest, sow your seeds as soon as fall begins. For people living in Karachi and Lahore the last week of September and beginning of October is ideal. Read your seed packs to find out more about the temperatures required for the germination of seeds. Most vegetables will be ready to be harvested in 60-80 days.
Where to sow seeds?
You have three options here. Select according to your skill level and plant requirement.
1. Direct Sow: Some plants do not like to be transplanted. Sow the vegetables/herbs and flowers directly where you plan them to grow.
2. Seed trays: You can start seedlings in seed trays. Plant seeds in individual cells. Later on, you will need to transplant them to bigger containers or to a plot of land.
3. Large containers: They are an alternative for seed trays.
How to sow seeds?
1.  Read your seed pack and find out the depth at which the seed need to be sown.
2.  Take a seed tray and cover the drainage holes with a piece of newspaper.
3.  Fill each cell with a good mixture of soil (70%) and manure/compost (30%).
4.  Put the seed on the surface.
5.  Lightly cover with sieved manure (most vegetables and herbs will be covered a quarter of an inch deep).
6. Water with a soft shower and put it in the sun.
7.  Do not forget to put tags!
I have used a three-inch seed tray and used wooden sticks as tags. I sowed my seeds on September 17th. Most of the seedlings emerged by the following week. It is time to transplant some of them.  Which seeds are you sowing this time?