Got the minimum GPA? No? Then no IoBM degree for you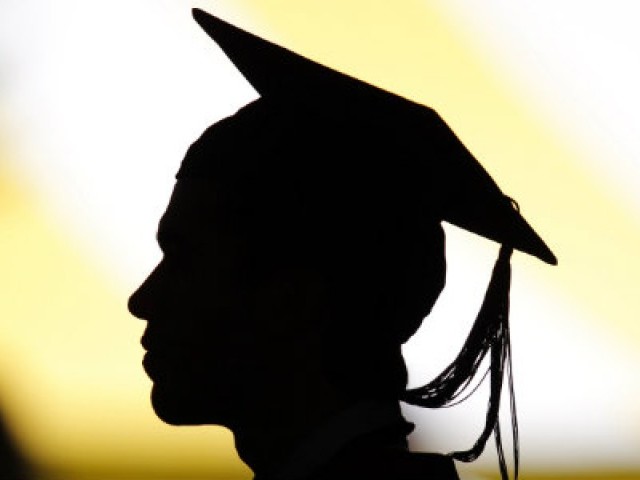 A convocation ceremony marks the end of an academic journey and the beginning of a professional one. The sixteenth annual convocation of the Institute of Business Management (IoBM) took place in Karachi on December 7, 2013. It was a time of celebration for all those students who were finally getting their ultimate reward – their degrees.
Among this merriment and joy, however were those living under clouds of gloom and despondency. These students were those who had passed all their courses but had been unable to maintain a minimum Grade Point Average (GPA) of 3.0 — a requirement set by the administration that every student must complete their program with.
It's hard to believe, but the institute makes it compulsory for every student to graduate with a 3.0 GPA or higher. Even when students have completed their courses, they are required to repeat them in order to improve their grades and meet the required criteria. Every year, a number of students are unable to receive their degrees even after completing their program simply because they are short of a couple of points from the required average.
This year I was one such student.
In my opinion, achieving a high grade in your academics is something that should be optional, not compulsory.
Students work hard to successfully complete their program and begin their professional lives. Out of the entire batch, there are only a few who earn distinctions or exceptionally high grades. The rest are just slightly above, below or plain average scorers.
A GPA or grading plan is not the fundamental test of intelligence or the harbinger of success in the professional world. I have come across many who are leading average professional careers despite having had high academic achievements.
Similarly, I have also seen cases where the individuals had average or low academic scores but have done really well professionally and became more successful than their counterparts.
The idea that maintaining a high GPA will land you the best job in the world when seeking employment is an urban myth. And yet, our institutions want their students to compete with the crème de la crème of graduates from both, local and foreign universities on the basis of a high GPA.
In a job market which is becoming increasingly volatile, opportunities are scarce and the chances of getting a decent job are already meager. Fresh graduates have to apply at 10 to 15 organisations at a minimum and even then, they are considered lucky if contacted by a single potential employer.
At this point, the ordeal is far from over for us young people.
Many employers do not believe in giving us a fair chance until they have a strong reference and all our hard-earned grades become nothing but ink and paper.
It is almost like life has played the worst prank on you. Don't believe me? Go ask people in hiring positions how closely they look at the GPA when considering the applicant sitting in front of them.
So my question is: how competitive am I going to be even after repeating those courses?
Would the improvement of 0.1 or 0.2 grade points guarantee a job for me in one of the Fortune 500 companies out there? Even more incredulously, would reaching 3.0 mean I am now just that much more intelligent or capable overall?
I hardly think that such a minor improvement in my GPA will open up new avenues or make my intellectual abilities equivalent to that of Albert Einstein.
So if there is no guarantee, then why do I have to study the same material, waste my time, money and energy again, just to fulfill an institute's unrealistic requirements? Bear in mind, the 3.0 requirement is not a global standard. In most educational institutes, if you pass all your courses, you may be completely mediocre or an underachiever – but you will get your degree.
I understand that the rules and regulations are there to ensure excellence. However, when these rules become hurdles and restrict the students' path to progress unnecessarily, the rules need to be questioned.
Students should be self-motivated to earn high grade points and they should be appreciated when they do.
But making it a mandatory system for graduation is not fair to the students and their future.
Loading ...