Cyber love, Skype affairs and affection that kills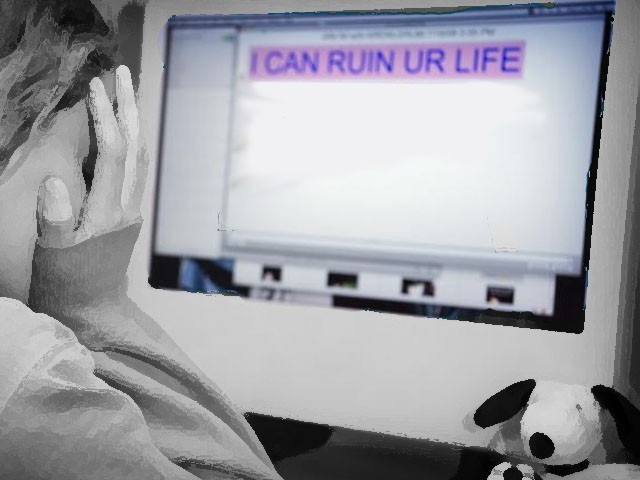 "Hi, would you like to become friends with me?"

"Well, you are a stranger and I am not allowed to talk to strangers."

"If we talk, we can get to know each other, then we won't be strangers anymore."
And that is how it all begins… just some 'harmless fun'.
Stories of rape, blackmail and abuse have become quite frequent of late. These tales are not limited to any particular class or strata of our patriarchal society.
To quote just one personal incident, my maid's daughter, a girl who was hardly 17-years-old at the time, eloped with a relative's acquaintance and was recovered from another city. The family of the girl, devastated beyond measure, brought her home where she was tortured by her father and not allowed to leave the premises of the house.
Unfortunately, the saga of dishonour is far from over for the family. Her pictures and private videos had already been circulated among friends and relatives, making the girl a 'curse' for her family.
Eventually, her father gave in to the mockery and humiliation, took an iron rod to her head and killed the girl.
It doesn't take more than the cheapest of mobile phones to make such a video — all phones now provide this facility. The boy who took the video did not need social media networks to 'bring shame' to the family and take his revenge. All he did was transfer the video from one mobile to another via Bluetooth and messaging.
Destroying a life is just that easy now.
This type of blackmail has become fairly common in Pakistan and it can often spiral out of control.
The wife of a close friend of mine hung herself after being blackmailed online. At first, I was numb and dumbfounded — how could you be blackmailed online? The suicide note read:
"I am afraid but I think its goodbye forever. I love you. I'm sorry because I'm not the perfect wife, but I tried. I'm sorry, I'm sorry. I love you so much… Soon it will all be over."
Although her videos or photos were not uploaded to any social media site, it was later revealed that she was having a Skype affair.
Allegedly the affair had become extremely intimate and was captured in the form of screenshots by the guy. She was pressurised by the person for a meeting face to face, which she disagreed to. In the face of continuous blackmail she hanged herself.
I could go on citing more cases, but really, suicide, violence and killing in the name of honour, is nothing new. We are all aware of it, and our families and those close to us all have their own stories.
Today, the main cause in the increase of these killings is technology, and increased levels of exposure. More of these stories make it to the limelight today than they did in the past. Many more women are trapped, unaware of the rules (or lack of rules) that govern mobile phones, SMS, social media and Skype.
I personally think that the problem lies with a woman's unfortunate ignorance of technology, a man's lack of control in a society that lets him get away with anything, and a lack of sensitivity and responsibility on part of the media, who irresponsibly cover such cases.
Bear in mind, not all men are characterless and shallow, and not all women are gullible and ignorant. But what neither suspect is the consequences such 'harmless fun' might lead to. They don't suspect anything until one of them gets hurt, and in most cases, it is the woman who gets hurt.
In a culture where men divide women on two grounds, those who exist for their fun and pleasure (the one you do not introduce to your family) and those who are 'marriage material' (the one you take home), it is the duty of women to be more cautious and responsible for themselves, but confining women to a particular room is not the solution to the dilemma.
The best way to solve this issue lies in creating awareness for men and educating women about the issues that plague society, particularly how new technology and new media can have negative, harmful consequences. With much too much time and bundles of technological toys available at hand, young people get easily caught up in this virtual trap.
Education stressing on the consequences of certain acts along with knowledge on how to be sensible and control affections is the need of the hour. In the face of such incidents, parents, teachers and society in general should start teaching children at a very young age to make sure they are more alert and conscious of their bodies and relationships with the opposite sex. Young boys should be taught to respect their sisters and female acquaintances while young girls should be taught to be more vigilant.
We need to remember that it is not 'fun' to play with someone's life – be it a man or a woman  – whether it is in person or by means of technology.