Inflating food prices and deflating wallets: Don't blame the government, blame yourself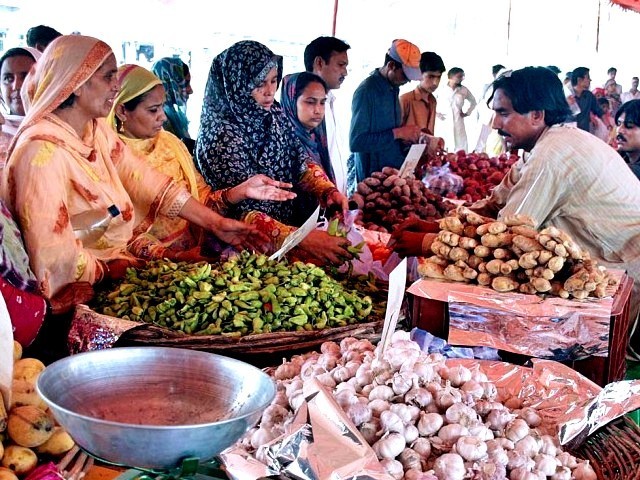 Inflation is one of the hot topics in Pakistan these days. There has been a drastic increase in the general level of prices in recent years. As per the press release of the Pakistan Bureau of Statistics (PBS), the Consumer Price Index (CPI) as of November 2013 stood at 191.21 index points compared to 172.42 index points in the corresponding month last year.
It is pertinent to note that the CPI has increased from record lows of 62.82 index points in July 2001 to skyrocketing 191.21 index points within 13 years.
According to the PBS, the category that has the highest weight in the CPI is food and non-alcoholic beverages at 34.83%. This category consists of both, perishable as well as non-perishable food items. As per the press release, the CPI for non-perishable and perishable food items was 209 and 270 index points respectively in November 2013, as compared to 193 and 188 index points respectively in the corresponding month last year. This shows an increase of 44% in the prices of perishable food items.
You must have read in newspapers or seen on news channels that prices of food items have been increasing at an alarming rate due to different reasons. Analysts have correlated this inflation with a number of factors including the increase in fuel prices, devaluation of the rupee, export of foods items, transport strikes and government policies.
However, we, as consumers are not ready to point the finger towards ourselves.
Have we ever stopped to consider that we could be one of the reasons behind the increase in prices of goods and services? Think of your immediate reaction when you come to know about the shortage of some food items in the market? Isn't your first response to purchase more than what is actually required since you are uncertain about price stability and product availability?
Many people purchase food items, especially vegetables, from Sunday markets and you must have noticed how people compare prices and product quality between the number of vendors present, before making their purchase. Last Sunday, when I was at the Sunday market to buy vegetables, a lady came and asked the hawker the price of tomatoes. The hawker replied that it was Rs150 per kilogram, to which the woman exclaimed,
"Kia? Rs150! Bhai thora toh kam karo."

(What? Rs150! Brother, at least decrease the price a slight bit.)
The vendor replied with the standard answer,
 "You are my regular customer and I am already giving you a discount. Tomorrow the price will rise to Rs180 per kilogram."
And suddenly the lady agreed to buy not one but five kilograms of tomatoes. As I stood there smiling at her conversation with the trader, she noticed and said,
 "Hans lo hans lo, apnay waaldain se poochna kitni mehangayi ho gayi hai."

(Laugh all you want, but go and ask your parents how expensive everything has become.)
I could not help but ask her why she had ended up purchasing such a large quantity if the tomatoes were so pricey.  This is the conversation that ensued between us;
"What will I do if prices increase further? My household budget will hit the roof!"
"Okay, but how long will you be able to use these tomatoes? They will rot like all perishable food items."
"I guess around a week if I store them in the refrigerator."
"And how long do you think these tomatoes will be in consumable condition if no one purchases them?"
"I am not sure, maybe three or four days; perhaps a week."
"So how long do you think the wholesaler and the person hoarding such food items will be able to hold onto them until they start to spoil?"
"Hmmm, maybe two weeks or more."
"So what do you think this vendor will do when they start to rot?"
"He will be forced to sell them at a very low price."
"Then why don't you stop purchasing such products until the prices come down?"
"I have to be practical; if I don't buy them today, someone else will come and buy them and I will have to bear even higher prices tomorrow."
"Fair enough. But then, is the government the only one to blame, if people like you and I are not able to take minor steps to fight inflation? Are we not equally responsible?"
To this, she gave me the standard 'I-am-the-victim-the-government-is-to-blame-for-all-my-problems' reply,
"Are you insane or are you a strong proponent of the government?"
I have heard several cases of people making their own unions, committees and bodies in order to safeguard their own interests while ignoring the interest of the general public. So, my question is why can't we, the general public, unite and create a union or body to safeguard our interests?
Why can't we stop purchasing items like tomatoes, potatoes, onions and milk when the prices of these items spiral sky-high?
Why can't we boycott products which have been over-priced unnecessarily (due to intentional hoarding)?
I appeal to members of the general public to calm down and ponder over whether we are also part of the problem of inflation in Pakistan or not. It is our duty, to our economy as well as to ourselves and our countrymen, to at least try and be informed about the causes behind inflation; and try to control our panicked responses before we understand whether the prices are increasing due to reasonable or unreasonable factors.
Unless we aim to understand the demand and supply function behind inflation, we will continue to unintentionally support the rise in prices and ironically suffer from it too.