Dear leaders, if you can't protect drone victims, let the K-P government do it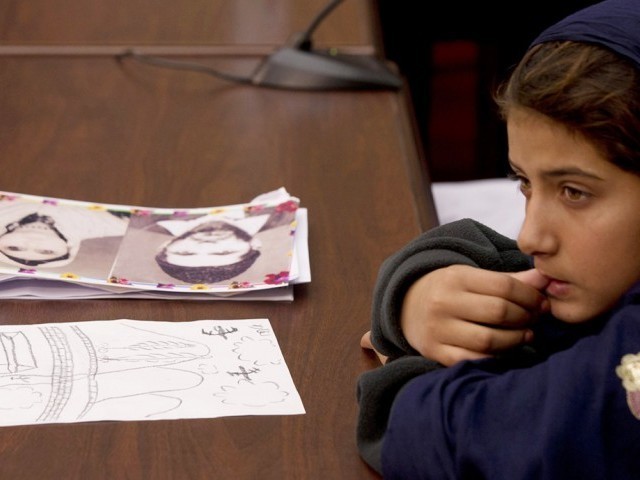 Dear Mr Rana Sanaullah, Shahbaz Sharif and Pervez Rasheed, 
I write this piece in response to your criticism over the NATO supply blockade by the Khyber Pakhtunkhwa (K-P) government.
Although Pakistan Tehreek-e-Insaf (PTI) members would give complicated arguments regarding dignity, terrorism and radicalisation against your views, my focus is relatively simple.
Just take a look at the picture of Nabila Rehman showing a drawing she crafted over fear of drone strikes.
Gentlemen, I do not know if drones kill terrorists. I do not know if they are counterproductive. I do not know if drone strikes are causing radicalisation in the society.
What I do know is that this girl lives in fear.
Instead of crafting happiness, she is crafting fear.
Any ethical, democratic government would claim it to be their responsibility to protect her. Considering it is your responsibility, what have you done to protect her? What have you done to protect thousands of other children like Nabila who are crafting fear in their drawings?
You might be right in your argument that the K-P government and protesters are taking unconstitutional measures by blocking the Nato supply route.
But have you left them with any other choice?
We saw our prime minister's (PM) silence over drones in his visit to the US.
We saw how much credibility there is in the statements of the adviser to PM on foreign affairs.
Is there anything else left to prove that the PML-N government is no different to PPP when it comes to foreign policy?
Haven't we seen enough already?
You say taking US aid and stopping drones cannot happen together.
Well, the K-P government has already shown that they can take US aid and side by side, stop the Nato supply routes in protest. At least they are sending a message conveying our resentment to the world in general and the US in particular.
What has the federal government done to fight Nabila's fears? We haven't even seen any meaningful measures to stop drone strikes.
This is my humble request to the federal government — if you are not doing anything meaningful to end Nabila's fears, please do not criticise those who are willing to fight for her.
I do not stand by any particular party. I stand by whoever is fighting against the terror Nabila faces.