The story of Pakistan: I am a dreamer but I am not the only one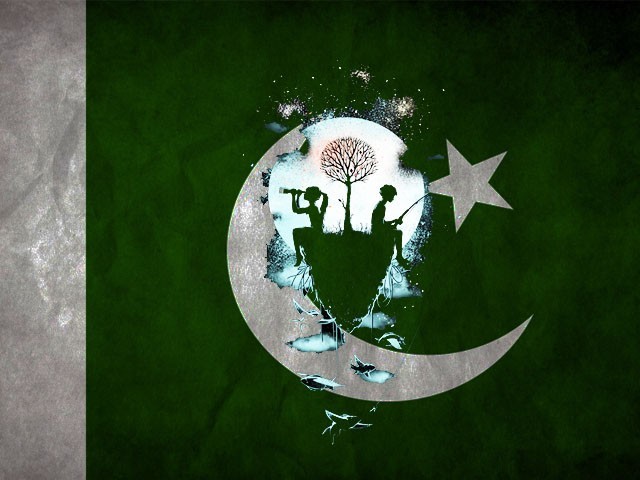 We, Pakistanis, are full of dreamers. I say this not just as an expression but after observing it myself. While on my trip to the countryside, I came across many stories and dreams, and I found each story unique in its own way.
Here are a few of the dreamers I met along the way…
This is an 11-year-old boy and a proud shepherd. His household income depends on the cattle he grazes. He seemed like a very pleasant child. During our conversation, I found out that he wished to attend school, become a doctor, own a bungalow in his village and make his parents and villagers proud. His smile beamed of confidence and his eyes shimmered with hope. The hope of the resilient.
This is a 12-year-old boy and is the shepherd boy's cousin. He has the same dreams; he wants to become a "bara admi" (big man) in the future but this little man had a more 'realistic' view of life. He knew that his dreams were not going to come true so easily, so he hesitated answering my questions. His eyes spoke of a truth, bitter reality; it's not all rainbows and sunshine.
This is a 31-year-old labourer who shifts bricks, sand and other construction material from one place to another with the help of his donkeys. It's a family business, he exclaimed. They wake up at dawn and go home late in the evening; a truly hard working lot.
When I asked them if they had any dreams, one answer was that they dreamt of having more donkeys. Some of the younger men among them wished to have government jobs – even if it meant working as watchmen or security guards.
When I saw their house is when the irony of life struck me. While these men worked day and night to build new houses for other people, their own house remained in tatters.
These are two members of his family, they are seen heading to work but both have dreams; both want to secure powerful government jobs that have some authority. They have dreamt of this since they were 20; it makes you question whether dreams actually do come true or not.
These boys have birds as pets. These birds are let off to fly, to soar, up high and after making their daily rounds, they come back home, back to these boys. They do what these boys dream of doing every day; they want to fly high, far away, but somehow end up back in square one.
This father is seen travelling, with his two sons, carrying fodder, for cattle, back home. His dream is to see his boys enlist in the army and become serving officers. He wants to provide his sons with a good education in an English medium school.
This man, a farmer in a far away land, is not afraid to dream big. Every night, he says, he dreams that he is placing a captain's badge on both his son's shoulders. He has promised his wife that, one day, his dream will come true. One day…
This is a nine-year-old boy works in a shop; his duty is to clean bricks and rubble. All day long he is seen scrubbing and cleaning the workshop. He went to school for just two months but then had to leave in order to support his family. Now he dreams of becoming a successful businessman. He will have a big house to his name and will purchase a large of amount of bricks from the shop he works. Dream big and you shall achieve, think big and you shall conquer.
This 21-years-old works at a tea stall. He started when he was nine. He studied three to four years but then left school because of his father. He has been supporting his family ever since. All the money that he earns is spent with nothing left for him to save. He wishes to collect some money to buy a suit for his mother on Eid. Many Eids have passed since then, but he hasn't been able to buy that suit yet. He still struggles to make his only dream come true. Maybe next year…
This 14-year-old works in an auto-repairs workshop. His father found education too expensive and too useless a luxury and so he took him to this shop with hope that one day he will become a mechanic and run his own garage. The boy, on the other hand, wishes to acquire good quality education and become an engineer. He wants to go back to school. But do all wishes come true?
This 24-year-old was a bus conductor at one point in his life but his wife put some gold on mortgage and they bought this motorcycle rickshaw through bank loans. He dreams to be the owner of 10 rickshaws even though there are days when he can hardly arrange three square meals for his family. He has two children, a one-year-old little boy and a three-year-old girl.
The optimism emanating from these people is hard to miss, their dreams overshadow their struggle, their resilience clouds their sorrow. These Pakistanis are what Pakistan is all about. We don't see this side of the Pakistan in our busy urban lives, but it is nice to learn from them. Despite their circumstances, these boys have faith, something we, sitting on our technologically and morally high horse, seem to lose sight of. They know their dreams may not come true – but not one believes that they should quit trying.