Begging: Pakistan's new profession for kids?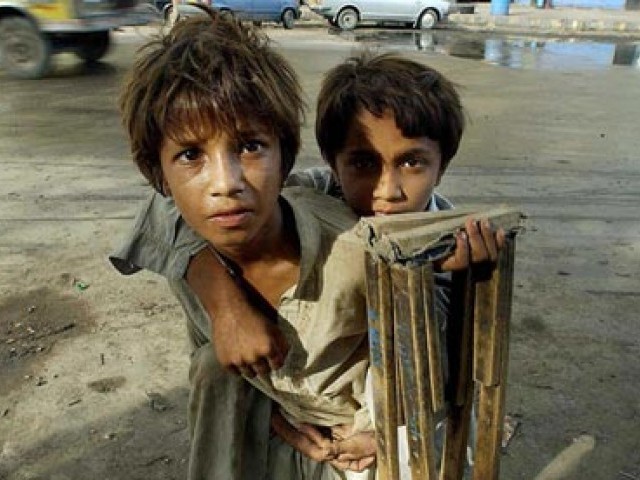 They keep navigating from one car to another, knocking at your car windows and doors until you pay attention to them. This is the time when we are waiting for the traffic signal to turn green. They make sure their appearance is seen and not ignored. They are adamant and won't take 'no' for an answer.
Every summer I come down to Pakistan to spend time with my grandparents, and on my way home from the airport, I feel disheartened looking at these children navigating between cars. These are the handicapped young children on the streets of Pakistan asking for alms. The secret of getting more money is to have one or more of their limbs cruelly amputated. In order to elicit more sympathy, these young children pull themselves along the filthy streets, either on their bellies or on low wheel carts, which is extremely pitiful and heart-wrenching to watch. Hundreds and thousands hand out money everyday.
But the questions that come to my mind are: Should we give them money? Do they legitimately deserve our charity? Who are these children? Where do they appear from in the morning and disappear off to at night? Where does the money go? Do they have homes and parents, or do they belong to some mafia gang?
This culture of begging is so widespread that no one thinks about stopping it. When I look at these beggars, it reminds me of the movie Slumdog Millionaire. According to some sources, most of these malnourished children are considered as the so-called property of different mafia gangs who disfigure their bodies to make them seem more miserable. These kids are deliberately maimed by forcibly amputating their arms and legs, and their master's cruelty goes as far as practically blinding some of the kids to earn more from their pitiful appearances. Evidence says that the more these poor victims are tortured and tormented, the more sympathy they will earn from the public. They are forced to be on the streets from early morning till late in the evening while the revenue goes to their torturers, the organised gangs who possess expertise in mutilating and exploiting defenceless children.
Is there any law enforcement agency that can take some time out to look into this matter?
Isn't there any way that these under-aged beggars can go to school holding their schools bags in the morning instead of sticking their hands out for cash?
It is important for the respective authorities to reach out to our society and make sure that these children are provided opportunities to go to school and live in a safe environment. According to some sources, there are many NGOs that are involved in solving such issues, but no significant results could be achieved. These children can be a productive part of our society if only they are given the required resources and guidance.
Unless we make an effort to include them in our society, they will remain outcasts and resort to begging. They need to be introduced into educational systems to be able to make their own choice, but who is to take that first step? If the government and NGOs have failed so far, perhaps, it is time for the citizens of the country to play their own role in eradicating this 'new profession'.
If these kids belong to some mafia lord, then there is a bigger threat to their lives than we think and if this continues to spread, begging may become a little industry of its own.
Now is not the time to sit back and ponder upon what I have just stated, now is the time to get up and make a difference. Every little step counts!