Sachin Tendulkar, you made India my second favourite cricket team!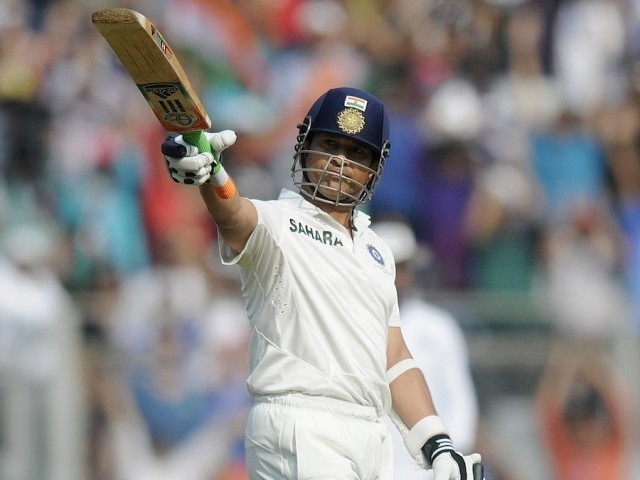 In a fleeting instance, it was over. A brief silence ensued; a billion people mourning in unison. A murmur then began to grow. The quiet, weary traveller trudged off the ground, his head bowed in disappointment. Finally he turned; a small nod of his head, a shy raise of his bat. And then the roar erupted.
For a few hours, Sachin had composed the glorious final sonnets to his epic tale. Every shot carried with it a familiarity, a comforting memory perhaps of a happier time. Every duel reminded one of battles won, of reputations scarred. Every smile spoke of innocence unfettered.
The inevitable end followed; a few steps up the stairs; a final walk towards the close. His legend became memory.
I must admit I didn't think much of Sachin Ramesh Tendulkar when I first started watching cricket. I wasn't accustomed to liking too many people from across the border anyway, and this short, curly-haired boy was no exception. I remember feeling rather annoyed when he gave Saqlain Mushtaq a send-off in Sharjah. I thought to myself,
"A typical Indian."
In 1999, Pakistan toured India for a historic two-Test series. Pakistan won a nail-biting Test match in Chennai by 12 runs. I remember laughing at the thought of Sachin sulking in the dressing room and not coming out to receive his man-of-the-match award.
The match was to go into my burgeoning collection of cricket recordings, a treasure I proudly maintained as proof of my cricketing obsession. One day, as I was happily revisiting the Chennai game, something caught my eye. It was the final innings of the game and Waqar Younis had just dismissed both Indian openers.
At 11 runs for two wickets, he swung a ball in towards Tendulkar and trapped him in front of the stumps. The umpire turned down the appeal. A few balls later, Waqar threw Sachin a half volley. Tentative perhaps, because of the Leg before Wicket (LBW) shout a few balls ago, his feet did not initially move. Instead he threw his hands at the ball. The feet then did a small forward skip, the elbow following suit to end up in a grand pose. I kept replaying the shot. It was so unlike any cover drive I had ever seen. It had a mix of both orthodoxy and delicious improvisation. It was beautiful.
A friend shared with me a recording of his desert storm innings in Sharjah. My bias against Sachin was now wearing off; I thoroughly enjoyed how he tackled the Australian bowlers. Our own batsmen had suffered so badly at the hands of the Australians in recent times that it was just a relief to watch someone annihilate them so brutally and thoroughly.
My favourite memory of Sachin remains that he was the first player from India I ever felt any affection towards. I had grown up on a diet of Srinaths, Chauhans and Sidhus; all somehow representative of the villainous Indians casually lurking in my subconscious.
Sachin somehow transcended all that.
He played in a manner that was impossible not to appreciate; such was the purity of his play. For the first time, national loyalties became secondary to me; it was the sport that I fell in love with.
In many ways, Sachin acted as a bridge to India for me. He helped me see the country as something that could be appreciated, even revered. All admiration for Indian musicians and actors followed Sachin, he was the protagonist who kicked open the doors. For a while, India even became my second-favourite team.
I was enthralled by how Sachin continually attacked the common enemy, Australia. An innings in the Champions Trophy 2000 captured the imagination. On a seaming wicket, as Glenn McGrath charged in with his usual immaculate line, Sachin decided that he would not let him dominate. Highlights of this innings are astonishing; Sachin is running down the wicket to length balls that are seaming away from him and flat-batting them over the covers.
In the middle of the exchange, there is even a subtle shake of the head from McGrath as if to acknowledge the genius of the man before him.
In 2004, when India toured Pakistan, I finally watched Sachin live in a game at Rawalpindi. Pakistan had amassed 329 and Sachin predictably was the only thing standing between them and victory. Even though he scored a brisk 141, I remember feeling that he was batting below his best; such was the talent of the man that even when he achieved scarcely believable feats, one always felt he had not just yet unleashed his full might. I was obviously desperate to see him dismissed so my team could win the game. I remained anxious however to soak in every moment of him batting, the majesty of his presence.
In recent years, Sachin has grown on me like he was one of my own. Even when he broke Saeed Anwar's highest individual score of 194 runs, it felt as though the landmark had finally reached its rightful owner.
There have been precious few like him, who have simultaneously evoked feelings of awe, envy, respect and adoration.
Today, Sachin is perhaps the last vestige of an era when cricket was untouched by the follies of commercialisation.
He remains the nostalgic impulse of a cricket romantic.
He is a throwback to childhood memories and glorious carefree days when I first fell in love with the game. And to see him leave, to see his magic come to an end, is more than painful to me and my fellow Tendulkar fans.
I wish him all the best of luck for his future. His adventures will truly be missed.