To survive at NADRA you must (not) obey the law?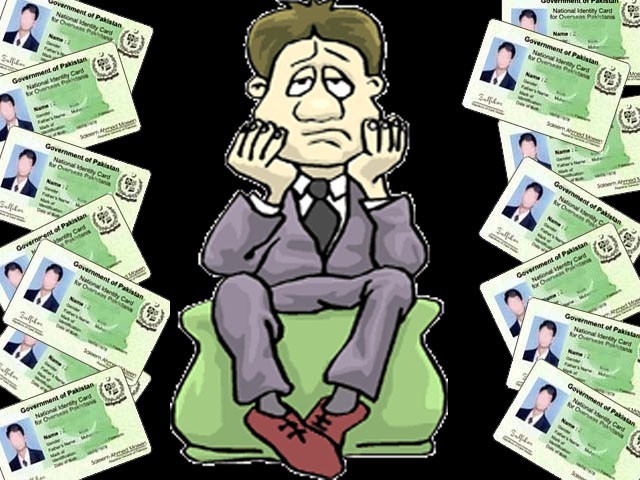 NICOP and Smart NICOP facilities were started by NADRA in an attempt to assist overseas Pakistanis who send a considerable amount of their income to Pakistan and invest in the country despite the deplorable situation here. Here is the sad story of my pursuit to get this card. 
My first attempt: 
On October 20, 2013, I made my first attempt to acquire the Nicop. For that, I went to the Nadra office at Deans Trade Centre in Peshawar. After having spent two hours waiting in the queue at the token counter, I was told by the officer that the Nadra Dean Centre office did not accommodate applications for the ordinary Nicop and that I would have to apply for the Smart Nicop for which the fees was Rs7,300. Since I had already been waiting so long, I could not fathom going all the way to the Gulbahar office and enduring the agonising wait again. Instead of wasting that time and energy, I just decided to apply for the Smart Nicop and continue with my application here.
By this time, it was 12:30pm and the office was scheduled to have a lunch break. I was told that work would recommence after the break which would end at 2:00pm. The office was set to close at 3pm. Rather than sitting idly at the office, I decide to walk up to the market next door and get something to eat. I was back at the office at exactly 2 o'clock and there were over 20 people already standing in line. This time, however, I only stood in line for half an hour before reaching the front.
At the counter I was asked to produce my identification card and passport; both were thoroughly checked before I was told that the fees for the Sweden Nicop was Rs9,700. Irritated at the fact that this price was higher than the one previously quoted, I told the person behind the counter that I would like it to be standard delivery, to which I was told that 'that particular office', once again, only dealt with executive applications. I was to receive my Nicop within 10 days.
Blaming my own bad luck and with no other option left, I told the officer to go ahead and process my application.
After all of this, I was sent to the photograph and finger printing section. The officers there seemed to be in the foulest mood and did not have any qualms in venting their anger on the applicants walking in. Having committed the crime of being an innocent applicant, I too had to undergo rude behaviour from the attendees.
Breathing a sigh of relief after ending that part of the process, I was sent to the data entry section. It seemed the office staff suffered from a general disgruntled disposition. Ill-mannered employees filled the space and I was unfortunate enough to encounter another rather discourteous lady behind the data entry counter. In a somewhat crass manner, the lady asked me for my Swedish passport – which, unfortunately, I had not taken with me – I showed her my Swedish ID card instead in an attempt to prove my identity. Apparently, that was not enough and I was told that the application could not be processed without the passport. Seeing that my bad luck had caught up with me again I had no choice left but to cancel my application, take my money back and return the next day with the rest of the required documents.
My second attempt:
On October 23, 2013, I went back to the same office as a second attempt to get the Nicop. Following the same procedure, I waited in queue for a little over an hour before I made it to the front. All the formalities were the same – as were the modds. I was greeted, yet again, by uncouth staff members who took some sort of pleasure in making people wait. Finally, after a three hour struggle, I received a printed form that I was meant to take to the manager who would further scrutinise and sign it.
The general disposition of the office seemed to rubbing off on me as well and my patience was wearing thin too. The crude manager asked for me to get the forms attested by a gazetted officer or local government office bearer and come back. Frustrated with the fact that a computerised ID card and passport was not sufficient enough to prove my identity and an unnecessary formality was being thrust upon me for which I could not come up with any reasonable logic.
I tried to reason with the gentleman and explain, that as my passport and ID card were both computerised, getting my documents attested would be a redundant and time consuming procedure. At the demand for still producing an attested copy of the form and I hung my head and walked out the office.
What I hadn't realised at this point was that I was not closely connected to any government personnel who could attest my documents and in Pakistan, you need one of those.
I asked the person at the information desk if there was any other option I could avail and explained that I was going to be travelling to Islamabad that same day. He said the only option I did have was to cancel my form, get my money back and come another day. He said regardless of when I come, however, I will have to get the form attested.
Since there was nothing else I could do, I spent another hour reversing the entire process. I cancelled my form, got my money back and winced at the thought of another day in the company of uncivil Nadra employees.
Key takeaways:
During the two days I spent making rounds of Nadra, I witnessed and learnt a lot. I observed ordinary citizens being given VIP treatment because they seemed rich. I saw uniformed personnel being given royal treatment by the same employees who were often rude and impolite to me. The ill-mannered manager was seen 'hosting' a charade of VIP's who were told to relax and sip their tea while their work was conveniently being done by the Nadra staff.
Bribes were being offered and taken by most, whilst the others were busy 'name dropping' to get their work done faster. These 'connections' were used by many to violate standard procedures and others were made to wait until 'their turn' would come. What bothered me most was the sight of ordinary people, much like you and me, who had been waiting in line for hours like responsible citizens. But what did we get out of this wait?
What I came to realise was that while I was putting up with ill-mannered officers and uncivil staff, there were people who were still getting their work done – much faster than me! Those people, who threw their money or connections around managed to get their work done within no time and leave the premises satisfied with their accomplishments. I went there twice and returned empty handed.
It makes me wonder, should I really have been an honest person? Apparently being a law abiding citizen here doesn't count for anything.