Bilawal, moulding the future politics of Pakistan: A PPP Jiyala's analysis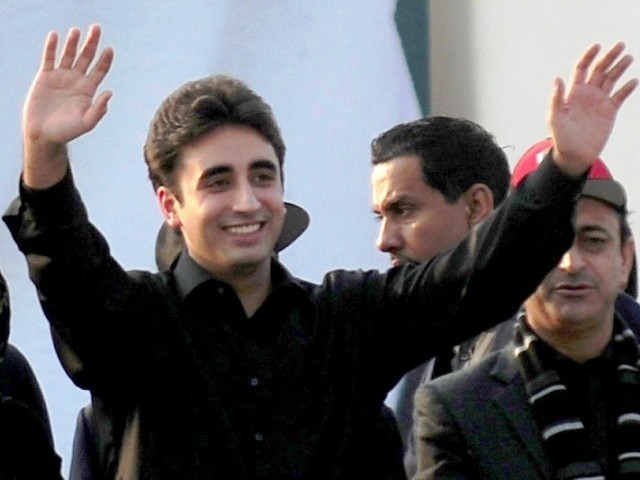 By a curious exercise of logic some disgruntled man of yesterday used to have the temerity to question us that how a 19 years old Bilawal Bhutto Zardari may become the chairman? How a boy who lived his most of life in Dubai & United Kingdom may lead a party whose most of the workers are from the downtrodden class of Pakistan? How a Bilawal Bhutto Zardari may claim to be representative of the masses as he lacks command over speaking Urdu & neither he knows about the customs, traditions & taboos of a Pakistani society?
These have been the question I and many of my other office bearers of the party had to answer when we used to interact with our political opponent who mostly are right wing activist or somehow have their inclination towards the vote bank known to us as Anti-Bhutto vote bank.
Finally on the last Friday our leader & our 25 years young Bilawal Bhutto Zardari he himself gave them a sound reply when he was interacting to his workers for the very first time at any public place in Karachi & it was at the monument constructed in the memory of our young brave workers who back on 18th October 2007 sacrificed their lives to save their mother & sister safe from the savage attack by Tehreek-e-Taliban.
For every generation of PPP there has been a Karbala where we fought, we have been fighting & we will continue fighting against the tyranny & oppressors & 18th October has been the Karbala of my generation where PPP lost its 200 young workers and around 500 plus were injured in twin blasts took place at Karsaaz on Shaheed Benazeer Bhutto's reception.
To pay tribute to the martyrs of Karsaaz tragedy chairman Bilawal Bhutto Zardari choose his first ever public place speech in Karachi at the monument of martyrs of Karsaaz tragedy where he was being accompanied by most nearest trustees of Shaheed Benazir Bhutto including Mian Razza Rabbani, Syed Qaim Ali Shah & Sherry Rehman but such things usually go in waste when the opponents of PPP criticize PPP that it's not the one which was there when Shaheed Benazir Bhutto was alive.
Chairman Bilawal's ten minute speech at the monument of Karsaz tragedy reflected the true image of Shaheed Zulfiqar Ali Bhutto's personality from his clothes to his gestures during his speech everything was common between him & his grandfather Shaheed Zulfiqar Ali Bhutto not only this but also as his mother & grandfather both had never bothered about their security and they used to breach their own security citadel to meet their workers , same was witnessed at Karsaz where Chairman Bilawal Bhutto Zardari who has been facing threats to his life but didn't bother about his security & getting out of his vehicle he was lost somewhere in workers & his security staff was seen saying to workers " Bhai Humein choro hum Chairman ke security mein hein " Let us get in & near Chairman we are part of chairman's official security.
A peoples leader never compromises with prevailing conditions & speaks his ideology & what masses want to hear from him & young Bilawal absolutely did it in his speech at Karsaaz where he knew that neither the workers of Karachi nor an ordinary citizen of Karachi is happy with those claim to be king & kite of Karachi, he didn't spare them for a second those have been part of various conspiracies against PPP & democracy including MQM, PTI & those religious lunatics who claim to be saviors of Islam but in clarity they sell their name using Islam as their brand.
The way he roared against Tehreek-e-Taliban & terrorists It made clear about the future politics of Pakistan Peoples Party and that it has no plans to make entire nation surrender in front of a handful of terrorists who do not believe in Pakistan's constitution but in the supremacy of suicide bombings. His speech also charged the workers of Karachi with a new soul when he pledged that they would cut the 'kite flying through telephone from London and this was what his workers wanted to listen for last many years but only only workers this statement truly was a representation of masses living in Karachi & want an everlasting peace & freedom from united kingdom because Karachites are independent in name but not independent in mind, karachites have been too long under British tutelage and what young Bilawal stated no one ever had the courage to say even want to make readers remember Pakistan Tehreek-e-Insaf's 25th December gathering in Karachi where Imran Khan kept bad mouthing against the then President of Pakistan & against Nawaz Sharif but couldn't utter a word against our respected Altaf Bhai even though he was standing in a crowd of thousands.
In short Bilawal's 18th October speech was a ten minute speech but it was a statesman's speech which not only has molded the future politics of Pakistan but has also shed light on the fact that Bhutto's are the essence of their workers neither the Taliban nor Pakistan's establishment can keep this essence away from workers that's why despite threats to his life he reached among his workers who lost their loved ones in Karsaaz tragedy.
Young Bilawal Bhutto Zardari knows about the political difficulties for him but he feel, he is convinced that he receives the blessings of the downtrodden class of Pakistan specially his workers of his party & this is the great satisfaction for him, the way he ensured his workers that he can't live without them, he is from them & he belongs to them was nothing less than the words uttered by Shaheed Zulffiqar Ali Bhutto addressing to his workers in Karachi – June 1972.
The historic struggle started on 30th November 1967 went through various stages where it faced persecutions, gallows, character assassination, exiles & humiliations but the fact is struggle has been continued & will remain  continue. Young Bilawal's address has enlightened the fact that the destination for socialist revolution is now not so far in which the labors, lawyers.
Students, teachers & peasants have been struggling since PPP's date of inception.  Karsaaz speech is merely the beginning of an arduous journey this is the first step and not the end of historic struggle. We shall not rejoice too much even if we feel satisfied. The road ahead is very difficult but neither the young Bilawal Bhutto Zardari will leave workers nor the workers will leave him because we both have been partners in each other's pain & privilege. Tomorrow is our & not theirs.
Pakistan Zindabad
—————————————————————–
Editor's note: 
This blog post has been carried in its unedited form. It was previously rejected by Tribune Blogs, but at the insistence of PPP party workers, it is being run as it was sent to us as an exercise in maintaining balance. 
We welcome our community's comments .