When Pakistan beats the world's best, you know Misbah is captain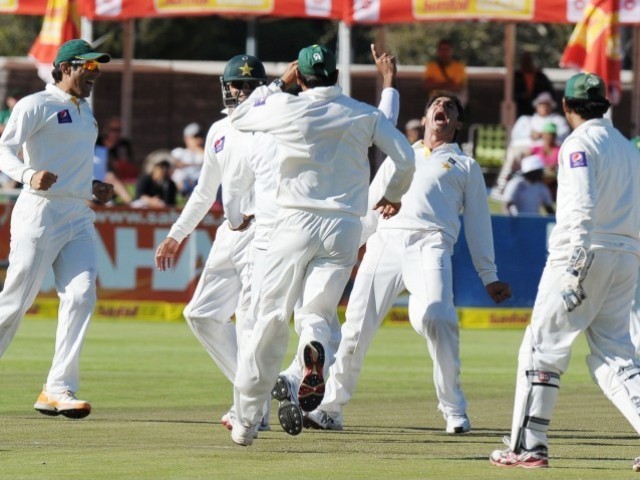 September 14, 2013 was the day when Pakistan faltered in a Test match, succumbing to a shocking defeat against Zimbabwe. This was Pakistan's first loss to Zimbabwe in almost 15 years. Scenes of joy in Harare, and of despair and humiliation in Pakistan were prevalent.
Whatever could have gone wrong did go wrong and all the blame and acrimony fell on the shoulders of Pakistan's beleaguered Test captain, Misbahul Haq.
The daggers were out. The hyenas were moving in to slay the aging lion once and for all. This time there would be no way back. The defeat would leave a definitive mark on Pakistan's cricketing history.
Thankfully though, sanity prevailed and Misbah was retained as captain for the team's next mission impossible. This time it was the South African juggernaut that needed to be toppled in the desert plains of the UAE.
Unlike the English, South Africa knew how to play spin. They had not lost an away-series since 2006. South Africa had not faced defeat in any of their last 14 Test matches. They had the world's most destructive fast bowling attack and with Graeme Smith, Jacques Kallis, Hashim Amla and AB de Villiers as their batting line-up, the team was bursting with superstars.
Pakistan did not stand a chance.
And yet, as the sun rose on October 14, 2013 for the first Test match at Abu Dhabi, none of that mattered. Pakistan dominated throughout, from the first ball to the last run. The bowling was sharp and relentless, the batting disciplined and focused and the fielding was a sight to behold.
Saeed Ajmal et al humbled the world's best batting line-up and forced them out with just 249 runs early on Day two.
The newly formed opening pair of Khurram Manzoor and debutant Shan Masood smashed the South African maestros and set the scene for a big first innings lead.
Then, the skipper walked in. Captain cool and courageous; the Quaid – as his die-hard supporters like to call him.
It seemed like nothing was going to stop him from his date with destiny. Resolute in defence and devastating in attack, Misbah launched an assault that would leave the South Africans reeling in despair. A flurry of cuts and pulls, some powerful drives off the front foot through the covers, that trademark reverse sweep against the spinners and an expertly judged quick single to midwicket, he gave it all. And then, there it was, that much wanted, much anticipated fourth Test century. The joy and relief was clearly etched on Misbah's face. His sajda (prostration) in thanks to the Almighty brought the jubilant Pakistani supporters in the crowd to their feet in vociferous delight.
Although it was Misbah's triumph, it felt deeply personal and even brought a tear to the eye. To see the man who had been harangued and bitterly criticised for so long finally receiving the applause and adulation he so richly deserved was simply magnificent.
The rest – as they say – is history. Pakistan took a commanding lead and had the South Africans on the mat. Another South African batting collapsed near the end of Day three, and there proverbial goose was cooked. Fittingly, it was Misbah himself who hit the winning blow, smashing a gigantic straight six off left-arm spinner Robin Peterson to seal a historic and memorable seven wicket victory.
This was a team looking to prove a point. This was a team looking to silence the critics. This was Team Misbah.