Uniforms in university turn adults into mere children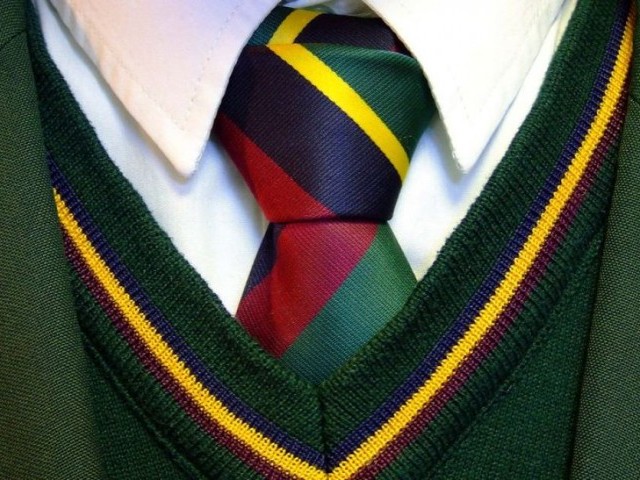 There isn't nearly enough harm being done by making our students think alike; we need them to look alike as well – to iron out every last lump, wrinkle and kink of individuality in them, leaving a monochrome sheet with every thread being exactly like the other.
Uniforms in schools and colleges are a vestige of a past that valued military-style automaticity as the only true form of discipline. Some people may think that it is a good idea to have every future lawyer, playwright, cardiologist and sculptor dress up in a uniform and march into the assembly ground like a miniature soldier. But I don't.
We all nod vehemently to the idea of an 'educated Pakistan', but bear incredibly twisted views of what education is.
Education is not just the memorisation of Quaid's fourteen points. Education is the ability of a boy in a Sindhi topi, and a girl in an Evanescence T-shirt, to learn to interact with one another without being awkward and insensitive. Uniforms are both the symbolic and practical death of that mission.
In schools, we need children to be able to freely express themselves (within the bounds of decency) and witness the consequences of their decisions as they unfold. The process of learning includes a student asking her classmate why she always wears a headscarf on her head, and increasing her understanding of a culture other than her own.
Proponents of uniforms frequently argue that if the requirement is rescinded, the ordinarily-dressed poor students' self-esteem would be dented by the richer students strutting around in expensive clothing.
You cannot keep the less fortunate students forever in the dark about what their family's financial status is compared to the rest of the country. These are ground realities they have to simply learn how to cope with. Likewise, a rich student needs to know how blessed he is, and not think of himself as an exceptional martyr for not getting his mitts on the latest iPhone. To pretend that these financial divides do not exist benefits absolutely no one.
Another baseless concern is that the students would become too obsessed with what to wear, and cannot pay the required amount of attention to learning. This fear is borne of the concept that 'choice' is too much of a burden, and the institutions do their students a favour by making sartorial choices on their behalf.
If only these institutions were as magnanimous with lunches, and allowed only stale bread to be sold in canteens and cafeterias. Imagine all the time and brain-power it'd save those indecisive students!
Scrapping uniforms isn't some mad, social-engineering experiment that I suggest we try out. Most schools in the developed world do not have uniforms, and for excellent reasons.
Free expression is not indiscipline. Our educational institutions need to allow students the room for self-exploration, and to learn from their interactive experiences. Stop expecting them to look and act the same because, spoiler alert, they're a collection of individuals and not a uniform mass.