Zinda Bhaag: Pakistani cinema's return to glory?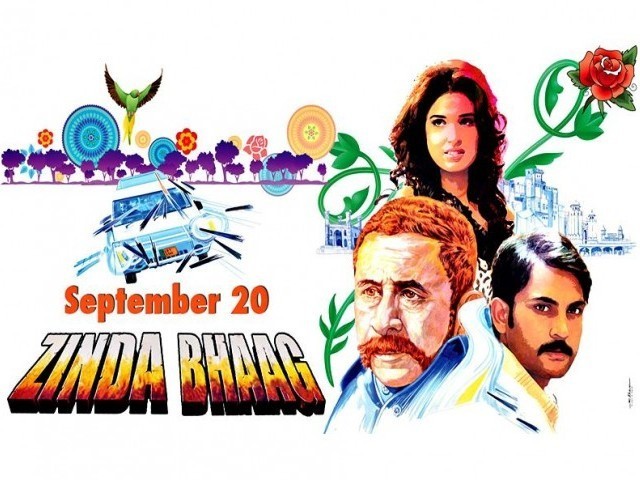 I watched Zinda Bhaag at its World Premier in Toronto, incidentally on August 14, 2013 – Pakistan's   Independence Day. After a successful ten day run, followed by many reviews, and nominated for Pakistan's official entry to the Oscars in the Best Foreign Language Film category, I thought I'd write my personal review of the film.
Using cricket lingo, Zinda Bhaag is not a Shahid Afridi sixer, or a T-20 slog. Instead, it is a technically perfect and faultless double hundred by a maestro like Javed Miandad, with its due share of sixers and boundaries. Like any double hundred, Zinda Bhaag not only gives a winning position to the team, it also plays a catalytic role in the popularity and promotion of the game, that is, the film industry in Pakistan.
My earlier reference to Shahid Afridi's sixers and T-20 slogs was simply to explain that his sixers are part impulse, part response to public demand, and part reflex action, whose comprehension follows rather than precedes the act; whereas, Zinda Bhaag is neither. Although it has its fair share of adrenaline pumping shots and tense situations, it is a well-timed, well-planned, and well-executed game changer.
What makes a great film, you ask?
I have a formula which contains seven elements that all new directors must strive to achieve. The film's directors, Meenu Gaur and Farjad Nabi, have adhered to it in their own way. The acronym of my formula is S.A.V.E.S.M.E. The first five letters denote elements intrinsic to a film, and the last two, in a way, are extraneous to the film. S.A.V.E.S stands for Script, Acting, Visuals, Editing and Soundtrack – and once the movie is made – M.E. stands for Marketing and Exhibition.
In my humble opinion, any film must score a minimum of B+ on the first five elements to be considered a serious attempt at film-making. I gave Zinda Bhaag an A+ on script, editing and sound track; while the acting of main characters oscillates between A+ and B+.
Although the budget constraints for its marketing and promotion are obvious, I still gave it a healthy B+ on its marketing since the intelligent use of social media and personal networks of the film-makers seem to be filling the gaps quite adequately.
Now, what exactly was so great about this film?
Cast and Setting
Firstly, the film is full of stunning performances and appearances. The two best appearances are by Naseerudin Shah, and by Lahore.
Yes, Lahore performs in the film – the city, the culture, the throb, the celebration, and its irony – all play a role in the movie. Zinda Bhaag doesn't show Lahore as seen by a tourist, or the Lahore of Mian Shahbaz Sharif. It shows a real Lahore of real people.
I can only explain the city making an 'appearance' by comparing it to the depiction of the city of Kolkatta in last year's blockbuster Indian film, Kahani. In fact, Lahore's depiction is slightly better because Kahani's protagonist was an outsider to Kolkatta, whereas, Zinda Bhaag's protagonist(s) are true Lahoris.
Most of Zinda Bhaag's reviews have tried to relate the film to the revival of cinema in Pakistan. Pakistani cinema allegedly began its decline in the 1980s; however, the same period saw the rise of Punjabi gandasa (farming tool of Punjabi origin) movies as well as of Urdu television. With the rise of TV, the pop music and advertising industries made their respective debuts and proceeded to flourish. Zinda Bhaag's treatment seems to have been subliminally inspired, if not influenced, by 1980s Pakistani TV, particularly by the spell-binding serials of Lahore TV.
Although I have not spoken to the fabulous actors – Amna Ilyas, Khurram Patras, Salman Ahmed Khan and Zohaib – I would like to know whom they took inspiration from while playing their roles; and I have a hunch that it would one of  TV's popular artists.
Manzar Sehbai's cameo appearance is both, haunting and moving. However, Puhlvan, played by Naseerudin Shah, is the real treat of the movie. He represents and embodies our collective self. He has a lot to tell but mostly anecdotal; we find out that his character is who he is as a reaction to an accidental situation, and not the result of a plan; and, his 'Vekho Ji' and 'Gallan vichon gul nikal de ae', is such apt satire of our noisy and nasty talk shows.
Simply put, his performance is stunning. After Khuda ke Liye, this is his second significant role in a Pakistani blockbuster and Mr Shah deserves official recognition by the government for his sustained contribution in the promotion of Pakistani cinema.
Storyline
The film begins with credits, which is initially surprising but actually a very creative move in hindsight, as it introduces the new cast. The film's story and narration are intensely engaging, with contemporary characters and their very real personal struggles and aspirations. The sham soap opera in the film, named Auqat, and the leading lady's soap, referred to as 'facelook', are two apt examples of the contemporary appeal of the film. True to its name, there is a constant and energetic movement although the four main characters portray different personalities and outlooks to life. Some are hesitant while others are reckless; some have decided on a 'slow and steady' approach while others have been 'once bitten, twice shy'.
Soundtrack
Sahir Ali Bagga, true to his first name, which means sorcerer in Urdu, enchants the audience with songs that range from sexy to soulful; and the sound track is bound to do as good a business as the film itself.
However, I do think that the placement of Hum Dekhen Ge could have been better and the use of Pani Da Bulbala could have been improved.
Recommendation
Coming back to the cricketing metaphor, this double hundred will popularize Pakistani cinema and inspire others towards longer and steadier innings instead of choppy, knee-jerk attempts of sixers. If Zinda Bhaag is able to generate a buzz in Los Angeles, New York & Chicago before Christmas, I see it moving to the next ten short-listed films in its category.
As they say, 'the taste of the pudding is in the eating', so my recommendation is,
"Vekho Ji"

(Take a look).