Has Wayne Rooney lived up to his potential?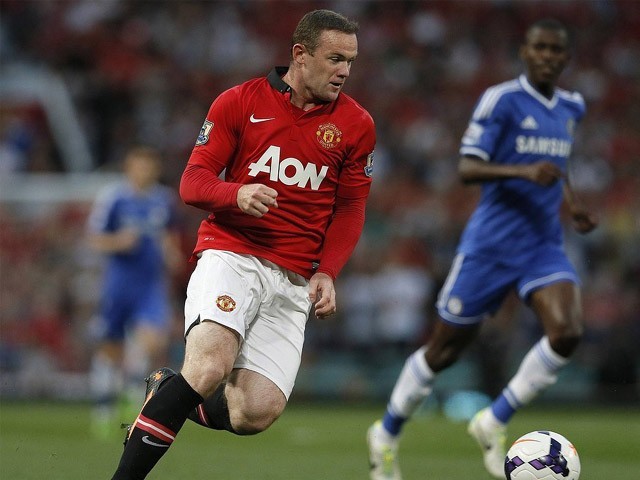 The world of football has seen many wonder kids over the years enter the field, showing great promise. However, most don't live up to their expectations while a few end up making history.
In August 2002, Everton introduced a prolific talent to the world, with a keen eye for goal. Wayne Rooney had made his breakthrough in the Premier League, at the tender age of sixteen years and ten months.
Two months into his senior professional career, Rooney made headlines all across England as he scored a last-minute goal against Arsenal and grabbed three very important points for Everton. As a result of this goal, Rooney became the youngest premier league goal-scorer of that time. After two impressive years in the Merseyside outfit, several big clubs were interested in the young sensation and it was no surprise that Rooney, only eighteen, was poached by European and English football giant Manchester United for a handsome amount of money.
Rooney delivered instantly, as he scored a hat-trick in the Champions League against Fenerbahce in his debut for the Red Devils. The Record Books were constantly being updated as this accolade also made him the youngest player to score a hat-trick in Champions League history.
Rooney had become a favourite at Manchester United and was predicted to be one of the best players of the coming era. However, things turned out differently.
For the people of Manchester he was a star, but to the majority of rival club supporters, Wayne was nothing short of a villain. His snobbish attitude on and off the field earned him a horrible reputation. Basically, Rooney wanted to be a 'superstar' rather than just a star and earning superstar status in a club like Manchester United proved to be a gigantic task due to the presence of  true legends in the squad – Ryan Giggs, Paul Scholes, Roy Keane, Rio Ferdinand, Gary Neville and Ruud van Nistelrooy to name just a few.
However, most of these players lacked one major edge that Rooney had and that was his youth. In an ageing team of heroes, Rooney seemed to be scripted to carry on the legacy and steal all the limelight. Unfortunately, it was just Rooney's bad luck that at this very point, another one of United's young craftsmen started to come of age. He started off as a trickster and went on to become the Maestro of Manchester – Cristiano Ronaldo.
Before signing for Real Madrid in 2009, Ronaldo became the central figure at the Theatre of Dreams and won every title there was to win with the club. He became Sir Alex Ferguson's go-to player and the team's entire play centred on the Portuguese heavyweight.
It wouldn't be entirely false to claim that Sir Alex took Rooney for granted and didn't play him to his full potential. Although Rooney's attributes were those of a clinical forward, yet he was played in pretty much every position, in order to accommodate other players. Sir Alex played him on either flank on many occasions, thus limiting his goal-scoring ability. As a result of playing second fiddle, Rooney could not quite replicate the achievements of other great forwards of the twenty-first century, such as Andriy Shevchenko, Thierry Henry, Hernan Crespo, Raul and Ronaldo (Brazil). Eventually this took its toll on Rooney, who even had a fall-out with Sir Alex in the coming years. However, the issue was resolved and Rooney renewed his contract at Old Trafford.
As far as his attitude is concerned, Rooney's temperament has gotten the better of him on several occasions – the biggest one of which occurred in the quarter-final of the 2006 World Cup played between England and Portugal. The game was evenly poised but turned heavily in Portugal's favour when Rooney had a massive row with his team-mate, none other than Cristiano Ronaldo. Needless to say, England lost the game on penalties and Rooney received heavy criticism for letting the nation down in a crunch game.
However, it would be misleading to accuse Rooney of not being a big match player, since he gives 100% to his team and the game every time he's on the field. Also, there have been many instances where Rooney has carried the entire weight of the team on his shoulders. The 2011 Champions League final at the Wembley was one such game, where Barcelona literally tore Manchester United apart. Rooney seemed to be the only United player who posed a threat and gave Barcelona trouble as he equalized in the thirty-fourth minute. Although Barcelona won the game three goals to one, Rooney's efforts must not be forgotten.
However, in order to be remembered as a legend, it is important to win the hearts of supporters on and off the field. Sadly in Rooney's case, his off-field behaviour has not been his best, particularly due to his involvement with a prostitute in a sex scandal, while his wife was five months pregnant. Moreover, the consequent paparazzi and media hype affected Rooney's performance on the field and his reputation was scarred forever.
Another twist in this exciting tale emerged when Sir Alex Ferguson retired as manager of Manchester United and handed over the baton to David Moyes, who happened to be Rooney's old manager during his Everton days. There is more to the Moyes-Rooney story than just an old affiliation; in 2006, Moyes sued Rooney over some claims he had made. However, those claims turned out to be false and at present, Moyes has made it clear that Rooney is not for sale. Rooney though, might have disagreed a few weeks earlier as he showed interest in a possible big money move to arch-rival Chelsea.
The bottom-line though, is that Rooney is still at Old Trafford and has been United's best player this season by far. As Manchester United stand on a sorry twelfth position on the current points table, Rooney has scored goals consistently and has won them an important Champions League fixture against Bayer Leverkusen, courtesy a stunning brace.
All said and done, the questions to be asked are:
"Has wonder boy Rooney lived up to his potential?"

"Will Wayne Rooney go down as a Manchester United legend?"

"Is Wayne Rooney among the best strikers of this foot-balling era?"
Well folks, if you ask me, this current season is the most crucial one of Wayne Rooney's career so far. His efforts might be overshadowed by the presence of a certain Robin Van Persie, but he will give all that he has for Manchester United, as he always has.
Since youth is not on Rooney's side any more at the age of 28, if he wants to make a long-lasting impact, it is now. In my humble opinion, as one of the most highly paid players in the Premier League, Rooney must prove his worth once and for all, in order to be considered a legend of the beautiful game!