La Tomatina in Karachi and the power of social media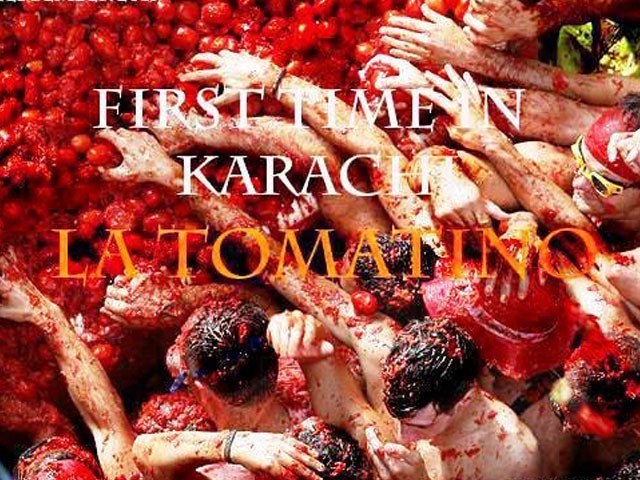 September 14, 2013 was another day in Pakistan where the rich shamelessly failed to take in to account the plight of the poor. On this day, some 3,000 people got together and pelted each other with tomatoes. "La Tomatina, Lahore" was celebrated at a Bedian farmhouse, shamelessly organised to perfection by HK Events.
One wonders if the people who attended this ghastly display ever thought about the other 50% of Pakistan – the ones suffering from food insecurity and those who go to bed on an empty stomach everyday. While the sheer number of people who are starving in Pakistan may catch many by surprise, a more surprising fact is that this figure has only deteriorated since the early 2000's.
So, who is responsible? I feel that as a nation, we find it easy to blame the government for just about anything and everything. However, there are moments when we must stop and assess if we too are a part of the problem. It seems like such soul-searching was done by some and the event in Lahore did face a lot of criticism. There were many who raised their voice to communicate how socially irresponsible and unacceptable they found it. Ali Zafar, a freshman at LUMS aptly observed:
"Although we have become immune to the feelings and suffering of the poor, we only have to take one look out of our air conditioned cars to realise that this is not the place to be wasting resources."
However, regardless of the many voices from within and outside Lahore, the event did take place. Hundreds of tomatoes were wasted without an iota of guilt. Not to be left behind, Karachi soon followed suit, with rumours spreading that a similar event was being organised by Bonfire Events in this metropolis. The event, from the very first announcement, was met with the highest level of criticism from a vast cross-section of society. Since The La Tomatina Lahore had caused quite an uproar, it actually paved the way for the people of Karachi to stand up and take timely and decisive steps to ensure that such a waste is not witnessed again. It was heartening to see that people from all walks of life were outraged at the sheer waste of tomatoes, especially at a time when they are being brazenly sold at the ridiculous price of Rs100 per kilogram.
Consequently, 'Stop Food Wastage' trended on Twitter for almost eight hours in Pakistan; this was a huge achievement given that many people came together to put a stop to something detrimental to all Pakistanis.
In addition, a concerned citizen, Aisha Yaqub set up a Facebook page against the event.
This isn't somewhere in a Parallel Universe! This is Pakistan.. #StopFoodWastage pic.twitter.com/h1bWIXuIwE

— Sheikh Gugu Chauhdry (@GugziiBugzii) September 15, 2013
Those who r attending 'La Tomatina', plz throw bricks at each other instead of tomatoes nd die. U r not worth living. #stopfoodwastage

— Anonymous (@Le_neeka) September 15, 2013
Due to recent floods, 90 M Pakistanis dnt have enuf food & water. Bt Pakistani bht zinda dil hain. La Tomatino to bnta hai. #StopFoodWastage

— Ahsan | احسن (@aey) September 15, 2013
So 'Zindagi Na Milegi Dubara' inspired you to have LaTomatino in Pakistan? Please watch 'Swades' again :) #StopFoodWastage

— Adil (@aurAdil) September 15, 2013
While many expressed their outrage on social media, there were others who took it one step further to ensure that the concern was raised in the right quarters.
Are we just going to tweet about it or actually try to contact the people who have organized the La Tomatina in Karachi? #StopFoodWastage

— سارا مزمل (@SaraMuzzammil) September 15, 2013
They sourced the contact details of the event managers and calls were made to communicate their concerns to the organizers. These phone calls were received by individuals who were respectful and attentive to the concerns raised and promises were made to get back after consulting with the team. On September 18, 2013, the event managers confirmed that they had decided to change the event to a water festival instead.
Although this change was also met with some criticism, as it was still considered to be a waste of resources, I am grateful to Bonfire Events nonetheless for the responsibility with which they responded to the concerns – responsibility that was lacking in the event that took place in Lahore.
So, it all comes down to the fact that while we, as a nation, may not be able to solve all our problems in a day, the efforts of vocal and responsible members of the society gives us hope. It was inspiring to see that the people who raised their voice did not have to do so, but instead chose to take responsibility of those with no voice – the less privileged. As Farahnaz Zahidi, at The Express Tribune, put it,
 "Being able to feel is a blessing in itself."
At the end, I would like to salute the people who stood up for this cause and ensured that such wastage is prevented. People like you keep hope alive and at times, hope is the only strength needed to make miracles happen.