An authentic Parsi feast: Rice and lentils with prawn sauce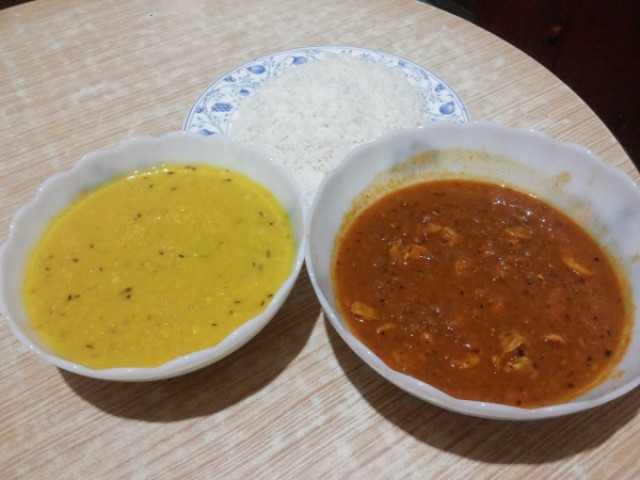 Good food, good health and a good life – this is the profound Parsi belief. For us, good food doesn't necessarily translate into an elaborate meal; it generally refers to a more simplistic and balanced approach to cooking. Since we Parsis like to feast often, we come up with easy-to-prepare meals that make our special occasions even more special.
To get your celebration started, here is how to prepare dhandal patia (rice with lentils, topped with a spicy sauce).
Rice with lentils and spicy prawn sauce
Ingredients for daal (lentils):
½ kg toovar/arhar daal (yellow split peas).
2 tsp salt
1 tbsp turmeric
1 pod garlic, cleaned
1 tbsp cumin
750 ml water
1 large onion, finely sliced
Method:
Add daal, water, salt and turmeric in a pot and cook till tender.
Remove from stove and sieve it.
Put on stove and allow to thicken according to taste.
Fry the sliced onion, finely chopped garlic and fry in oil till it turns light gold.
Add cumin and remove from stove.
Ingredients (prawn sauce):
750 gms prawns, de-veined
8 oz tomatoes
8 oz onions
4 tbsp oil
1 tsp salt
½ tbsp turmeric
2 tsp curry powder
1-2 tsp chilli powder
2-3 lemons, juice of
1 pod garlic, cleaned and ground
1 tsp cumin, ground
2 tbsp coriander seeds, ground
Method:
Wash the prawns, rub in salt and keep aside.
Steam the tomatoes, skin them and cut into small pieces.
Heat the oil and fry the chopped onions till they turn light brown.
Add the tomatoes and stir for a while. Add ground masala and powdered spices and cook.
When the gravy is ready, add the prawns and allow to simmer for approximately 10 minutes. Add lemon juice according to taste.
Ingredients (boiled rice):
1 kg basmati rice
32 oz water
1 tbsp salt
2 tbsp oil
Method:
Add rice, water, oil and salt in a pot and put on the stove, covered, for about 10 minutes. Then bring the flame down until water is fully absorbed and rice is cooked.
Serve all three dishes together. To eat, pour daal over the rice and top it with the spicy prawn sauce.
Dhandal patia is ideal for family gatherings (the above recipe can serve up to 7 to 8 people). It also saves you the hassle of preparing a separate dish for children who have a very low tolerance for spicy food, as they can simply enjoy the rice with daal. Also, the dish is versatile so if you prefer fish over prawns, you can go ahead and use 1kg fish in the above recipe instead of the prawns.
So if you are one of those who dread hosting parties with the thought of toiling away in the kitchen, this might just be the perfect recipe for you.
Happy Parsi feasting!
PHOTOS: DILAIRA MONDEGARIAN