Monsters University: As good as the original, if not better!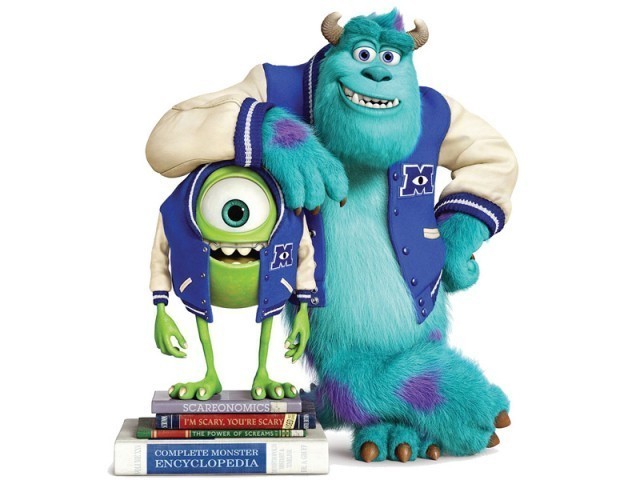 After waiting for a good 12 years, Pixar fans are now able to experience the magic of 'monsters' on the big screen. These aren't just any ordinary monsters; this is Monsters University – the prequel to Monsters Inc. (2001).
The movie begins with Michael, 'Mike' Wazowski (Billy Crystal) and James P 'Sulley' Sullivan (John Goodman) getting admission at the Monsters University's Scarer Program. They both dream of becoming the best scarers of the Monster world. Although Monsters Inc. showed Mike and Sulley as best friends and the leading scarers, their university days aren't as good; Mike is a hard working student but Sulley is an overconfident teenager who plays along on his family name, for his father was a legend in the scaring business.
The movie executes this plot beautifully and it is just as adorable as it sounds!
I will not be writing anything with regards to the animation because as always, Pixar's efforts to render animation were simply flawless. Although an animated film, the story was a compelling one indeed. It had good lessons to impart to youngsters, the foremost of which was that no matter how well reputed any university is, it is the curiosity, and the thirst to learn that makes a good student great.
Monsters University has a number of  hilarious scenes that will have you in fits. It also has some very witty lines which are thoroughly enjoyable. During one scene, which is my personal favourite, Johnny J Worthington III, president of Roar Omega Roar tells Mike, who is a member of Oozma Kappa that,
"When you lose…no one will even remember you."
In reply, Mike says,
"When you lose…no one will ever let you forget it."
Mike's confidence is inspiring indeed!
Another one of my favourite moments in the movie is after Mike and Sulley survived their time in the real world. Since Dean Hardscrabble had closed and sealed the door, the only way for the two to return was by creating enough energy that would automatically open the door back in their world. It was impossible, and the Dean knew it. With Mike's strategy and Sulley's scare, the human adults' screams not only opened the door but also filled all the cylinders with screams and burnt the door from which Mike and Sulley returned.
The look on Dean Hardscrabble's face was priceless. Dean, who didn't pay heed to anyone or anything, looked stunned when she said,
"You two did something no student has ever done before; you surprised me."
Although Monsters University is a prequel to Monsters Inc., the directors and producers have maintained the continuity between the two movies very well. In Monsters Inc., Randall "Randy" Boggs (Steve Buscemi) was the arch nemesis of Mike and Sulley. In Monsters University, although Randall was Mike's roommate, we eventually find out why he went against Mike and Sulley.
I must say that Monsters University is a funny and an inspirational animated movie that explores the perils of being a college freshman and highlights the bonds that student create with their studies, their dreams, and their classmates.
I felt a surge of excitement and inspiration after watching Monsters University. The colourful movie, both in essence and in animation, was enough to make us realise that life is not about grades or becoming part of the best communities in college. In fact, life is about sharing, caring, and believing in yourself.
Moreover, Monsters University depicts realistic college experiences and only Pixar could pull out such storytelling, showing the growth of the character that realises his ultimate potential.
In the end, Monsters University is a roller coaster ride of laughter, witty humour, friendship, competition and above all, a display of animated greatness that can come only from Pixar Animation Studios.