Sikandar wasn't the real Blue Area villain, it was the media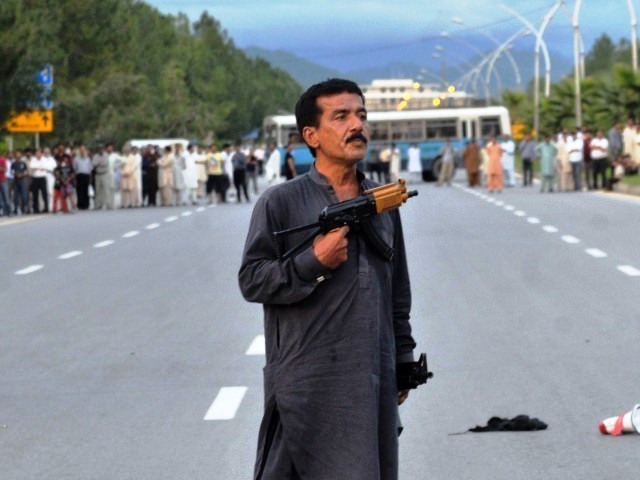 Yesterday, an armed man entered Islamabad's Red Zone with his wife and two kids. He opened fire on police and later, kept the forces occupied, demanding the overthrow of the current government and implementation of Islami Nizam (Shariah law) in Pakistan. Clearly, such behaviour cannot be a product of a sound mind. Cases of lunacy such as this are not a new phenomenon either.
Considering the triviality of such incidents, we hardly get to see them making breaking news and headlines unless of course they involve exceptions such as the Heaven's Gate cult by Marshall Applewhite or more recently the Dark Knight Rises shooting by James Holmes – both of which led to mass suicide and killing. However, there's never a dull moment when it comes to Pakistani news media; yesterday an armed man and police officials kept all the local news channels busy for at least six hours last night in a classic case of much ado about nothing.
In the quest of breaking news before any other channel, even the basic facts pertaining to this man were not substantiated. Despite making claims about the man's home address, past record and fake number plates, there seemed little consensus on his very name by two anchorpersons on the same news bulletin; while one kept mentioning him as Sikandar Khan, his colleague repeatedly called him Sikandar Malik!
More names like Sikandar Hayat and Muhammad Sikandar have been floating about too leaving his real name to remain a mystery.
Many channels featured headlines stating that the man had held the entire city hostage, leaving the police helpless and the citizens horror-struck. Ostensibly, these were all misstatements. If the residents were so scared, we would not have seen people gathering around to witness the drama live.
While the reporters on scene kept mentioning how these people were interfering in letting the police do their job, little did these naïve journalists seem to realise that they were doing exactly the same with their crew. This was evident when Sikandar's wife Kanwal, on police instructions, refused to reveal the suggested location of negotiation to the media.
The couple's negotiation with police, however, may not have been of much interest to one of the channels as its anchorperson went overboard to make a live call to Kanwal. There's a fine line between the jobs of police and journalists, but the concerned host seemed to have little idea about this despite his years of journalistic experience in Pakistan. In a call, that lasted more than 10 minutes, he talked to the husband and wife, convincing them to leave the kids in police's custody, unveil their demands and come to a common ground. Later, on his own show, his actions were condemned by some other ethically responsible journalists like Talat Hussain, who made his discontent with the media coverage clear even on Twitter.
Police talking to the man is the right strategy .Killing him in front of his children is not an option.

— Syed Talat Hussain (@TalatHussain12) August 15, 2013
Then came the epic moment when PPP's representative Zamarud Khan encountered the armed man, bringing the whole episode of sheer sensationalism to a close.
And we thought the show was over, but soon many channels started capitalising on even more trivial details. There was one report discussing the personal details of Zamarud's life and his love for his children. Another one talked about the innocence of the armed man's children and the potential trauma they could be going through in the future. Later reports focused on the physical condition of the couple admitted in PIMS hospital.
Earlier, there were reports featuring a picture of Kanwal's wedding and videos of a place which was claimed to be Sikandar's house in Haffizabad.
Clearly, we have no boundaries between what is personal and what isn't.
More than informing the viewers, all this coverage reflected the incompetence of Pakistan's news media.
Unsubstantiated assumptions about the man's background and mental condition, trivial reports giving out details of his house, violation of individual's privacy by showing personal pictures of the wife, overtaking the role of police while not giving it enough space to perform and later blaming them for their incompetence, pointless reports to keep the news running – all these elements only reinforced Henry Graham Greene's belief that, "media is a word that has come to mean bad journalism."
But with all these features of infotainment, I'm sure these channels managed to live up to their desperation of keeping more and more people glued to the screens for as long as they could.
Loading ...