My grandmother's tales: Stories that painted our lives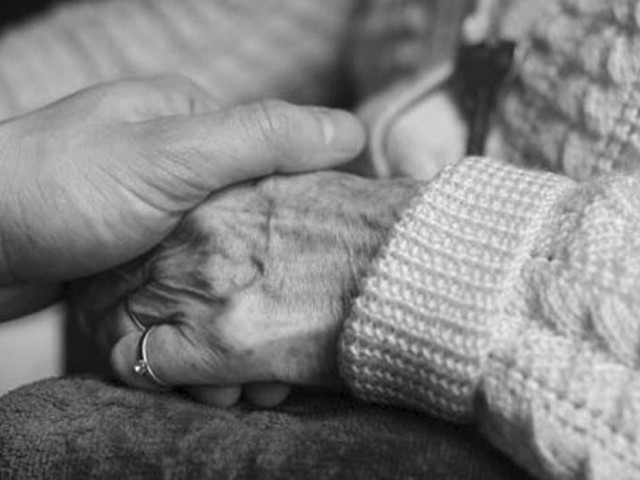 It's been a few months since my beloved Naani (maternal grandmother) departed from this world, leaving us in utter shock and grief. She slipped away so quietly, without a warning, without inconveniencing anyone, and without saying goodbye, that it has left a piercing void in our hearts.
After attending to mourning relatives, taking condolence calls and repeatedly telling the story of her last moments, we are left with a hollow silence that permeates not only her home, but each one of our lives. Without her, we are like a flock without a shepherd.
Ever since she left us, I have heard countless stories about her last days as each one of us struggles to get closure; so many, in fact, that I had almost forgotten that my Nanna, as I liked to call her, was not always old and fragile. Far from it, she was a remarkable individual who led the most fulfilling life. She knew many lands, eras and people that we, her family, know nothing of. Her life was not and should not be limited to the recent years in which she was just our adorable grandmother; but should be remembered in its entirety. The best way for me to do so, is to share her stories.
I remember begging my parents to let me stay over at Nanna's house on weekends. We would plot and plan secretly on the phone and I would then quietly pack my things and wait for the cue. It usually came in the form of Nanna asking my mother if she could take me along which was followed by my sudden arrival, bag in hand, much to my mother's annoyance. Like two triumphant partners in crime, we would enjoy all day and talk all night. It was then that she told me stories of her life, stories that allowed me a peek into her past.
Her tales took me to the aristocratic neighbourhoods of Hyderabad Deccan in India – to streets that glittered with opulence and to her ancestral haveli (mansion) in Kara, overlooking the marketplace with a gateway wide enough for two elephants to pass through. Then, she would tell me about the deserted lands of Karachi where her family pitched their tents after partition. It was through these stories that I became familiar with her beloved family. Her compassionate grandmother, who ran across fields to save her servant from a thrashing; her eccentric Chacha (paternal uncle) who dug up the courtyard of the haveli searching for treasure until the vile act began to bring death and destruction to the household. Then there was her heartbroken Khala (maternal aunt), who refused to talk and just sat on the bare floor after her husband's sudden death. These characters filled my imagination and I would hang on to every word that Nanna uttered.
Nanna's friends, in the Nizam's (monarch) Deccan were quite eclectic. She laughed whenever she recalled how she and her sister would sneak out to meet their friends, the daughters of a British resident, as this familiarity with 'non-Muslim foreigners' was not approved by her religious family. Every Sunday, piano music and the sound of hymns would penetrate Nanna's home, much to her parent's distress and her amusement. She would also fondly recall her childhood playmate, a Hindu servant's daughter, with whom she wept profusely on their re-union years later during Nanna's trip to Hyderabad in the 1980s.
She shook with laughter when she remembered the relentless teasing when she got engaged to my grandfather and the fit she threw much to her mother's vexation. Eventually, she and her sister both got married on the same day in 1942 and Nanna moved to Allahabad. Her favourite memories of early marriage were of stealing food from the kitchen with her sister and their respective husbands, spicing it up and eating out of the same pot. She would tell me how appalled she was to find out that no one ate rice in 'India' as she liked to call it (considering Deccan to be a separate state) since a meal without rice was simply unacceptable to a Hyderabadi stomach.
She, however, remained silent on this matter but ate sparingly until a doctor was summoned to find out why she did not eat. He laughingly told her in-laws with a Hyderabadi daughter-in-law in the house, they had better include rice in their daily menu. After that day, rice was cooked daily, she would tell me gleefully.
I often asked her about partition. She would half-jokingly reply,
"Oh that, we were tricked into coming to Pakistan!"
Then, she would launch into the story of how my grandfather's brother had come to Pakistan before everyone and sent for his family saying that he had purchased a great mansion. Nanna reminisced about how she, along with her relatives, moved to Bombay for a while and later travelled to Karachi by ship. Upon arriving in Karachi, she remembered looking pitifully at the hordes of families living in tents and thinking how unfortunate their situation was. However, their carriage soon stopped at one of the tents and they were informed that this was their 'mansion'. She chuckled remembering how the women bewailed this treachery and demanded to be sent back to India immediately. However, they stayed and eventually learned to survive with the difficulties.
I still wonder how my grandparents managed to live through those times and remained optimistic. It is unimaginable to live with such trials after living a life of luxury, especially when my grandfather left for Wisconsin on a Fulbright scholarship and Nanna was left alone with six children. However, amazingly she remembered each era with amusement. She would recall how she would write to my grandfather telling him every small detail of their lives. People would often scare her that he wouldn't return, and she would cast this off as baseless. She also remembered his landlady, Mary, who would deliver her letters to my grandfather and keep an eye on him. Nanna always thought of her as a very pious Christian.
Once my grandfather returned, they spent the rest of their lives raising their ten children. During this time, Nanna was also taking care of her ailing parents, her widowed khala, an orphaned niece and various relatives occasionally. Her heart was bigger than anyone I know and she had the remarkable quality of empathising with others and making their burdens her own. I pray that this quality will pave her way into heaven.
After a lifetime spent in caring for others and supporting her husband, Nanna finally saw the world. My grandfather travelled extensively with her after he retired. These adventures also featured in her stories. She delightfully told me about her trip to India when she reunited with her cousins, and when the guard at Buckingham Palace opened the main gate just so she could take a picture, to my uncle's utter disbelief. She would bless the Good Samaritan who caught the thief stealing her purse at Istanbul Airport. Often she would remember pensively how she and my grandfather visited every state in America except Hawaii, because one had to "remove all their clothing to enter it" which she obviously refused to consider. This declaration would send us children into hysterics, upon which she would get offended and say,
"It's true, ask anyone!"
After my grandfather's death, she withdrew from the world. She would often lament, with tears in her eyes, that he broke his promise that they would die together and be buried side-by-side. Now when I visit her grave, I find solace in the fact that that she is finally resting next to her husband as she wished.
Today as I mourn, I can finally understand the sorrow she lived with every day, of losing someone she was so close to. I want to cry forever but I know I shouldn't. I remember crying bitterly once when she was leaving Holland for Pakistan after visiting us. My family dragged me crying from the airport while I insisted that she was waiting for me, and they tried to convince me that she had left. In the morning, we found out that her flight had been delayed and she had spent the night at the airport. She always joked that my crying had held her back.
Hence, I shouldn't cry now, lest my tears hold her from resting in peace.
"Alvida Pyaari Nanna (Farewell Beloved Grandmother), you will remain in our hearts forever."