Broken Triad: Storm of Assassins – When a Pakistani takes a crack at sci-fi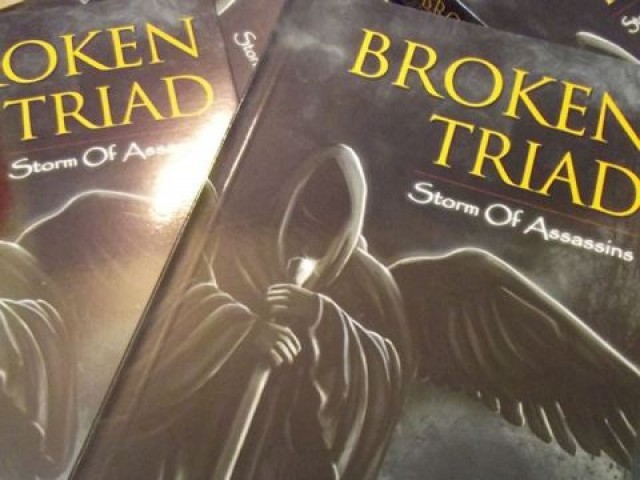 I was pleasantly surprised to find out that a LUMS student was having his fantasy novel published by Ferozsons this year. As a young student novelist myself, I know for a fact how unwelcoming and poorly equipped our publishing industry really is. This is especially so when it comes to entertaining  modern English fiction novels written by young student writers.
For a writer, to get a simple third party review done becomes a matter of calling in 'favours'. It is for this reason that I decided to take a stand for all novelists and readers out there and provide an independent appraisal of Qasim's work; this is the least we can do for the Pakistani writing community.
Broken Triad, Storm of Assassins is a fantasy sci-fi novel based in the magical lands of the planet Altris. The novel follows the journey of the young but destined boy Aeli and his training under a skilful but kind assassin, Kataash. Both are part of the highly secretive and powerful 'Guardian Office' and sworn protectors of the 'People's Republic'. Fighting the oppressive imperialists and the dark demonic hordes of the Autarites, the Guardians have just about their hands full, while Aeli struggles to complete his training to do his part. We follow his story as he makes new friends like his buddy Guli and meets enemies who tremble the very foundations of the planet they live on.
Qasim draws a truly magical world of humans, elves, dwarves, reptilians, celestials, demons, mutants and lesser heard beings such as Argonites and Torians. Magic and spiritualism is mixed with futuristic technology in an amazing blend. The characters are endeared to you very soon. You actually feel the fear when a demon approaches and the excitement when Aeli duels with his opponents. The story is very fast paced and it does not take long to jump right into the action. Interlaced with philosophical questions and scientific explanations, the story becomes very believable for a fantasy epic.
From scenes depicting the Grand Bazaar to the Sand Sea to the capital city of Alcadia to the demonic lands of Plaguis, the world Qasim creates is filled with myth, legend, suspense and magic. The friendship between Aeli and Guli is infectiously cheerful. The relationship shared between Kataash and Aeli reminds the reader of the true meaning of mentorship. But to be critically honest, the absence of a romantic arc in 'Storm of Assassins' and the grammatical mistakes and typos that can be found in abundance in the book are two of the greatest flaws of this great piece of Pakistani English literature.
The publishing industry in Pakistan is in an upsettingly abysmal state. We have no agents, publicists, editors or copy editors of quality and repute to speak of. The absence of platforms from which writer's can gain promotions and an apparent refusal of the publishing industry to accept that spending on the promotion, marketing and distribution of books is as important as printing them is equally disconcerting.
I asked Qasim about the problems he faced writing and he responded,
"While writing Broken Triad, the greatest challenge was to find faith in myself to overcome the doubt others had."
About the response he received, he humbly replied,
"Those who have read it have given me really strong output on the strength of the plot. Most have told me that it is a page turning narrative, I could not ask for more. The same cannot be said of the sentence structure though, it might be a little weak but with experience I hope I can rise above my flaws."
All in all, Broken Triad: Storm of Assassins is highly recommended for anybody who enjoys a good science fiction and fantasy epic novel. A small investment of hardly Rs600 is needed for hours of intense action and imagination. Jump into the magical but dangerous lands of Altris and join Aeli, Kataash and Guli in a story about fighting evil against all odds, making friends and learning to realise that fate could have anything in store for us!
I wish Qasim the best of luck for the second part of this series and will be eagerly awaiting its launch. To be honest, I never believed anybody in Pakistan could pull off writing a fantasy novel, believing it would be subpar in quality to other international works, but that was before I read Broken Triad.
So support the local industry dear readers. Who knows? We may still surprise you!
You can find the 'Broken Triad: Storm of Assassins'  at any Ferozsons outlet in Pakistan or you may contact Qasim himself on the book's Facebook page and a copy of the book can be delivered to your doorstep. It can't get better than that!
I hope we give this book a chance – it is definitely worth the time and effort!