Shahid Afridi, you showed us again why you are king!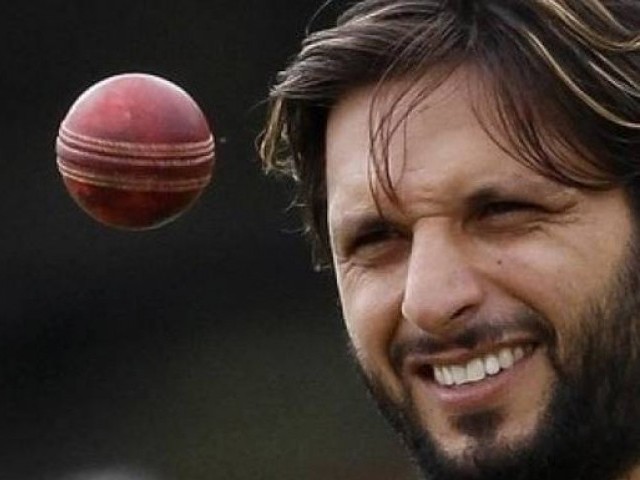 I was cheering, overwhelmed by joy, jumping up and down, running around in my TV lounge shouting "He did it! He did it!". This was the moment I had been waiting for for a very, very long time. I couldn't have asked for more. 
A hero, a legend, a fighter and a hope for millions of fans – that's what Shahid Afridi is. He has once again shown what a prodigy he is on the pitch. For 15 years, he has been making his country proud, and he is still going strong! They are so right when they say that Lala is to cricket what Beckham is to football.
He was dropped twice in the last six months following poor performances. For an ardent Afridi follower like myself, this news was hard to stomach. All Lala fans across the world were sad, but Afridi handled this situation with great tenacity and said he'd work very hard and prove to the world that he still has it in him.
Afridi, dropped from the Champions Trophy, has been pining to prove the critics wrong. He vowed to make a comeback to Pakistan's one-day squad, claiming that he is "better than most".
"Poor form doesn't really reflect that a player is at the wrong side of his game," he said. "Those players who are around with the team for years and are also match-winners, should be kept with the team to boost their confidence."
Sitting at home and bearing Lala critics constantly hating on him was getting unbearable. I even stopped using Facebook and Twitter for a while because it was too frustrating. To be honest, words cannot express what I felt when people said Afridi was finished. I was very low in spirits.
When players like Imran Farhat and Shoaib Malik made it into the Champions Trophy squad, and Pakistan went without an all-rounder, Afridi's exclusion from the team was hard to understand. When people like Rashid Latif and Sarfaraz Nawaz said that Afridi is of no use now, I refused to lose hope. I knew he had that magic and the thrill still there. I clearly recall Kamran Abbasi saying,
"He is flawed and infuriating, but there is magic in those Pathan eyes and wrists."
After Pakistan lost badly in the Champions Trophy, Shahid Afridi was selected for Pakistan's ODI and T20 squads for the limited-overs tour of the West Indies. As soon as I heard the news, I was ecstatic.
July 14 was when the first ODI against West Indies was held. This day, the 32-year-old Pashtun heartthrob won all of his fans back. His performance was nothing short of extravagant. No one could have done this in a better way.
His 55-ball 76 was impressive because it came when Pakistan was struggling at 47 for 5. Every time he whacked the cricket ball into the open skies, my heart soared. He coaxed his fellow batsmen to rally around him, as he produced one of those responsible efforts that leave you wondering why he doesn't control himself more often, hitting through the line with effortless power.
Our team becomes dynamic and invincible when Afridi is booming. The figures with the ball were spectacular – the best One-Day International figures by a Pakistani and the second best overall as well as the best in ODIs by any spinner. This performance surely perplexed the West Indies batsmen. For me, Afridi didn't simply win the Man-of-the-Match award, he owned it.
Where has this Afridi been hiding? Was this amazing performance result of him being dropped? Or was this because of him working hard on his game? Many of his critics said that this performance will prolong his stay in the game. He did perform and proved all his critics wrong who were saying that he should not be in the team.
I pray that he adds more consistency to his game in the future and that he continues to remain a match-winner. Afridi has a buzz about him which is unmistakable. His comeback also proves the fact that where there's a will, there's a way.
Afridi showed us why he is king. There is epic, and then there is Shahid Afridi.
Follow Aman on Twitter @LalaLoyalist