Red Ant Dream: A documentary on naxalism, Moaists and the Punjab revolution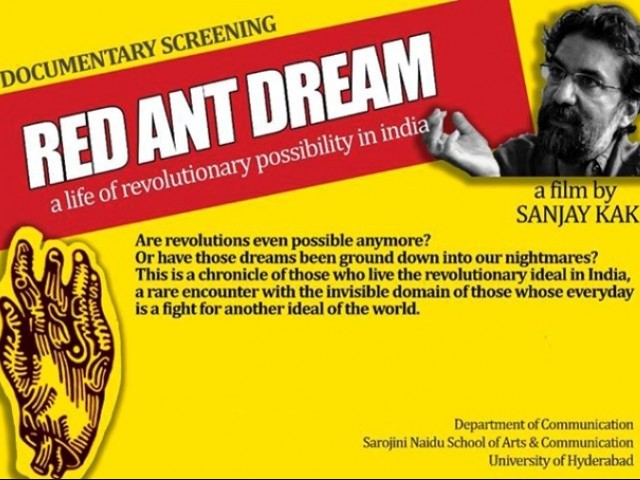 A few years ago, I watched a documentary film. I watched it till the very end. Once finished, I played it again – for I searched for meaning; the meaning of 'azaadi' (freedom), which to me, before watching this documentary had an altogether different connotation.
The film inspired me.
It made me believe in the significance of the word azaadi. It turned my life towards a different dimension. For the first time, I understood that occupation is not only about tyranny, killings and oppression. Something more perilous was hidden beneath – capitalism and foreign investment, just to fulfil some neo-liberal aspirations. The film celebrated martyrdom, revolution and of course, freedom. It exemplified 'Jashn-e-Azadi' (How we Celebrate Freedom).
There are documentary films that try to tell emotionally complex stories and succeed in making an impact. Red Ant Dream, fortunately, is one of those films. It is an awe inspiring video documentary from the red areas of India. This film documents the emergence of the Indian revolutionary procedure, coming as it is in a world of struggle, mass upheaval, revolt and revolution.
Directed by Sanjay Kak, a well-known documentary film-maker from India, Red Ant Dream invokes memories of struggle, revolution and redemption. A poetic representation of revolution and a tribute to people's war, Red Ant Dream is cinema of resistance.
Kak's movie (Jashn-e-Azadi) and anthology (Until my Freedom Has Come) created a ripple among many people who believed Kashmir to be an integral part of India. Both had taken a strong stand against the Indian Army's illegal occupation of Kashmir.
This film too, is filled with the syringe of revolution. One feels mesmerised seeing people who can hardly manage their night meals, shouldering rifles with their fingers fixed to the trigger. Hope can be seen in the eyes of women, who are wearing torn chappals and a tanned uniform but are part of the revolutionary force that is fighting a people's war- a war to save their lives and turn their habitat into a living heaven. A people's war which is justifiable, which a person can believe in, when Azad the former spokesperson CPI (Maoist) says:
"Maoism teaches us that self-preservation is possible only through war."
Azad, the revolutionary was killed in an encounter in July 2010.  Such is the influence of Azad in the Maoist movement that people consider him their guru. Ladda, an Adivaisi activist declares before the camera,
"Azad is my guru, and if he is a Maoist, then I am too."
The film shows Bhagat Singh stating that 'the state of war does exist and shall exist'. The activists and farmers of Punjab cheering 'Inquilab Zindabad' (long live revolution). The guerrillas of Bastar and Adivasi's of Niyamgiri sloganeering 'jal, jangal and zameen', which calls for the protection of their own homes and habitat they live in. All these things themselves show struggle – the struggle to live their lives and the justified demands of a human – to live free and celebrate the living.
Yes the state of war exists.
Capitalism doesn't get into a head-on collision with communism in Red Ant Dream and that makes it interesting. There are two forces fighting against each other but their goals are not global. It's more of a war between two entities. This film is a saga of heroism and sacrifice in the face of a brutal enemy camouflaged as the world's "largest democracy".
One of the strong points of the film is its clear depiction of the severity of environmental racism and the role of imperialism in creating it. Liberal environmentalists, as well as leftists, who fail to honestly engage with the very serious flaws between capitalism and a healthy thriving planet, obviously maintain political lines that are incomplete and will both result in ecological decay.
The film has celebrated the lives of Bhagat Singh, Pash and Commander Azad, who all died for a cause. All of them were revolutionaries. This shows where the true understandings of the filmmaker lay – the vendetta for one's own existence.
The film makes you to listen to the voices from the darkest corners of the jungle which, until that time, were shadowed by non-existence. It makes you understand that the society needs to be saved from authoritarians, oppressors and hierarchical hegemony that have made this society rotten. It teaches you, how the lives of the obsolete and the unfeasible (as said by West) can shake the roots of the so-called-self-styled biggest democracy in the world. It is a tribute to the revolutionaries.
Red Ant Dream chronicles a burning issue. This is no Bollywood representation of Maoists or Bhagat Singh. The Quentin Tarantino of documentary making in India, without any doubt, by breaking all rules in film making, has made a gem and a thought provoking film which leaves you thinking till the very end.
It is moving meditation.
A must own for anyone who is earnestly making an allowance for a whole new world, which in true terms is 'Azaad'.