Umar Akmal: Bringing much-needed balance to Pakistani cricket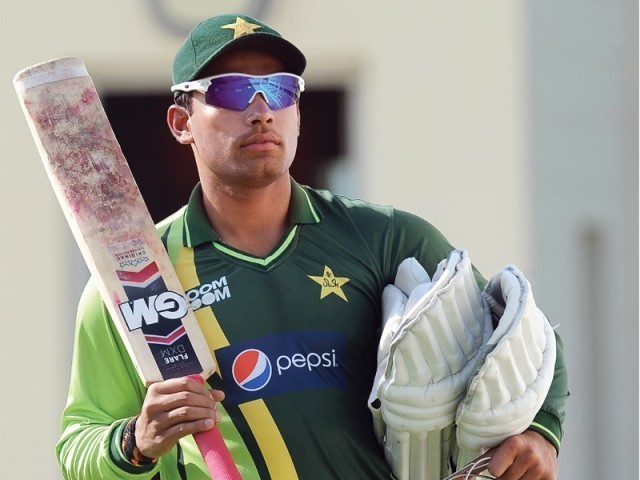 There was a time when Pakistan had remarkable wicket keepers who added valuable runs lower down the order. In those good days, besides Alec Stewart, no other team had players as capable with the bat as Moin Khan or Rashid Latif, especially, when it came to scoring fast runs near the end of an innings.  
There was also a time when Pakistan had legendary players like Wasim Akram, Azhar Mahmood, Abdul Razzaq, Shahid Afridi and Shoaib Malik in their prime. These men could bowl and bat; they were the ultimate all-rounders.
Additionally, the team boasted renowned players like Aamer Sohail, Salim Malik, and Ijaz Ahmed – batsmen who could turn their arm over and were more than just part time bowlers. (Did you know Aamer Sohail bowled his full quota of 10 overs in the 1992 World Cup Final?)
No wonder Pakistan was such a great team during the 90s! Genuine all-rounders, wicket keepers who could bat well, batsmen who could fill in with a few overs – what more can an One Day International (ODI) team ask for?
Sadly, those days are long gone.
Azhar Mahmood's career ended prematurely due to the Pakistan Cricket Board's (PCB) mismanagement. Abdul Razzaq got involved in politics and has since then been in and out of the team. Shahid Afridi lost his magic with the bat and then his bowling form failed him as well.
Similarly, Shoaib Malik became a specialist boundary catcher leaving Pakistan with no all-rounders.
Kamran Akmal got involved in fixing allegations, became an eternal dropper, and eventually forgot how to bat, leaving Pakistan with no wicket keeper batsman.
Mohammad Hafeez provided some balance to the side as his bowling improved with every match and there was a time when he was ranked higher than Saeed Ajmal. Although, Hafeez undoubtedly has become one of the best ODI bowlers for Pakistan, that is all he is now. With that said, he came into the team as an opening batsman with the prime responsibility of making runs, not stopping them.
Albeit, Wahab Riaz has shown that he can throw his bat around, he is not the all-rounder that Pakistan needs.
Furthermore, Anwar Ali is considered to be an all-rounder who can potentially replace Abdul Razzaq in the long term but his batting is nowhere close to that of Razzaq's or Afridi's in their hey days.
Hammad Azam seems to be the public's favourite, but I don't see why. The boy can bat and hit hard, but he cannot bowl to save his life. He is not a wicket taker nor can he be trusted to save runs. If he is to become the all-rounder that Pakistan is looking for then his bowling needs to improve significantly.
Moreover, it is quite sad that Pakistan has not been able to get the balance of its ODI team right. Often, the team is in a situation where they are either a batsman short or a bowler short. It is a risky situation to go all in with only five specialist bowlers and whenever Pakistan has tried to play a sixth bowling option, they have weakened their batting line up. And, unfortunately, no one has done anything about this situation.
Until now.
Recently, a vital step has been taken in naming Umar Akmal as the first choice wicket keeper for the ODIs and T20s against the West Indies. This is a great move; in fact, it is a very bold one. It is a move that will (hopefully) go a long way in giving the Pakistan ODI team the much needed balance it requires.
With Umar Akmal batting in the top six and donning the gloves, Pakistan can actually play five bowlers, in addition to Hafeez.
This permits them to fit Shahid Afridi in the XI, as it is difficult to include him in place of a pacer, and he can't really replace Ajmal or Hafeez.
The Pakistan management has openly discussed this move. The chief selector has stated that Umar has been given the wicket keeping duties as it will help Pakistan improve the balance of their team. The coach has also mentioned how this will give added responsibility to Umar. And Umar Akmal himself has talked about how he is ready for this challenge.
On the contrary, some critics argue that this will be an extra burden on one of Pakistan's most talented ODI batsmen. But, I don't agree with that.
In fact, it might actually help Umar cement his place once and for all in the team. Certain players require that added responsibility to discover their true potential and he might just be one of them. For instance, Rahul Dravid became a better ODI batsman when he was given wicket keeping duties. Kumar Sangakkara and AB De Villiers have done the same for their teams whenever they have faced such balance issues.
Sure, those batsmen are in different leagues altogether, but there is no reason why Umar can't handle the added responsibility. He has got nothing to lose and neither does Pakistan!
Conclusively, the selectors could not have picked a better ODI squad than the one they have chosen for the tour to West Indies. Finally, for once it feels like some strategic thinking has gone into the composition of the squad and someone has taken the initiative to speak about roles.
Let's hope the same thought is applied on the tour and in the composition of the playing XI!
This post originally appeared here
Read more by Umair here or follow him on Twitter @WellPitched