Pakistan will remain nuclear as long as India remains nuclear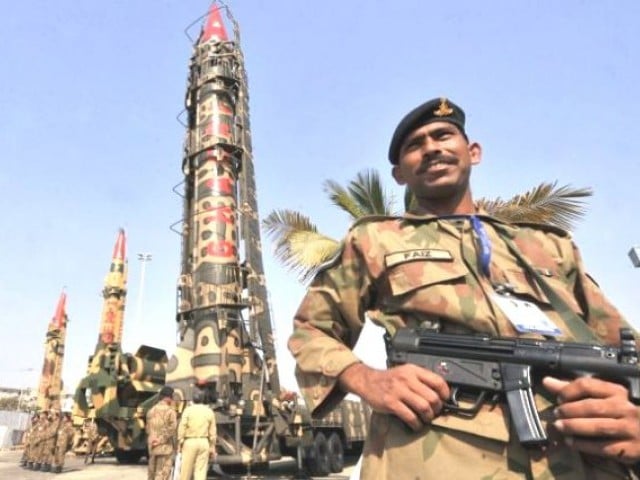 It cannot be disputed that nuclear deterrence is the key strategic factor safeguarding Pakistan's national security. May 28 is a day of pride for Pakistan and the celebration of this day refers to the acknowledgement of all the scientists' efforts that went into making Pakistan more secure. This day is celebrated as a national day of significance that made Pakistan a member of an exclusive club of less than ten nuclear states.
In the West, Pakistan faced huge criticism, and being a Muslim state, its weapons were named 'Islamic bombs'. On the other hand, a wave of joy and exult pulsated through the Muslim world. It is without doubt that the attainment of nuclear weapons gave the nation renewed confidence as it ensured the security of the homeland because it was now at par with the 'enemy'.
Pakistan was long claiming that it did possess nuclear technology but did not intend to test the weapons. Initially, the country seemed to have been seeking only civilian nuclear capabilities and the civilian nuclear programme began with participation in the US Atoms for Peace initiative. We were a reluctant entrant in the nuclear weapons game.
Yet, after New Delhi's involvement in dismembering Pakistan's Eastern Wing and testing its nuclear weapons in 1974, Pakistan was left with literally no choice but to respond in kind and make up for the conventional arms weakness. Please make note that while India's nuclear programme is for prestige, Pakistan's is purely security driven. It is a right of self defence as enshrined in Article 51 of the United Nations Charter.
It was India who actually upset the balance of power and started the nuclear game in the region. These circumstances, however, prodded Pakistan to test nuclear weapons for deterrence and as an act to balance power. No country can overlook its security concerns and issues, and hence, Pakistan's nuclear weapons serve as the guarantors of peace in the region.
Some writers have recently contented that Pakistan's survival, in large measure, depends on economic performance, political stability, wise foreign policy, technological advancement, and in developing its civilian human resource potential rather than a nuclear prestige. However, one must keep in mind that though all these elements are essential in the stability of a nation, nuclear strength is a monumental milestone for a country in the modern world.
Nuclear weapons are not a source of Pakistan's economic deprivation but provide it safety to take economic strides and develop. If a nuclear programme can be pursued, so can economic progress; all we need is dedication and sincerity of purpose.
Unlike what many nations think, Pakistan's weapons are primarily "weapons of deterrence", not prestige. The short range delivery systems being developed are meant to plug the gaps Indian planners seek to exploit. Thus, Islamabad's full spectrum deterrence has upset Indian designs and has frustrated them.
Another rising trend amidst the political and security challenges of Pakistan is the misconception that the nuclear security here is weak. Some observers fear scenarios such as the capture of our nuclear weapons by the Taliban or a collapse of the Pakistani government resulting in the seizing of our weapons. Let me be clear that these are merely media speculations. Several US officials and other serious watchers of Pakistan's programme have expressed "comfort" with the security of the Pakistani nuclear arsenal. In fact, it is better than many others.
In conclusion then, I believe that improving the relationship between Islamabad and New Delhi and stabilising the region is the only way to avoid the rapid growth of the nuclear arms race in the region. We will obviously stop at a point where we feel we have enough to be able to deter India but whether the same applies to India is uncertain. Without nuclear weapons, our national security interests will always be in jeopardy and this is a lofty risk which we cannot take.
Follow Usman on Twitter @shau_ni