The Reluctant Fundamentalist at the cinema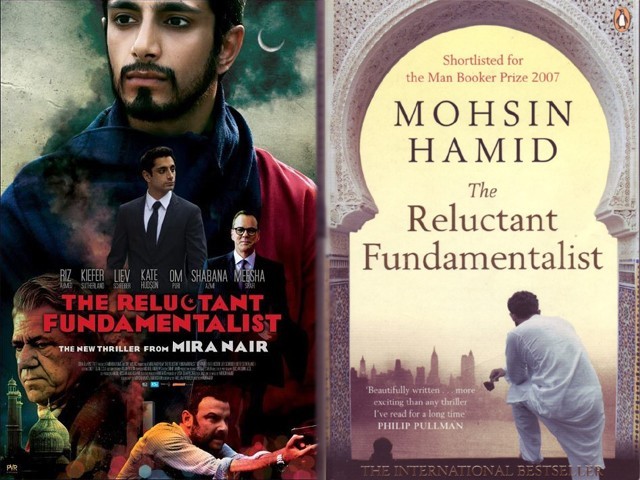 So last night I watched The Reluctant Fundamentalist at the cinema in Karachi (yes! we have cinemas!). I'd been looking forward to watching this for some time; the first feature film based on a contemporary Pakistani novel certainly deserved a viewing, to see how Mira Nair brought the whole story to life.
What would she include, what would she leave out? I'd heard that the movie differed from the book in significant ways, adding a thriller twist that wasn't in the novel. This could make the movie or ruin it.
For me as a writer, it was exciting to see the book metamorphose into two hours of cinematic story-telling. I can't even imagine how Mohsin Hamid must be feeling, but I know that any writer would want to be in his shoes – if the movie succeeds, that is. If it flops, then he would probably want to crawl into a hole and not emerge for a while. Luckily, he doesn't have to look for any holes, because the movie didn't disappoint in the least. And while it was uneven in some places, dragged in others, on the whole it was definitely worth watching.
The standout performance in this movie is Riz Ahmed, who plays Changez with the intensity and charisma of a very gifted actor. His liquid eyes remain the anchor throughout the film, the thing you focus on, the thing Mira Nair focused on in almost every frame of the movie. He is in turns innocent, guilty, angry, calm, passionate, detached, joyous and devastated. He speaks with a perfect Lahori accent, and his Urdu is admirable, even more polished than it was in Chris Morris's "Four Lions". His screen presence is tightly-controlled, vulnerable where it needs to be, and completely believable.
Also excellent in the movie are Kiefer Sutherland as Changez's shark-like Wall Street mentor – who impressed me with his perfect pronunciation of the word "Pakistan", Nelsan Ellis as Changez's friend and ally at Underwood Sampson, and Liev Shreiber as the American journalist who can speak perfect Urdu and may be playing a double game. Then there was a cameo by Turkish actor Haluk Bilginer who, while he was only on the screen for a short while, was a pivotal character for Changez's own journey of self-discovery.
The women in the movie were less impressive for me. Kate Hudson as Changez's girlfriend Erica did what she does best: acting the part of a ditzy All-American girl, but the chemistry seemed to all come from Riz Ahmed, not her. Frankly, I couldn't understand the meaning of the art installation that destroys their relationship. It's also notable that Mira Nair seems to be repeating the pattern of the clueless western woman that we saw in The Namesake, where Kal Penn's Gogol is so misunderstood by his well-meaning but culturally idiotic white American girlfriend. Does Mira Nair have something against western women?
Meesha Shafi and Shabana Azmi in contrast were the strong Pakistani women in Changez's life, as sister Bina and mother to Changez. However, Azmi seemed to be acting on auto-pilot, and I found Meesha Shafi's role hard to understand; the bold-as-brass Lahori woman somehow didn't gel properly with the more intense, nuanced Changez.
Okay, now to the good stuff. The plot of the movie is changed from the book, which results in an unnecessarily melodramatic ending – the last fifteen minutes of the movie were an exercise in Hollywood cliche, and only ended up confusing me. It's the middle of the movie which portrays Changez's rise and fall in America that is the movie's strongest section – his humiliation at the airport after 9/11, his treatment by his co-workers, his arrests and mistreatment by the NYPD all struck so close to home that it was difficult to watch. The containing action of Liev Shreiber's journalist interviewing Changez at times failed to sustain momentum because the flashbacks and action kept chopping up the building intensity. This is why the movie felt uneven overall.
However, the movie did clear up something very important for me: I finally understood what the "fundamentals" were and what the "fundamentalist" was meant to be, according to Hamid's theme. It wasn't the fundamentalist capitalist sharks at Underwood Sampson; it wasn't the Islamic fundamentalists who are kidnapping American professors and causing terrorism. The fundamentals refer to something much simpler, that the Turkish publisher explains to Changez over lunch in Istanbul: your origins, your roots. The fundamentals of your life. The message being that you should always stay true to your origins, your basic beliefs, and that's something impossible for a young Pakistani man to do in post 9/11 America. Changez struggles with staying true to himself; therefore he is the "reluctant fundamentalist".
I'm very glad that The Reluctant Fundamentalist has finally come to the big screen, and I hope it does well all over the world. It tells a very important story: of how each and every Pakistani has to make big choices about who he or she is, and what he or she believes in. And that those choices do matter, they have repercussions both at home and abroad. This film takes the nonsense rhetoric of "us versus them" and blows it out of the water. Instead, you're forced to think of the world in a more sophisticated way: who am I in a world of us vs. them? Do I have to take a side? The answer isn't always no, but it isn't necessarily yes. And the movie gets close to the question, even if it doesn't necessarily have the answer.
This post originally appeared here.
Read more by Bina here or follow her on Twitter @BinaShah