The Gujrat bus tragedy: Who is responsible?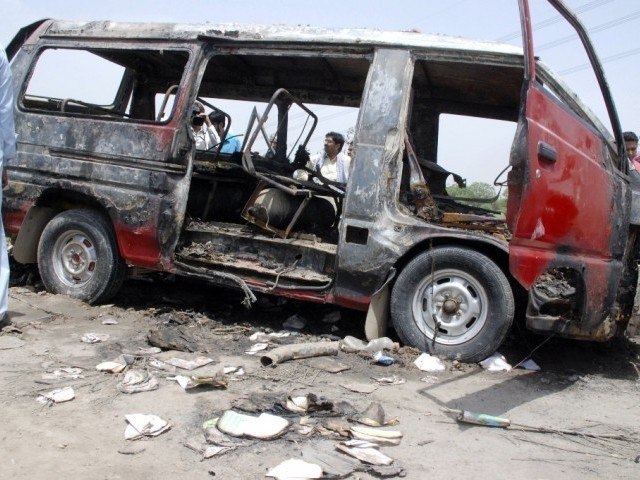 Every second day, we hear of gas cylinder explosions in buses, wagons and rickshaws, causing injuries to their passengers. In more severe cases, innocent victims are sometimes burnt to death. As a reactionary measure, the electronic media gives it running coverage throughout the day. The government, after announcing compensation for the victims' families, takes a back seat and considers its job done.
Deliberations are made for a few days on potential solutions and then, just as soon forgotten, till the next tragedy occurs. In today's world, it is difficult to imagine any other country except ours, where this mishap takes place at all and is then followed again and again for the same reasons of negligence as more and more people lose their lives to complacency.
Just recently, in Gujrat, a CNG explosion in a school van resulted in the death of 18 children and as a result, 18 families were changed forever. Nobody even cares to think why these tragedies keep taking place in our country. Just because the higher-ups don't have a personal stake in the tragedy does not justify their inaction. Just because their own children go to school in air-conditioned buses and private coaches which have a standard of safety and just because they have not suffered personal loss does not mean it should not be a priority to tackle this issue for the citizenry.
God forbid, had their children been involved in such an accident, the law would have been acted upon vigorously and immediately.
The only positive of CNG cylinders is that vehicles run on CNG pay less, and this is beneficial for those using public transport, whereas those running on diesel and petrol cost much more. Other than this, there is a long list of problems. The dearth of CNG occurs because public transport vehicles usurp the resource from CNG stations and less is made available for other purposes.
For this reason alone, the entire CNG sector has been affected badly. For so many days, petrol stations have to be kept shut in order to ration supply of CNG. When the stations are open, long queues are seen, which disrupt the flow of traffic for other transporters.
In every country, there is a minister for transport who works towards the betterment of their citizens and tries to bring improvements in the public transport system.
Unfortunately, in our country, even if there is such an authority, it is busy filling up its own pockets. An appeal is being lodged before the chief justice of the Supreme Court to take immediate and appropriate action for CNG cylinders embedded in local public transport systems.
One can only hope that the authorities concerned can show mercy for the poor masses of this country and stop this tragedy from recurring.
Read more by Rashid here