Behind the scenes: A heartfelt interview with Ranbir Kapoor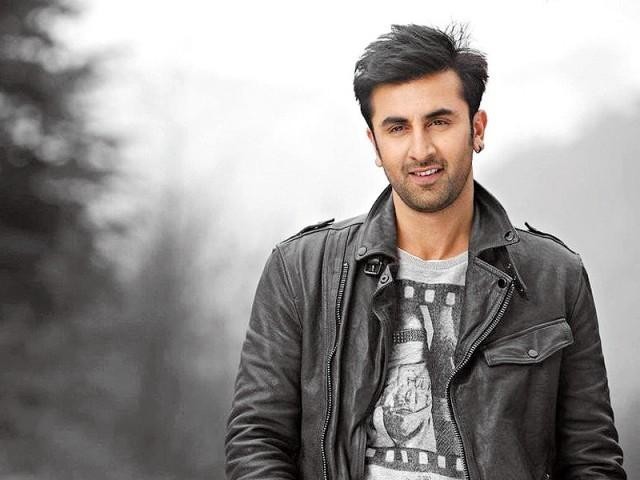 I caught up with Ranbir Kapoor on his recent visit to London for the promotional tour of Yeh Jawaani Hai Deewan (YJHD), his much awaited release this weekend.
Ranbir Kapoor is the quintessential star kid, the scion of Indian cinema's first family. After an underwhelming debut in Sanjay Leela Bhansali's 2007 Saanwariya, he has gone from strength to strength proving that he is here to stay based not on his famously enviable surname but for his own talent.
Over the last few years Ranbir has dominated the award shows as well as the gossip columns. His haul of back to back statuettes from the most recognised and well-respected juries, though, have finally, he feels, vindicated his stardom.
———————————————————————————————————
INTERVIEW STARTS
Ranbir Kapoor walks into the room all suited up looking every bit the movie star that he is.
As the movie maven settles down, we get down to our tete-a-tete.
Ayesha:  Ranbir, out of your generation, you are one of the few actors who have emerged not only a star but also as a credible actor. Having just delivered exceptional performances in two extremely emotionally taxing roles back to back, has this film been a conscious break away from the pattern? Perhaps, a 'lighter' option?
Ranbir:  Well you know it hasn't really been a conscious decision on my part. Ayan Mukherjee, the director of the film, is one of my dearest friends and more importantly I enjoy and share his cinematic sensibility. For Yeh Jawaani, he had roped me in from a very early stage when he was still working on the script. He told me about the idea and I knew I wanted to be part of this story. Plus I had a great time working with him during Wake Up Sid.
Ayesha:  Both Jordan (Rockstar) and Murphy (Barfi!) had their own worlds in a way. Bunny (Ranbir's character in YJHD) seems to be much more relatable to present times, at least from what we have seen of the promos so far. As an actor, is it easier to play him then?
Ranbir:  Not at all actually. I think I found it more challenging to play this guy. For Jordan and Murphy, we could create the characters in any way we wanted. They were ours to mould and in a way we could take a certain amount of cinematic license when playing them. With Bunny I didn't have that liberty. In Rockstar I had that background of being from a Jaat family, I could prepare by spending time with them and seeing how there were. Then there was the character himself who was complex because of his life experiences and the angst he felt as a result of them – there was a reference point for it. Again with Barfi, it was set in a different time altogether, it was a period drama; the character was deaf and mute. So in a way you can use those narratives and settings to help you.
Yeh Jawaani is set in our times. It's very urban. In fact, my biggest challenge came from the fact that Bunny, the guy I play, is quite similar to me. I had to then play him using my own experiences as references which I found to be quite difficult. How do I play myself without making it boring? How do I make sure Bunny is engaging and interesting for the audience.  We had to think very carefully when adding dimensions to him without compromising on the believability part of it and staying true to Ayan's vision for Bunny and the film as a whole.
Ayesha:  The feel of the film is almost quite Wake Up Sid-esque…
Ranbir:  Well, it's coming from the same team so yes the heart of it will be similar. But there's a lot more to Yeh Jawaani. It's much deeper. It's about growing up, finding yourself, your ambitions, first loves, heartbreaks. It has a flavour of all these powerful elements and captures the world of these four friends that Deepika, Kalki, Aditya and I play. It's actually a lot deeper and broader and of course it's a lot more glamorous. The scale is bigger. Wake up Sid was much narrower that way.
I think what 'Yeh Jawaani Hai Deewani' is really saying is that 'happiness is real only when it is shared'. It is not about where you go in life but more about the people around you and usually we get so caught up in our own lives that we forget that.'
Ayesha:  A lot is always made of you being a 'Kapoor kid' with a whole legacy resting on your shoulders. This year marks the 100th year of Indian cinema and the history of Indian cinema will be incomplete without a mention of your family's contribution. Since you are part of the current generation of Kapoors, are you considering giving your family a tribute of some kind?
Ranbir:  How can I do that? I mean I don't think I am really in a position to pay a tribute like that. It would be a bit pompous if I were to do it anyway since it is my own family. My elders have been a part of the industry for generations now, almost 80 out of the 100 years actually, and I think the work that has been done by them is by itself a testament to the contribution that has been made. I know there has been news of a revival of the RK banner recently but no we are not looking at doing anything with the intention of paying a tribute to the family.
Ayesha:  Fans would probably want to see you honour the family in some way maybe, though?
Ranbir:  (laughs) Well the only way I can honour them I think is to act well. I guess if I do my job well and make them proud of what I am doing, I will be playing my part.
Ayesha: If you had to pick that one piece of Indian cinema to show to someone who has never heard of Bollywood before, what would it be? Or which film for him, encapsulates the best of the hundred years gone by.
Ranbir: (pause) I think it would have to be one of grandfather, Raj Kapoor's film called Shree 420. It's probably my personal favourite of all times. When you watch it you realise how relevant it was to the time when it was made and even now. As a film – its emotional, it's entertaining and yet it is innocent. For me, it is an inspirational piece of work.
Ayesha:  And if you had to pick something more recent?
Ranbir:  Ah there have been quite a few films that I have really loved. I think I would say Aamir Khan's 3 idiots. I found it to be a very wonderful way to make a socially relevant film.
There's also Dilwale Dulhaniya Le Jayegne which defined film making for our generation. It really encompasses everything that we cherish about our cinema.
INTERVIEW ENDS
————————————————————————————
Ranbir Kapoor's passion for cinema comes across as genuinely heartfelt and after hearing him talk about his craft it is hard to not to wish him the greatest success in the future. If there is one thing that you notice as soon as Ranbir starts talking about films, his own or otherwise, is that this he is absolutely passionate about it. Growing up in a film family, surrounded my people involved in the different aspects of film making has definitely left him well-versed aesthetically and technically. More than anything else though, you get a strong sense of Ranbir speaking not only as someone who is involved in the process of creating cinema but also as a member of the audience.
Ranbir is self-assured as an actor, aware of his stardom and despite all the conjecture about his public associations with co-stars he manages to stay true to his first love – cinema.
**The film releases world-wide on 31st May and has been produced by Karan Johar's Dharma Productions.
Read more by Ayesha here or follow her on Twitter @ayesh_b