How thieves on a bus ruined my birthday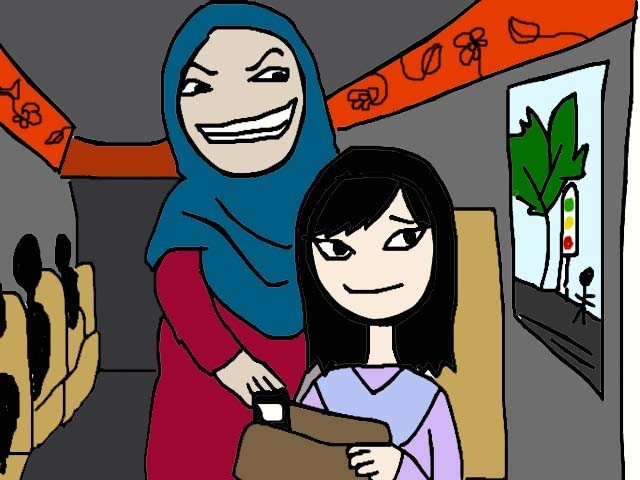 It is no secret that public buses are not safe. Speeding, overloading, harassment and reckless driving aside, the recent rise of robberies inside the vehicles while they are still moving has added to the reasons why one would feel unsafe while taking a bus.
Previously, I had only heard stories of people being robbed by armed men who board these buses as passengers or by sneaky pickpockets who lure you into a hearty conversation while they pick your pocket unnoticed.
A few days ago, I too fell victim to these robbers.
I was heading to work in the afternoon on my usual bus. Near the Defence intersection on Korangi Road, a group of around eight women boarded the vehicle. Naturally, the bus became more crowded than before.
These women began pushing and shoving their way into the bus, causing general discomfort to all the travelers who had not managed to get a seat for the ride. One of the ladies standing behind me decided to face the wrong way. Instead of standing facing forwards, she stood with her back to me and leaned into me making me as uncomfortable as possible in the cramped space where I stood.
After a few minutes, an argument broke out between the women and another lady I could not see – everybody craned their necks to get a glimpse of the commotion. Finally, my stop arrived and I tried to get off the bus, but even then they wouldn't move to make room for anyone who wanted to leave. After a great struggle, I managed to get off and proceeded to walk to the office, all the while being nagged by a suspicious voice in the back of head.
My purse somehow felt lighter than it normally does. I figured I might have forgotten my water bottle at home however the sinister feeling refused to go away.
So I stepped inside the building premises and searched through my bag. To my horror, both my mobile phone and wallet were missing. Everything else was lying neatly in the place I had kept it when I left the house; just those two important things were gone!
And that's not even the worst part. This happened on my birthday! What an excellent way to for the universe to wish me!
Earlier in the week, my aunt had been telling me about this gang of around 10 women who board buses at various intersections and create various kinds of diversions – ranging from pretending to throw up or just pick a fight with one of the travelers. While everyone is distracted with all this they go about stealing stuff from people's bags and any jewelery they might be wearing.
Sadly, in our part of the world we have this general perception that women cannot be involved in petty crime. I've noticed it myself, when policemen signal for a car to stop for a check, if they see a woman in the car, they let them pass.
Females entering malls are not even searched properly. For all we know they could be carrying concealed weapons, no?
Even public buses are no longer safe. I can only say we need to be even more vigilant when we use public transport regardless of whether a woman or man is sitting next to you. Don't even trust rickshaws and taxis, I've heard instances of rickshaw drivers giving passengers anaesthetic substances and then stealing all their valuables.
Also, it is a good idea to not have any personal information on your phone. Stolen mobile phones can be a huge problem because most people have a smart phone these days and such devices are designed to contain your passwords, photographs and even critical things like bank details. Mobile banking is becoming a growing trend in Pakistan and it is not suited for a place where hundreds of phones are stolen every day. You see billboards with bank ads that say
"Ab apka account apke mobile mein!"

(Now your account is available on your phone!)
The facility of being able to pay for things through your phone may be great, but it can turn out to be a nightmare if it falls in the wrong hands. It takes quite some time to cancel your online bank account and a few minutes are enough for a criminal to use up your hard earned money. People can also steal your identity to make calls or send emails for terrorist activities and crimes!
Travel carefully, Pakistanis! Keep your money in a different wallet and your ID/credit cards in another, so if one is stolen or lost, you still have the other. If you commute through the bus, make sure your bag is zipped and your wallet is tucked in carefully; most importantly, do not take your eyes off your bag and do not let commotion distract you.
And from what I have experienced, it's a good idea to stay home on your birthday!
Follow Suzanna on Twitter @SuzannaMasih