Labour Day: Insight into the lives of some Pakistani labourers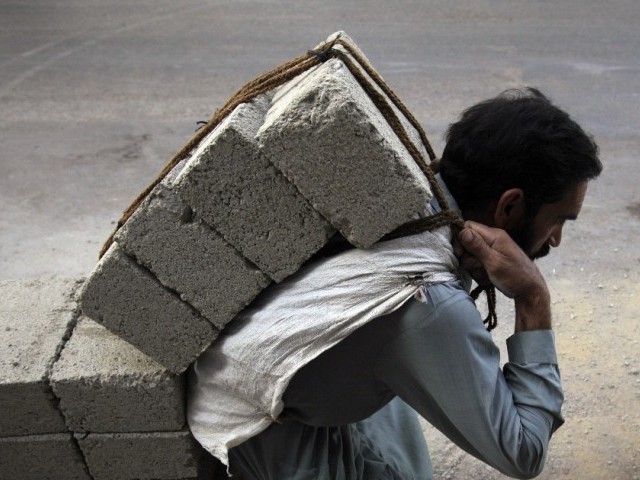 This year again, the first of May marked the lives of the working class with great zeal and zest, as it symbolises their hard work and hope for better socio-economic outcome.
In Pakistan, the situation is quite distressing. Soaring inflation, excessive loadshedding of electricity and gas, unemployment, rising poverty and poor law and order, all contribute to making lives of people worse.
The lower income working class is a direct sufferer of the uncontrollable sky-rocketing price hike which is driving them into a poverty trap and starvation. The prices of food items and daily commodities are increasing exorbitantly; basic things like flour, rice, vegetables, and pulses are out of the poor man's reach.
I can't help but wonder about the impact of Labour Day on labourers living in Pakistan. Labourers are the backbone of our society, and without any doubt I can say that our nation's progress cannot be achieved until we enlighten and reform our working class.
I met different people from the working class. They had diverse backgrounds and earned as little as Rs400 per day individually. With me, they shared the miseries and harsh realities of their life as I inquired about their views on May Day.
"My meagre income is insufficient to meet the family's basic needs. We always run out of money by the end of month and have to ask different links for cash to help." said Nawaz, a carpenter and head of five-member family, living in a downtown area of Karachi. "The government should formulate an easy loan facility for people like me who want to start their own small businesses." he suggested. The situation has forced his wife and daughter (a primary school drop-out) to work as maids.
Undeniably, Nawaz's suggestion is a reasonable one. Lengthy documentations and time-consuming procedures required for a loan application are a big obstacle.
It is an open reality; Pakistan's weak economy can't take the entire burden on its shoulders, and so, each and every person has to contribute on his own to facilitate the life of the poor working class living in bad shape. The private sector can share the burden of government in this regard by building free of cost cabins, free tools and light machinery.
Free schooling, skill development or technical education for children of lower class is the need of the hour.
Ashfaq, a daily wage worker, feels guilty for being unable to provide education to his children.
"I want to see my sons as government officers and my daughters as teachers, but unfortunately it's just a dream that I will never be able to fulfill." he said with teary eyes.
Apart from the government, NGOs are already working to support free education/training programmes, there is still a wide gap and that can only be overcome by widening the scale of work in every town, and village.
Improving the condition of ghost schools in far-fledged villages is essential to make the education structure for people living in villages better.
Our working class/labourers do not have the same rights as their counterparts are enjoying in developed countries, although they are the engines of our socio-economic growth.
"Since the Baldia Town fire incident, I am always worrying for the safety of my daughter, but I can't stop her from working as we don't have adequate income to fight high inflation." said Bashir; a mechanic whose daughter works in a garment factory.
Long working hours, lack of health facilities, safety measures, and social protection are the vital issues of the working class, but the common practice of our industrial sector is to deny the basic rights of its labourers. Until the government formulates a strict inspection policy along with a check and balance system before issuing licenses, horrifying incidents like Baldia Town fire cannot be avoided.
In recent years, the crippling law and order situation has directly influenced the lives of labourers all over the Pakistan. One such example is Akbar, a gardener, who was happily working in his hometown in Khyber-Pakhtunkhwa (K-P) but as the security situation deteriorated there, he migrated to Karachi leaving behind his family in hopes of a safe working environment. Unfortunately he is facing the same volatile situation here. The miseries of people from Karachi to Khyber cannot be addressed until government keenly resolves the law and order issue.
Pakistan's women, too, play a vital role in boosting our economy, but they are also facing many hardships.
"Low wages for women as compared to their male counterparts are the main problem. Poor transportation is also a hurdle. We compromise because we have to run our household. " said Shabana, who works in a textile unit.
Tussle for equal pay is the most highlighted issue faced by both urban and rural woman. Only stern implementation of laws can eradicate this discrimination.
Moreover, employers mostly deny or reluctantly give women maternity or sick leave and hardly ever promote. Harassment is another major problem that working women face. How can they use their skills to their fullest when their work environment is not safe for them? The existing social security laws scantily safeguard women workers especially home based workers.
What I have felt after talking to these people is that they are disheartened and have lost their confidence in government machinery. When I tried to ask them about Labour Day, they all said one thing:
"No holiday on May 1 for us."
To my dismay, none of them was even aware of labours rights or labour laws.
They expect nothing new from the upcoming elections either, as most of them believe that politicians only came to them when they needed votes. Soon after the elections, the labourers are forgotten.
Upon asking about medical support, paid holidays, limited work hours, safety measures, improved infrastructure, and proper accommodation, they individually showed their anger, frustration and hopelessness in the system.
Great determination is required to resolve the current scenario. Laws should be implemented strictly to facilitate the labourers and gain what little is left of their confidence in the country and its system. 
If the government cannot do this, the least we can do is tip our labourers lavishly as this is the only luxury they can ever hope for,
PHOTOS: TANVEER KHADIM
Read more by Tanveer here