Formula 1: Who will win the battle of supremacy in 2013?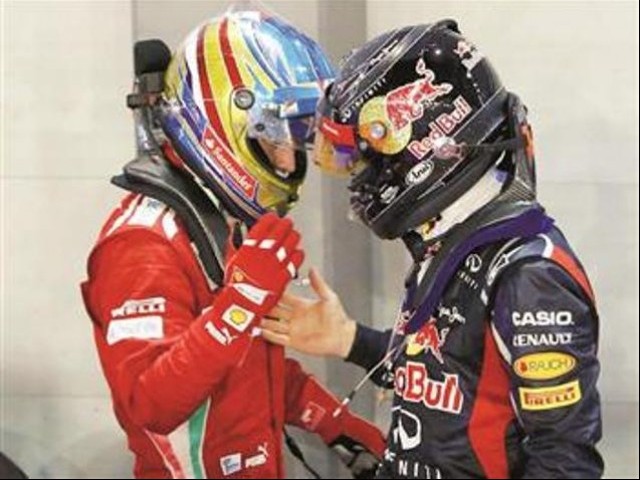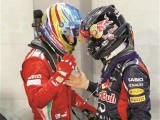 The current season of Formula 1 seems destined to be another enthralling one given what we've seen thus far. This year will also mark a huge transition for F1 as the 2.4 litre V8 engines will be replaced with 1.6 litre V6 engines in 2014.
As highlighted in my preseason blog, in this year's campaign the two leading contenders for the throne are Red Bull's Sebastian Vettel (defending Triple World Champion) and Ferrari's Fernando Alonso.
The unpredictable time-sheets witnessed in preseason testing was a mere prelude to the start of the season. This season has been as unpredictable as last year; no team seems to be in a dominant position so far. Most of the cars are an evolution of last year's models with hardly any regulation changes introduced in 2013.
With four grand prix's of the season completed so far, it looks more like a three-way fight for this year's title with Kimi Raikkonen (Renault).
The best part of the Lotus Renault package is that it manages tires wear rather well and making Pirelli tires last is key to winning the championship this year. Being an ex-World Champion there has never been any doubt about the Iceman's (Kimi) sheer speed and racing prowess.
As was the case last year, the high degradation on Pirelli tires makes it imperative on the teams and drivers to try and make them last longer which is unfortunate from the spectator's viewpoint as it does not allow flat out racing.
Federation of International Automobiles (FIA) needs to push Pirelli to improve the reliability and durability of its tire compounds; F1 being the pinnacle of motorsport should not be bogged down by tire management and conservative strategies.
Although Pirelli has assured that they are reviewing their hard rubber compounds and trying to make them last longer, it will not tweak its softer compounds.
The only shock so far has been McLaren's sheer lack of pace in qualifying as well, under racing conditions. This is surprising as McLaren is expected to be one of the front runners. He is seen struggling and there appear to be no immediate signs of a substantial improvement.
Furthermore, Mercedes has shown signs of progress as they started focusing on this year's car during the second half of the 2012 campaign. While their qualifying pace seems to be top notch, the tire wear issues persist. This is something that compromised the Silver Arrows' race speed and strategy over the whole season last year.
Having replaced the ultimate racing legend Michael Schumacher, Lewis Hamilton has gelled in well in the Brackley based outfit. As expected, the team is performing a lot better than last year that was based on the continuous development program run by Mercedes. The technical team which seemed to be lacking last year has also been beefed up with some high profile faces.
If Hamilton keeps his head down, he has a good chance to compete for the championship during his stint with Mercedes, especially next year onward as the German manufacturer will be the only one of the three engine suppliers in F1.
Moreover, based on what we've seen so far, the driver's championship is likely to go down to the wire with Vettel, Alonso and Raikkonen fighting it out. No team is likely to be a clear favourite this year as in 2012, some tracks will suit some manufacturers and in the end it will boil down to consistently racking up the points as and when offered.
As for me, F1 will never be the same without Schumacher. However, Sebastien Vettel (nicknamed baby Schumi) is my favourite now. Vettel seems to be a class above the field as he's able to bring the best out of his car even during Grand Prixs where the Red Bull package is not the strongest.
From a spectator's viewpoint this season is likely to be very exciting with more pit stops, no clear favourites and at least three strong drivers vying for the top slot.
Ferrari's Alonso and Lotus's Raikkonen will be very strong contenders; however, their package has to be superior to the Red Bull's in order for them to dethrone the defending triple World Champion.
Alonso has to focus hard on winning his third driver's title as the Ferrari package is much better this year and his phenomenal talent and driving skills makes him challenge for a victory even when odds are stacked against them.
The dark horse for this year's title fight will be Hamilton. However, in order for him to seriously challenge the front runners, Mercedes has to significantly improve its tire degradation issues and rely on some misfortune for the leading trio.
So far, everything points towards a highly scintillating season with lots of ups and downs for various teams and drivers and of course a fight for the championship till the very end!
Read more by Saad here or Follow him on Twitter @saadbari