What if Ronaldo was Pakistani?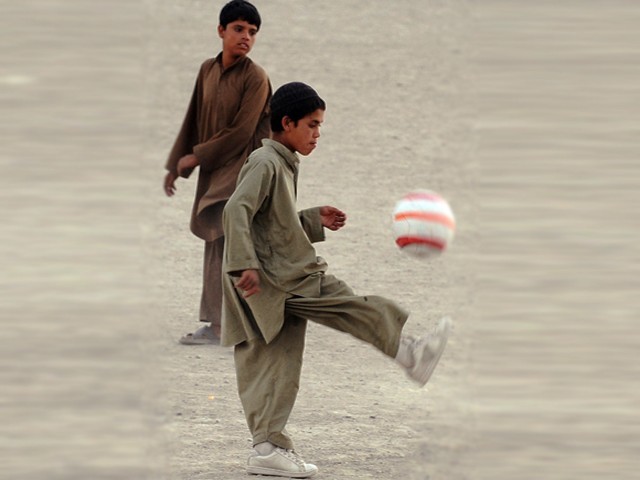 Football all over the world is played and enjoyed by both the working and middle classes, while the upper class owns the football clubs and enterprises. Having worked with football and Pakistani football especially, the stories we come across affecting our local footballers are not too different from these superstars of world football.
Most Pakistani football players belong to the lower working class and make huge sacrifices to train and progress through the system. Players like Messi, Ronaldo, Ronaldinho, Ramires, Essien and many more have come from humble backgrounds, where their families struggled to make ends meet and football offered a route out of all that.
Sport is seen as a route out of poverty globally where players put in their time and effort to get rewarded in an unimaginable way, on and off the pitch. Their success takes them to far flung areas of the world to play their sport.
Pakistani footballers can learn a lot from their global counterparts because they all face similar challenges growing up — poverty, hardship and structural problems with football systems.
It cannot be ignored that football is a premier sport in South America and most of the African countries, but cricket in Pakistan and stories of cricketers do correlate with stories of global superstars of football.
In Pakistan, football is route out of poverty but one only gets as far as getting a departmental job or becoming a part of the national team, and this happens only if the coaches take a liking towards you. However, hockey and cricket players go abroad and play in lucrative leagues.
Football in Pakistan is still far from being professional, just like other sports. The difference is that other sports enjoy more glamour and attain national interest, therefore the media, and corporate/government sectors jump in to support them with development and promotion.
Football is like a stepchild of the Pakistani sports sector, with credit going to both the football federation and other sports authorities.
Recently, various national team players from Pakistan got offers from Asian leagues like Nepal, Bangladesh, Palestine and India, but for some reason, this is of no interest to the players with permanent department jobs.
One wonders what the priorities of these players are; why do they choose simple departmental jobs instead of taking up more rewarding international offers?
One of the biggest disappointments was when a 16-year-old Pakistani footballer who won the South Asian Football Federation (SAFF) U16 Championship, was tipped to be the next big thing from the region, but fell prey to the same mentality.
Instead of focusing on development and looking to move abroad into a better football set up where he could develop, the player went into departmental football and rejected several national U21/22 call ups due to the wrong advice given to him. He is no longer in contention of the national team coach.
A player who could have gone abroad to develop his game for a couple of years and then look to play professionally in a better league doesn't want the hassle but is happy with a departmental job and the Pakistani Premier League which pays on average Rs20,000 a month.
One wonders, if the likes of Messi and Ronaldo etcetera were in the Pakistani set up, would they have been sucked in to this departmental system too?
Follow Shahrukh on Twitter @ShahrukhSohail7