PPP's political campaign: Old footage doesn't impress me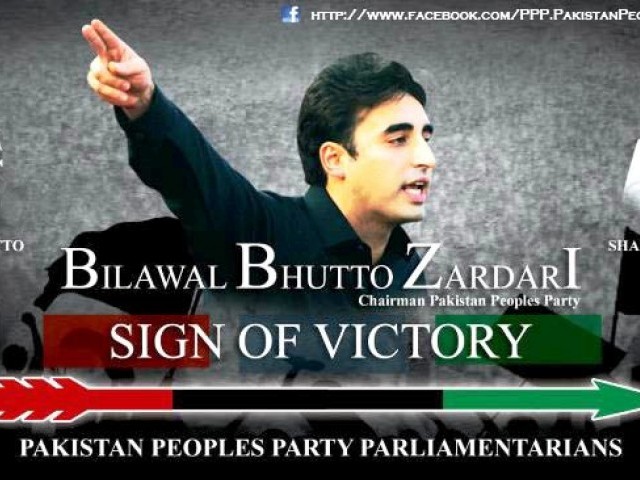 The pre-election time almost feels like walking through a busy bazaar, with each vendor calling out to grab your attention. 
It is just that; candidates too are trying to sell us something. Flyers, banners, billboards and flags of political parties take the city and media by storm. Music is launched and adverts are created, all in hopes of roping in as many supporters as possible.
The real question to ask is, will we buy it?
Here is my take on the worst political ads that have taken over our television screens this election season:
Pakistan Peoples Party (PPP) ad:  "Kal bhi Bhutto zinda tha, aaj bhi Bhutto zinda hai" 
If voice of one deceased Bhutto (Benazir) is chanting the fact that another also deceased Bhutto (Zulfiqar) is still alive, someone has missed something huge.
The disappointment continues as the same ad takes us to another predictable position with the good old "Roti Kapra Makaan". A clip of Bilawal is inserted saying,
"Roti kapra makaan, Benzir Income Support Programme ki surat mai poora kerna shuru ker di hai."

(Food, clothing, shelter. Benazirs vision has come about in the form of Benzir Income Support Programme.)
Where are the contesting politicians from these ads? Why shall I rely on a claimed-Bhutto who is not even running for a seat yet?
Just want to ask him, which of the three can one buy in the minimal Rs1,000 paid out quarterly through the Benazir Income Support Programme– a roti? A kapra? Or the first brick of a makaan?
I know you promise you'll double it when you come in to power, maybe then the poor can afford not one but two bricks for their makaan.
Pakistan Peoples Party (PPP) ad: "Bhutto Ki Beti Ayi Thi" 
You know the country has lost all notions of sanity when a blast is considered a good selling point.
In the video of "Bhutto Ki Beti Ayi Thi", Benazir's good work is highlighted and then her death. Everything was plugged in, right from the blast attempt to kill her to the actual moment when someone did assassinate her.
The relevance of the funeral and people mourning to the elections is perhaps zero. Zero I say, because this time sympathy is not a luxury the people of Pakistan can afford.
Why does the party need to rely on footage of Benazir visiting the sick at hospitals? Why not use something from the five years the country gifted you?  PPP had 1,825 days to gather such footage and the fact that they still try to win me over using Benazir sends a larger message.
How I see it 
Instead of using footage of the blasts that haunt us and of the leaders we have lost, I'd rather see what the party has planned for me, us, and you.
Each party shows the leader counting rainbows of the sky and flowers of the earth but someone needs to remind them that we require substance to give our vote.
Tell me in concrete terms what you plan do while in office instead of making a pop video. Remind me that your visit to the mountains 15 years ago is truly not relevant, the 30 second advert you use to win me should be less of a marketing gimmick and more of an honest effort. Take a step to empower us with knowledge and show courage in accepting your mistakes.
Tell me where we can reach your representatives for our questions, encourage us to come and ask.
This is a historic time for our country and the need to recognise that has come. Political parties need to realise that there is a more intelligent audience this time, one that knows it all too well through their own suffering. A happy song or morbid footage will no longer cut it.
The only thing we have left is the vote and mine is tightly woven with logic.
Read more by Manahyl here or follow her on Twitter @mintsnk