ANP's struggle: 'Watan Ya Kafan'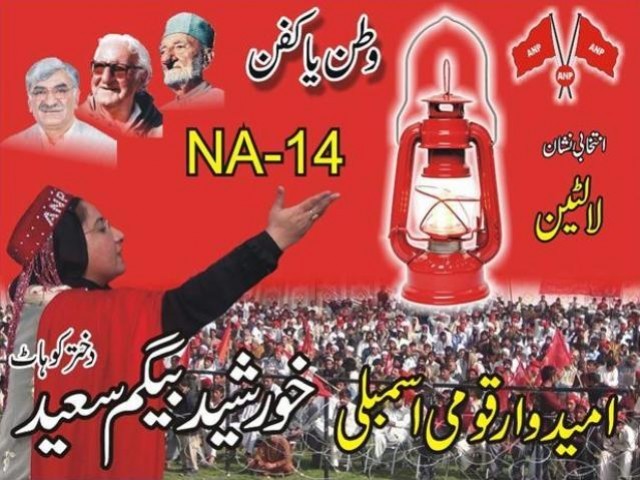 Watan Ya Kafan (either the country or the coffin) is a strong slogan – one that can be read on posters next to those of the Awami National Party (ANP). This slogan was born because of our country's turbulent past and along with Azadi ya Maut (freedom or death), it can be traced back to the Hur resistance movement against British colonialism.
The movement was spearheaded by the Pir Pagaras and their followers (Hurs) and it lasted for around a 108 years (1843-1951). It reached its climax when Pir Sibghatullah Shah Rashidi II rose to the title of Pir Pagara in 1922. However, this was short lived as he was arrested by the government in 1942 and a draconian 'Hur Act' was enforced. This declared the entire Hur community as corrupt and unleashed a reign of terror and violence upon them. Ultimately, Pir Pagara was hanged in 1943 by British authorities in Hyderabad.
He is reverently remembered by his people as 'Soorieh Badshah' (brave king).
Although, the slogan has not been adopted by ANP officially, it has been adopted by the party's candidates, reflecting the perilous state that ANP's election campaign has gone through.
Since his jailing after partition, Dr Khan Sahib's party (ANP) has virtually been declared as unacceptable. The ills faced by ANP are, perhaps, as old as is the country itself.
The party traces its roots to the non-violent movement of 'Khudai Khidmatgar' founded in 1929 by Khan Abdul Ghaffar Khan.
Khudai Khidmatgars came under severe suppression at the hands of British colonialists. In 1930, at the Qissa Khawani Bazaar in Peshawar, around 400 followers of Ghaffar Khan's non-violent movement were massacred by British authorities. Additionally, Ghaffar Khan was arrested and exiled time and again during his peaceful struggle against colonialism.
Independence from Britain, however, could not herald a new peaceful beginning as Khudai Khidmatgar was declared unlawful and banned by the then Chief Minister Qayyum Khan in 1948. Markaz-e -Khudai Khidmatgar at Sardryab was destroyed and the events culminated into the Babrra massacre of Khudai Khidmatgars in the Charsadda District, resulting in the death of hundreds of activists.
Ghaffar Khan was arrested in the 1950s because of his vocal opposition to the One Unit scheme. The National Awami Party (NAP), founded by Ghaffar Khan in 1957, was banned twice in 1971 by Yahya Khan and then later in 1975 by ZA Bhutto.
Fortunately, the present ANP was able to rise from the ashes of NAP. Ghaffar Khan is reverently remembered and celebrated as Badshah (Bacha) Khan (King of Chiefs).
Since the beginning of the proverbial war on terror, the party has lost over 700 workers. At the helm of affairs when the elections are around the corner, ANP finds itself in a serious predicament with regards to running its election campaign owing to the grave threats issued by the Tehreek-e-Taliban Pakistan (TTP). Just two days ago, nine people were killed at an ANP rally in Peshawar and the TTP has claimed responsibility for the attack. They even stated that they would continue to target the ANP leadership.
What is important to note here is that it is not the party's voice that is being subdued, it is its people that are being silenced. From the Indian provincial elections of 1937 to the general elections of Pakistan in 2008, the people, whenever given the opportunity, have elected their own representatives who they deemed were in their best interest.
After 70 years of Dr Khan Sahib's ministry in 2008, the verdict of history proved that the people's voice cannot be quashed by coercion.
Furthermore, what is currently unfolding in Khyber-Pakhtunkhwa is nothing but disenfranchisement on ideological grounds enforced by militants. While many on both sides of the political divide have gone through great pains to portray the insurgency as an anti-imperialist, one is perplexed as to why the so-called anti-imperialists would bar the local population from choosing their own representatives by exterminating them?
Isn't it an imperialist characteristic in itself to deny the people of their fundamental political rights?
Watan ya kafan is the most logical and pertinent catchphrase that emerges from the indomitable struggle of ANP against the horrors of suppression and militancy after all these years.
While it's heartening on one level to see that the resistance is still alive in the hearts of the party's workers, it is also discomforting to note that the party and its people, to borrow the words of Bacha Khan, have literally been 'thrown to the wolves.'
Read more by Suleman here, or follow him on Twitter @SlmnAkhtar