The tug of war between transporters and cops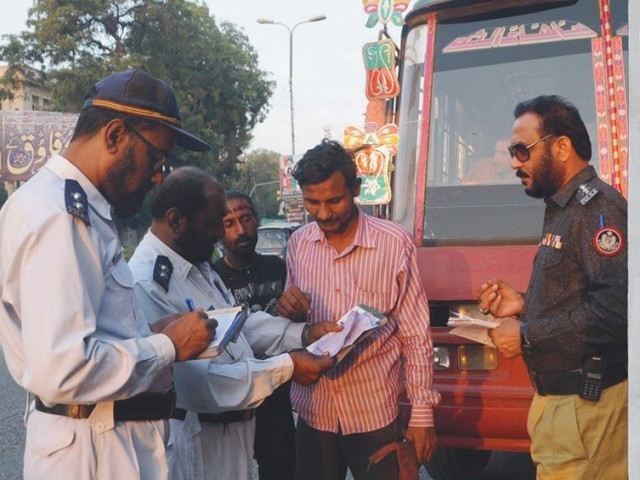 Waiting at traffic signals on the busy roads of Karachi, you can see motorcyclists, rickshaws, car drivers and even the big public transport bus drivers breach the signals because they don't have a minute to spare for it to turn green. They ram into each other or nearly crush somebody at the other side, just to save this minute.
You smile inside your helmet or your car when you think of this nation that always reaches, at least, an hour late at every event or meeting, though they don't have a minute for the traffic signal. When the signal turns green, in the midst of your thoughts, you take your way.
Last week, the traffic police of the city jacked up the traffic fines for the violators, though the fines are yet to be implemented but the public transporters, particularly the bus owners rejected the fines and warned of going on complete strike if the decision was not taken back.
Instead of simply following the traffic rules to save themselves from the fines, they said that the increase in the fines is injustice to them.
The transporters are sure that the authorities will bow before them because the caretaker government is not in a position to face their aggression. The transporters have turned into a mafia because we need their decades-old buses to circulate the two million commuters within the city as we don't have other alternatives.
They know their importance, which is why they are continuously blackmailing the government and the police in every matter, whether it concerns increasing the tariff or opposing traffic rules.
They openly violate all the traffic rules, jump the signals, fill their buses up to the roofs, stop their vehicles in the middle of the roads to pick passengers, while the traffic police sergeants, who are equally responsible for all the mess, try desperately not to miss a single chance of earning money, even if it's a meagre five rupee bribe.
Instead of fining the violators, the matters are always solved on the road with only Rs50 being exchanged.
Already, the traffic police have a shortage of resources to handle the flow of massive traffic and the increasing number of population and the mushrooming growth of automobiles.
If the government and the traffic police are serious in controlling the bribe culture and the traffic jams in the city, then along with the implementation of the newly-revised traffic fines, more cops should be recruited in the traffic police and their pay scales revised, so that they need not search for bribes.
Read more by Sohail here