She told me not to buy the motorbike…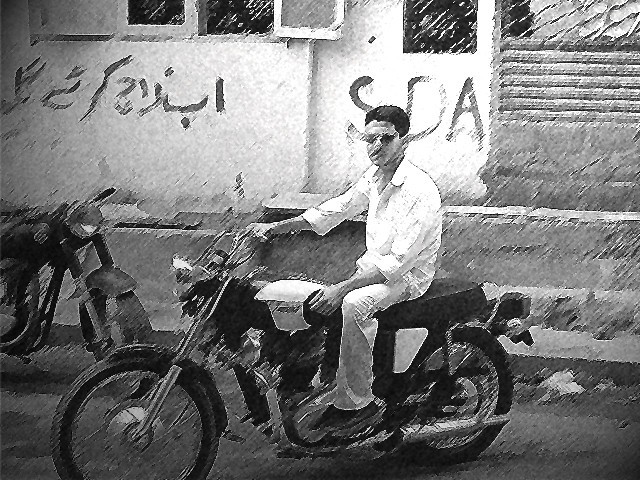 Ammi was screaming and creating a fuss around the house.
Abbu sat in his corner, silent.
"He is just 21-years-old! No boy this young in my family has ever had a bike," Ammi cried.
Abbu nodded, not taking his eyes off the newspaper.
"Are you listening to me? I said this boy is not going to get a bike. And that's final," Ammi was infuriated.
Abbu just smiled.
I knew the court had ruled in my favour. Abbu's smile was the verdict: I was finally getting a bike.
It was the best feeling of my life; owning a bike, taking it to university instead of boarding those horrible buses every morning. I knew my life would change forever.
The next morning brought a new day for me. I jumped out of my bed and took a quick shower – eager to get onto my new bike. I waved a hurried "goodbye" to Ammi as she quickly whispered some prayers to me.
I think I heard dad mention a helmet but I was too excited to stop and listen at that point.
Now it was just me, my bike and the wind blowing in my face. It felt amazing. I felt liberated, in control of my own life and most importantly, I felt alive!
The sweaty stench inside a bus was replaced with the flowery scent of fresh air. Grasping the bike's throttle, I whizzed through the streets.
Thoughts began racing through my mind. How was I going to flaunt my prized possession to my best friend Zain at university? Should I give Ayesha a lift to University so she doesn't have to walk so much?
Ayesha.
She's so pretty.
Yes, maybe if I pick her up she will start liking me!
At least now with my bike right beside me those fat bullies won't think I'm a "mummy-daddy" kid anymore!
And in that split-second, I closed my eyes, imagining everyone's reaction. I could see Zain squealing with excitement but he wasn't jumping up and down, he going round and round around me. It was making me dizzy. Very dizzy.
I couldn't take it anymore! I opened my eyes.
Something very strange happened when I opened my eyes. I realised that I wasn't on my bike anymore. I was back in my own house!
I tried to squeeze my eyes shut and open them again to make sure I wasn't hallucinating, but I was still at home. I squinted my eyes to see a bit clearer and caught a glimpse of my beautiful Ammi's face.
But Ammi is screaming and circling the house.
Abbu sits in his corner, silent.
It was as if I had just woken up again. It was just like my day had begun. Was I dreaming? What exactly happened, I do not remember.
All I know now is that I am lying in this box, wrapped up in white cloth. My face is uncovered and I hear people sniffing, some crying out loud. Some of them come near me to see my face. I can feel their breath.
Ammi is screaming out my name. Will someone tell her I won't listen to her anymore? I can hear her, but I won't respond.
Not now, not ever.
Will someone tell her to please stop yelling my name?
It hurts… I can't feel the pain, but it hurts.
Finally, she calms downs and comes to me. She kisses my forehead and a teardrop falls on my face. I want to break into tears. I want to hold her, comfort her and wipe the tears off her face.
How could I make you cry, Ammi? I was your favourite child. How could I leave you?
I am so sorry I didn't listen to you, Ammi. You knew. You knew a bike was not what I needed now. How could I not understand you?
I'm sorry I never understood you.
You would do all our chores and always wonder how we would cope if you passed away. But Ammi, I am the one who has left before you. And now, I am all alone. You still have Naila baji and Hassan to look after and do their chores.
But what will I do? How will I manage without you?
They are coming to take me away. Abbu, Chacha and my two Mamoos lift my box up from the four corners. They are taking me away. To where, I don't know. I only know they will bury me in a grave – dark and haunting.
What will happen then, I don't know. But I'm scared.
People always say that one day everyone has to die, but today? Right when I was having the best time of my life? Living my biggest dream?
I had not even written a will. Can I tell you now, what I want you to do with my things Ammi? Will you be able to know? You could always read my mind. Can you read it now?
I have left behind so many things.
What will you do with them Ammi? What will you do with my bike? You should sell it off right away. It took me away from you.
And don't read my diary, please. I have awful things written in it. I was only trying to vent my anger at you and Abbu in my diary – you did not let me buy the PlayStation when I was 14-years-old.
Burn it please, don't ever read it.
Keep my guitar for Hassan, so he can learn how to play it when he grows up. I'm not sure if he'll sing as well as I did, but he can still have it.
Will you enjoy hearing him sing, just like you loved to hear me?
Will Abbu still think playing the guitar is a waste of time?
I wonder… will you always remember me Ammi? After years pass by, would you still remember who I was, how I looked and how I smelled?
Will you miss me?
Read more by Ema here or follow her on Twitter @EmaAnis