Shoot me, I'm a social worker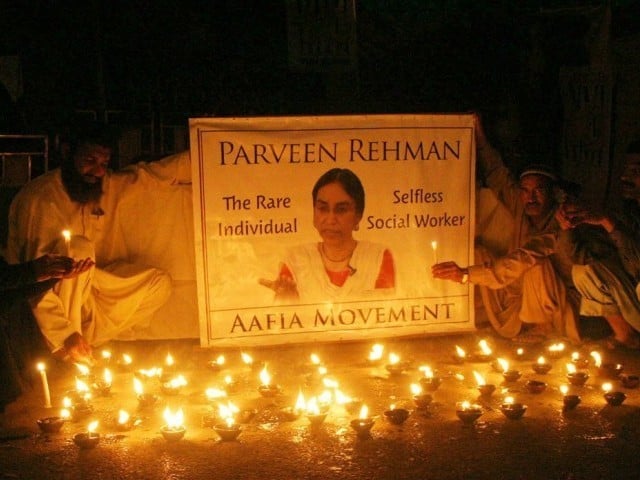 Parveen Rehman, a long-time director of the renowned Orangi Pilot Project was brutally killed this past Wednesday night in Karachi. She was targeted while travelling in her car near the Banaras flyover.  
Rehman was an architect by profession, but left her job to work on the OPP. She was given the honourable task of improving the lives of the residents of Orangi, which she performed sincerely for the past two decades.
She kept a low-profile in the media and lived a simple life with her mother in the neighbourhood of Gulistan-e-Johar. She had been receiving death threats for a while now from people who were unhappy with her ambitions; people were unhappy with her efforts in improving the lives of the deprived members of our society.
Her death has been a great loss not only to those involved in the project but to the welfare sector of Pakistan in general.
What is sad is the fact that this is not the first time a social worker has been murdered. There have been numerous incidents that have targeted social workers in the past; these were spoken about for a few weeks and then became history. No lesson was learnt from them.
In October 2012, Malala Yousufzai, a 15-year-old girl was shot by militants in North West Pakistan and was seriously wounded. She was an outspoken activist for female education in the province. She wrote blogs for BBC Urdu regarding the situation of the girls in the North-West stating that the Taliban would not permit them to attend school. Her efforts were suppressed through the use of violence.
In December 2012, we came face to face with the unfortunate deaths of six polio workers who were shot dead by gunmen in Pakistan. Amongst the six, five were women and one was a man. The Taliban resisted the polio campaign and we all witnessed an ill-fated end of these committed workers; workers who were eager to help improve the lives of the children in Pakistan where polio is one of the most rampant diseases at the moment. Once again, good work was halted permanently instead of being rewarded.
During an internship at the HRCP, I interviewed Mr Robin who used to work for a peace and justice NGO in Karachi.
In 2002, this NGO was attacked by people who were against the work it did for the underprivileged. The office at the time had eight members of staff, seven of whom died. The sole survivor, Mr Robin was injured by shrapnel.
I met him over 10 years after the incident but I could still feel the psychological effect the episode had on him.
The people responsible were not convicted; in fact no case had been filed against them.
There are many people who try to do some good for the society in terms of social or voluntary work. They give up their valuable time for their philanthropic interest. These people should be highlighted and made models for other members of society.
Instead, their eagerness to empower the unprivileged in Pakistan ends up shortening their life substantially, eventually leading them to a painful and untimely death.
We always say that for society to change, we need to change; we need to go out there and do something to help. Yet, the end result of those that have done this is anything but encouraging. It is stories like that of Parveen Rehman that make us wonder whether it is even worth taking the risk to be a social worker.
The question to ponder is, what will be done about her death?
Will it just be forgotten in a few days or will her killers be found and punished for this unethical act?
Past incidents of its kind have revealed the answer to be a resounding 'no'.
Yet, one can hope that the matter will be thoroughly investigated by the police and the death of Parveen Rehman will not just be another murder in our country conveniently swept under the carpet.
Let social workers and volunteers working to help improve society be remembered not for the miserable death that they suffered but for the good work they did in their lifetime and the justice that was sought for them upon their death.
I salute you Parveen Rehman; thank you for being so brave when millions around you preferred cowardice.
Thank you for trying.
You will always be cherished and remembered.
Read more by Umaima here