Pakistan doesn't deserve its Christian community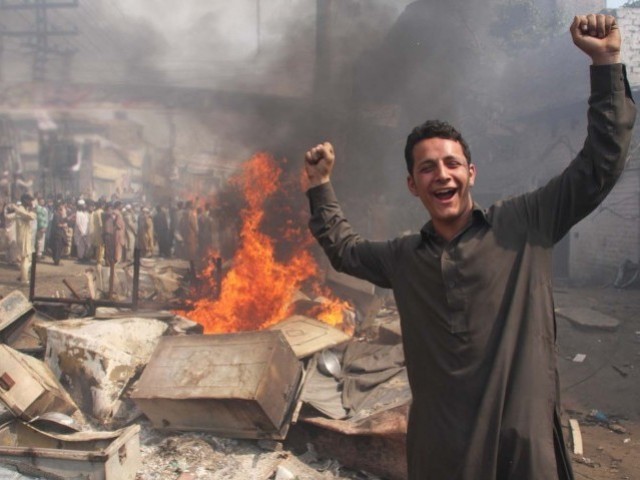 The year 2009 saw a series of attacks on the Christian community in Gojra that left eight dead and many vulnerable and scared for their lives.
40 houses and a church were set ablaze by an angry mob and the police watched despite the residents begging for protection.
Again this week, an angry mob around 3,000 strong attacked a Christian community in search of a particular blasphemer, Sawan Manish who, was already captured and in custody since Friday. These young men – again not surprisingly – in front of the police expressed their rage and caused hundreds of Christians pain they never thought they could feel.
Photo: Abid Nawaz
Ironically this location was less than a kilometre away from Minar-e- Pakistan, where the idea of this country was floated in 1940.
These are just two incidents, undertaken under the same government and in almost the same circumstances to persecute minorities; both of them used the blasphemy law as an excuse to torture Christians.
It is evident that Christians have suffered greatly, not because of the Taliban and LeJ, but due to people driven and motivated by local priests whose Islamic knowledge and sanity is questionable.
In 2009 a Christian woman, Asia bibi was charged with blasphemy; we never heard her part of the story, because according to the law, if one repeats the incident that individual is supposed to have committed blasphemy – a law punishable by death.
A mother of five, from an extremely poor background, two years post her death sentence, still lies in jail because whoever tried to save her – be it the governor or a minister – was shot dead and their murderers celebrated.
The same year (in which the Democratic Party took over) armed men went door to door burning Christian homes and when they saw these people escaping the flames they opened fire causing them to flee in greater panic.
Again the police was watching as though it were a staged drama.
Three years later, in 2012 Rimsha Masih, a teenage Christian girl with Down's Syndrome was also falsely charged with blasphemy and was later freed. Even though she was free of all charges, she was flown to an undisclosed location because her life was in danger. Moreover hundreds of Christians fled Islamabad at the time, and to date remain at a camp.
The fear of being persecuted constantly looms over Christians in Pakistan.
Regardless of blasphemy, time and again we have seen churches and Christians being attacked.
In Karachi, people protesting against load shedding and ended up attacking churches!
It seems as though the life and property of a Christian is never really theirs in Pakistan.
Much as I loathe those who destroy churches for no reason, those who just stay quiet and watch truly make me shudder. The oblivion of our silent majority that looks on with detachment is scary.
Time and again we have seen the Christians help and support us. For instance, in Mardan, a mob of Muslims set a church on fire as a part of countrywide protests against an anti-Islam film. Ironically, this church was where internally displaced people (due to anti-Taliban operations) from Mardan and Swat were greeted and looked after by the local Christian community.
There are countless other examples of the kind-hardheartedness and generosity of Pakistan's Christian community. Recently, a local church set out to collect funds for the Abbas Town victims and they even took to the streets when the Hazaras were killed.
Furthermore, they have built schools which are of such good quality that even the elite pine to send their children there.
But there were no sit –ins for this segment of our population and I don't see any happening either.
There are no charitable drives for these homeless and frightened people who have lost everything.
The government has just made a couple of false promises to satiate the affected parties. Shahbaz  Sharif, on March 10 had announced Rs0.5 million in compensation for those affected in the mob attack. Furthermore, damaged homes are to be reconstructed within four days. Honestly, I don't expect anything to happen, but one can be hopeful.
I personally feel as though the mob didn't just burn homes in Lahore, they burnt humanity, burnt Islamic teaching and burnt Jinnah's Pakistan.
Read more by Maheen here or follow her on Twitter @MaheenIshaikh