MQM assassination: Is anyone safe?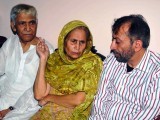 Dr Imran Farooq's assassination is an event that is going to drastically change the dynamics of politics in Pakistan. The horrendous act committed in London, is going to have grave consequences in streets of Karachi and Hyderabad while causing tension as far as  Islamabad.
Out of all that will be said about this assassination, there is one thing that will come as a shock to all; party leaders are no longer safe even if they are in exile.
For years political leaders have gone into exile for fear of their lives to eventually safely return to Pakistan.
The MQM itself was the pioneer of operating a party from London through a sound system and using excellent communication and coordination. But Dr Imran's assassination changes all that. Although still in mourning, the leaders of the party must be pondering what exactly has happened?
After more then a decade of safety and no unfortunate incidents, how have they ended up losing one of their founding members? The answers to these questions are going to have an impact not only for the party but for all associated with it or falling under its sphere of influence.
The message that was portrayed by this act is simple, no one is safe anymore, and nothing is off limits. It's not just the MQM that should is concerned by this development, in fact every single political party is waking up to a new political reality today. MQM has lost a founding member – just months after losing a law maker in a target killing.
The riots that followed took the lives of over 75 people in Karachi. The point is, the riots that erupt now could possible be much worse and harder to contain. If there was ever a time that politicians needed to come together and have a long heart to heart discussion, now is pretty much it.
Considering the aftermath of the attack coupled with the floods and terrorism the country may be pushed further in to an abyss bouncing back from which could take decades.