When there is a blackout, Karachi isn't completely in the dark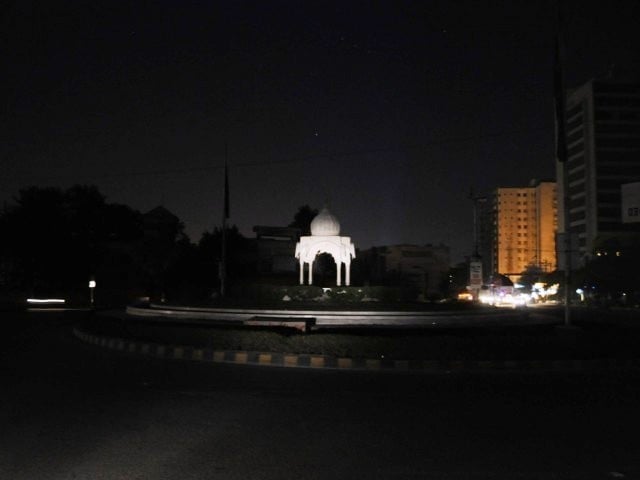 It was nearly midnight last night when we lost power here in phase four of Defence, Karachi, and I could immediately tell that it would be a long blackout. As a citizen of this nation, I am unfortunately quite familiar with such outages, and can often tell the nature of the incident in the way the power goes out.
Typically, a loss of power that happens swiftly and on the hour is normally a scheduled piece of load shedding (rolling blackout), though occasionally can also be a half-day long shutdown for neighbourhood maintenance. A loss of power that occurs at a random time period, and is accompanied by a loud boom, is invariably a fault in the neighbourhood power equipment, and requires a wait of a few hours to remedy.
But the worst, of course, is the power outage that occurs at a random time period, isn't accompanied by a loud sound, and happens with a gradual decline in electricity. This typically is a major breakdown that can sometimes require half a day to fix, and is the sort of outage that happened last night.
Losing power can be quite discouraging, especially if one is in the middle of something that requires electricity, like watching the Oscars.
Three things made the loss of power notably easier to absorb last night.
The first was the fact that we are still in the middle of a pleasant winter weather, which automatically made sleep easier to come.
The second was access to the social networking service, Twitter.
And the third was Argo's win for best picture, which isn't something I wanted to see anyway.
As I tweeted out last night, power outages feel less miserable when you know others are in the same dark boat. I realise that the sentiment may sound selfish, but there are few things as lonely as sitting quietly in the dark. From re-tweeted messages on Twitter, it took only moments to learn that the event wasn't limited just to Karachi, but major cities such as Lahore, Sialkot, Peshawar, and the capital city of Islamabad.
Here, the amusing conspiracy theories began, with fears of war and attacks from terrorists, and sabotage from the one neighbouring country we love to blame (no, not Sri Lanka) on people's minds. But in the midst of the tidal wave of tweets, I noticed the sane voice of the KESC (Karachi Electric Supply Company), which was surprisingly good at calming the current by providing useful information in a professional manner.
For frustrated Pakistanis, finding a public service that has actually improved over the recent past is an almost hopeless task. If we are turning into a nation of crazed conspiracy theorists, it is because our poorly maintained airplanes are crashing, our factories have turned into death traps, and our minorities are under attack from a furtive organisation that we don't completely understand.
In such a position, it isn't surprising that such events are allowing our minds to speculate.
That is why it is heartening to see that the KESC is one of the few services which have improved quite dramatically. I recall six years ago, one had to sometimes beg and even bribe the KESC repair trucks to visit a faulty area, after hours of complaint calls would fall on deaf ears.
Now, in my experience, not only does the Karachi Electric Supply Company respond in a timely fashion to complaints, but seems to also believe in pre-emptive strikes. Often, they will replace transformers and power lines simply because electrical fluctuation was reported in the area, and their investigations revealed flaws in the equipment. It is a level of admirable long run planning that other organisations in Pakistan could take example from.
KESC's customer service has also improved in the way it interacts with its customers. Many years ago, a phone call to a KESC representative was a frustrating affair, with the official on the other end of the line rude, and short on patience.
Of course, who could completely blame the customer support staff at the time?
With frustrated citizens regularly ringing the helpline, cussing and throwing fits, only a meditation master could handle such phone calls without losing control.
Here, it is obvious that the KESC has trained their staff with exceptional patience and etiquette. Perhaps they were taught by the Dalai Lama, or maybe their staff has access to a psychotherapist. Nowadays, sometimes a KESC representative is so polite and apologetic, that one can't help but feel the calming positive energy, even when in a bad situation.
KESC also handled the stealing of electricity problem in a commendable manner, launching a public campaign against the harmful issue. It was another example of the organisation trying to bring the public on to their side, creating a hotline for reporting electricity theft.
Aside from that, when their new management came in, they also had to deal with other difficulties like poor infrastructure, and angry customers ready to torch both the KESC staff and the KESC equipment.
The poor infrastructure is still a long way from returning to optimal condition, but it seems that the organisation is improving the city's framework one step at a time. And as for the upset customers, as evident from the timely tweeting, it is clear that even when we lose power, KESC won't leave us entirely in the dark.
Read more by Noman here or follow him on Twitter @Pugnate