Not so soon Karachi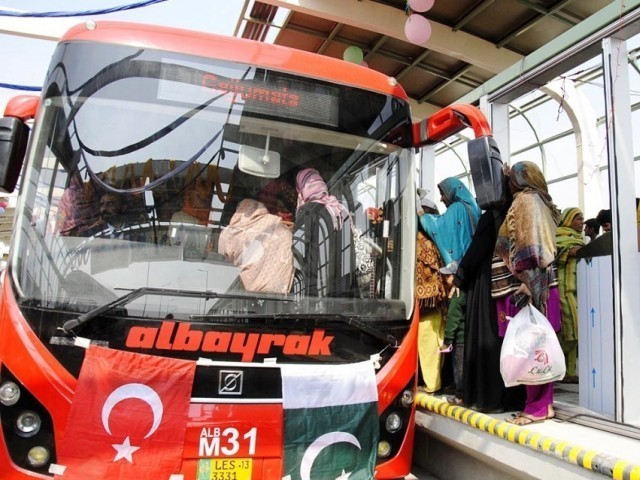 If the laptop scheme by Shahbaz Sharif was a 'four', the completion of Lahore's Rapid Bus Transit System is a 'sixer', that too, on a no-ball.
Around a week before the maiden transit system was to be inaugurated, TV channels started flashing footages of the city's newest achievement.
In Lahore, excited locals cheered for this latest development project, while in Karachi, I sat in my chair feeling happy yet envious at the same time.
I'm pleased because I know what this transport-revolution will do to the people of the city but I am also overly-jealous since I won't be able to use it.
There was even a moment when I childishly wished stealing the entire infrastructure and bringing it to Karachi.
Having used Karachi's public transport system quite regularly, I can make an endless list of its flaws and shortcomings. From decades-old vehicles, uncomfortable interior, unprofessional drivers to their rash driving, a ride in Karachi's overly-decorated bus is nothing to look forward to.
Rickshaws are great but their bumpy rides can be upsetting at times and travelling on a regular basis can leave a dent in your pocket. Coaches are simply next level. The drivers steer them dangerously fast — if you get off safely, consider yourself lucky.
This is where the rapid transit system comes in. Lahore's metro service offers 18-metre long buses, electronic ticketing, dedicated staff and short travelling time to the people of Lahore.
It's absolute injustice that a city as huge as Karachi doesn't have one.
Officials involved in the project claim the service will be available in 2014. Well, officials also said that the Lahore Metro will become functional in 2010.
Keeping the track record of our politicians in mind, I seriously doubt Karachi will get its metro soon. In my opinion, why Lahore was able to get one and Karachi failed, is because there is no dedicated will to get the project rolling here.
I think the Punjab chief minister is to be credited for making this possible for Lahore.
Read more by Ferya here or follow her on Twitter @ferya_ilyas