My adventures on a bus!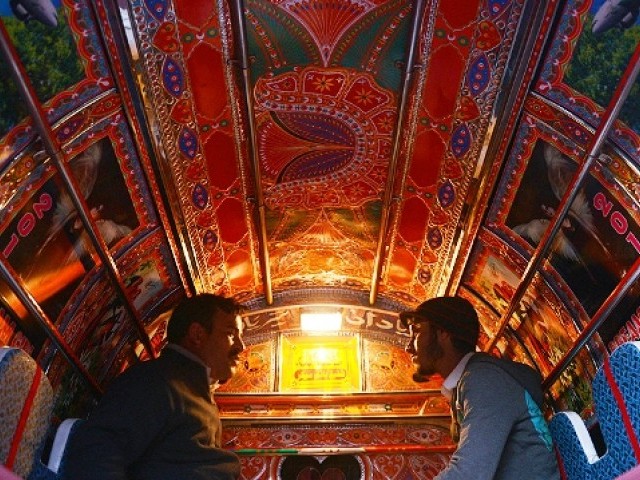 My first few encounters with a public bus occurred when I started going to an institute to prepare for my entrance test. My father usually used to pick and drop me, but one fine day he wasn't home and I needed a ride. In that moment of absolute insanity, I made a decision which became the biggest regret of my life.
I boldly declared in front of my family that I was old enough to ride the public bus. I thought I knew what I was in for; a long lecture on the dangers of travelling via buses alone concluding with a final order to stay at home.
I tried my luck anyway.
To my utter surprise, I was wrong. The next thing I remember was standing in a bus, pale faced and wide-eyed, my hands tightly gripping onto the bars and my music pumped up. I looked like an acrobat, ready for my next performance.
Somehow, I managed to reach the institute but my appearance can be gauged from the fact that everybody that I encountered that day asked me if my area was undergoing loadshedding.
I didn't understand the reason behind this inquiry until I came home and looked in the mirror. My hair was a bedraggled mop. Moreover, my disheveled clothes and dirty shoes (which had been stepped on countless times in the bus) were enough to answer my own question.
Since that day, however, I have become an avid bus traveler. I climb onto a bus looking like Angelina Jolie and come out looking like myself when I have just woken up.
Then there is the street racing experience amongst the others.
One day I climbed on to a bus and settled down quickly on a vacant seat. I sunk into my seat and just when I was ready to dose off, I was interrupted. The driver spotted another bus in his rear view heading the same way as us – what happened after is obvious.
In fact, the expertise with which the driver manoeuvred the giant bus through the messy Karachi traffic at the speed of lightning will even put Michael Schumacher to shame!
I am sure the only reason Mr Schumacher stands as the person with the most championships under his belt is because a Karachi bus driver never took part in a Formula One race. That day, I reached my destination half an hour early.
Also, that evening when I went to an amusement park with my friends, I politely refused to sit on the roller coaster; one electrifying ride was enough for the day, thank you very much!
Another day, I found a seat beside a woman whose sheer size I did not guess until I found half of my body suspended in mid-air (no offence to the rotund woman)! I was neither sitting nor standing; it was quite uncomfortable and an excruciating experience that left half of my body paralysed for the rest of the day.
Furthermore, as a safety precaution, I keep the bus fare in my hand before climbing onto the bus because once inside, it becomes a Herculean task to open your wallet and hold the bars at the same time while standing.
So, one day I was standing with the coins tucked safely in my hand when all of a sudden the bus gave a massive lurch. As a reflex, my palm opened and the coins went flying all over the floor and were quick to move in practically inaccessible corners. I gave up and took out a new set of coins.
As if on purpose, the bus swayed again, flinging the coins straight out of my hand!. Frustrated, I opened my wallet to discover a solitary Rs500. Unable to say that universal line "kiraya nahi hay" (I don't have the fare) and then fight with the conductor, I gave the green note to the conductor.
Yes, I had given a Rs500 note for a Rs10 fare! Try getting change for that on a bus!
Any discussion on the buses is incomplete without background music. Music has been dubbed as "food for the soul" but the music playing in these buses is another story altogether. It looks like all the terrible singers of Pakistan have made a contract with the Karachi buses that only those cassettes (yes they still play cassettes!) will be played where the music has no rhythm and the singer continuously praises the "kaali kameez" of her beloved.
Equally dangerous as the music, are the women thieves that ascend a bus in groups. Soon after their descent, women start shouting that their valuables are missing. It's true; it happens quite often.
These are only some of the adventures that I have gone through while travelling via the painted devil.
But, I know that this is not the end because each day is a new day which means a new destination, a new bus and a whole new adventure.
I'll be back with more!
Read more by Raiya here or follow her on Twitter @raiyatweets