There is no need for players who betray their country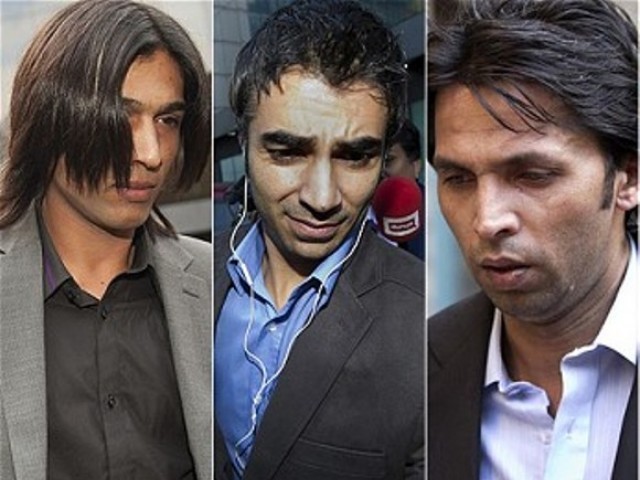 The spot fixing scandal which shook the foundations of Pakistan cricket in 2010 has become, as it seems, a never ending nightmare.
Most of us thought it ended after the culprits, Salman Butt, Muhammad Asif and Muhammad Amir were banned by ICC, followed by their conviction and jail sentence by British courts but this scandal continues to make headlines to date.
In a recent blog at The Express Tribune, the blogger appealed for their comeback, his line of reasoning mainly being that our country has exonerated bigger criminals than these three cricketers and that match fixing happens all over the world and it's not a grave crime.
I cannot speak on the behalf of everybody but as far as I am concerned, I would never want these three cricketers to ever be seen in Pakistani colours again.
The reasons are simple; they were not representing a team in a second degree football league, they were representing their nation at the highest level of cricket. Their ignominious acts not only brought shame to Pakistan, but also disgraced this prestigious game.
It amazes me how can one still advocate the case for these cricketers as never before there were such clear indications and proof that certain parts of the match were orchestrated.
We need to set an example, so if anyone, ever again, has the audacity to even think about selling their nation, they will have to think long and hard before doing so.
A leaf can be taken from USA's book, where one of the all-time legends of sports, the seventh time tour de France champion and a worldwide icon for his courage to fight cancer; Lance Armstrong was stripped of all his titles over allegations of taking performance enhancing drugs.
Lance had already retired from cycling, allegations against him could have easily been slipped under the rug but an example was made out of him.
As far as Pakistani cricket is concerned, it has moved on despite of the horrors of 2010. Wining the Asia Cup, beating the world number one side and beating India in India demonstrates just that. We have some very good future prospects in Nasir Jamshed, Junaid Khan and Asad Shafiq.
There is no need of the players who betrayed their country for money despite being the highest paid sportsmen.
I know that in a country like Pakistan where from politicians to army generals, everyone is involved in corruption, it might seem unfair but it's not. In a way I consider them lucky that they haven't been jailed in Pakistan as the shame they have brought to their fellow countrymen, especially those living overseas is unforgivable.
The embarrassment overseas Pakistanis have faced is unimaginable; I was told by a family member settled in Canada, who is also a devoted Pakistan cricket fan, that every time they stepped out of their house, they had to face embarrassment after this scandal.
We as a nation generally would have to step up against corruption irrespective of its level and this is our chance to show the world, and ourselves, that we can take tough decisions on principles and stick to them.
For once, let's not make excuses; we surely do not need any more reasons to be embarrassed.
Read more by Naveed here or follow on Twitter @naveed_sid