Working mom dilemmas: A life in progress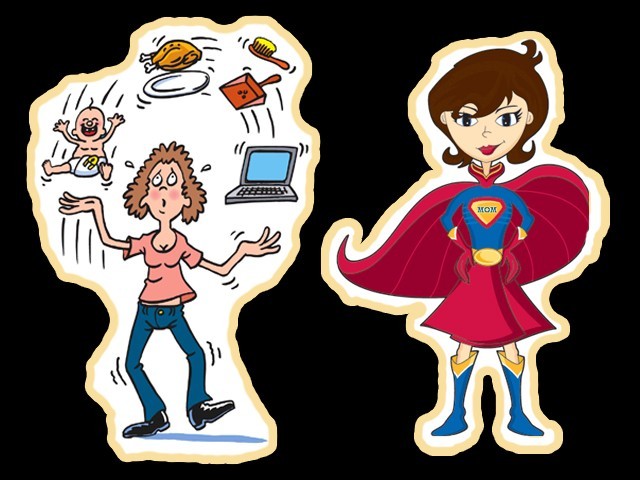 There are too many things on my plate. That's how it has been for as long as I can remember. Selected highlights of a typical day of mine make me feel sorry for myself. I am a working woman and this is my life.
My day revolves around handling my maid's mood swings and training her to make Thai food or gajar ka halwa, while I make Thai food and gajar ka halwa, and masoor ki daal that happily simmers on the other stove. Amidst this cooking and cleaning, I take out an hour to do aerobics a few times a week. This involves stretches and workouts that leave me sore till the next class. As well as laugh therapy that involves sticking out your tongue and yelling out your lungs in front of a gigantic mirror in order to relieve your stress.
Next, a visit to my mom; which I enjoy best. Then comes, attending numerous calls every day –I sound like a complaint centre and a sister, a friend or a relative tells me how I must "time nikaalo" (take out the time) to meet them.
You have to spend time with family, run darzi errands, sabziwala errands, and dry cleaner errands. Inescapable are the Khadda market and Sunday bazaar errands. Changing the newspapers of the almaari or organising the bedside drawer is also on my to-do list.
Let's not forget replenishing the kitchen ration, especially because in Karachi, you never know.
Then there is counselling a few needy venting friends partly because I love them and partly because they have to do the same for me on my needy, venting days.
Every few weeks the overhaul that makes me look human is a must at the salon. On top of it, I must read enough to be intellectual, must watch enough TV to be aware enough, and must socialise enough to be…well, social enough.
Shaadis – they are late night, exhausting and depleting in terms of energy and wardrobe. Of course, they do have the "all-you-can-eat" additional factor.
But how much can one smile? How many times can one meet the same people day after day with the same verve?
On top of that, I have a demanding day job.
Initially, the sentence "I am taking a hiatus from work" sounded as cool as saying "I am taking a gap year". But eventually, I knew I had to be honest to myself – I'm not disciplined enough to harness my time well enough to forever work from home. Hence, I added another ball to the many balls I am juggling; another plate to the plates perched on my head as I walk the tightrope; ok I'm running out of clichés here, you get the idea right?
Due to of all of this, what ends up not getting enough time is the most important thing for a mother – spending time with one's little one, the little one being a teenager in my case. Motherhood's not a coercive responsibility – it's one of the fun and rewarding ones- one that makes the world go round and the sun shine and all that jazz.
It also induces one of the worst forms of guilt; the "working-woman's mommy guilt". It can get so bad that a mom is tempted to indulge in self-flagellation. Yet, to stay sane and happy and comfortable, mothers often have to work full-time jobs. But everything comes with a price tag. The price tag in this case is time with your kid and that can make you feel horrible!
Answer? Manage!
Manage your time, your patience, your mood swings and your energy levels.
I have learnt over time that the person who will end up suffering the most if my kid does not see enough of her mother is none other than me. I feel depleted of all happiness and sense of purpose in life if I don't see enough of her. Time spent together has to be 'quality time' which means I cannot and should not be a cranky, irritated or moody mother. Or else, I will end up raising someone who equates a mother's impatience and grouchiness with her working.
Being energetic helps with this; you need energy to take your child for random drives, shopping sprees, the beach and photo walks. You need energy (along with patience) to be able to listen intently even when you think they are just talking about random stuff like the rage over printed pants, and remain genuinely interested, because children 'know' when mothers feign interest.
You need energy to be able to talk enough with your kid about things that matter like poetry, literature, culture, society and religion. Yes, all of this, unless you want to raise hermits that live in bubbles. You need energy to cook for them enough times a week to appease their appetite for mom ke haath ka khaana (food made by your mother). 
You need energy to be a caring and involved parent – simple as that!
I do not find any better use of a mother's time and energy. That is the ultimate anti-aging regenerist the world ever knew!
Read more by Farahnaz here or follow her on Twitter @FarahnazZahidi