Two toffees a day – enough to feed this seven-year-old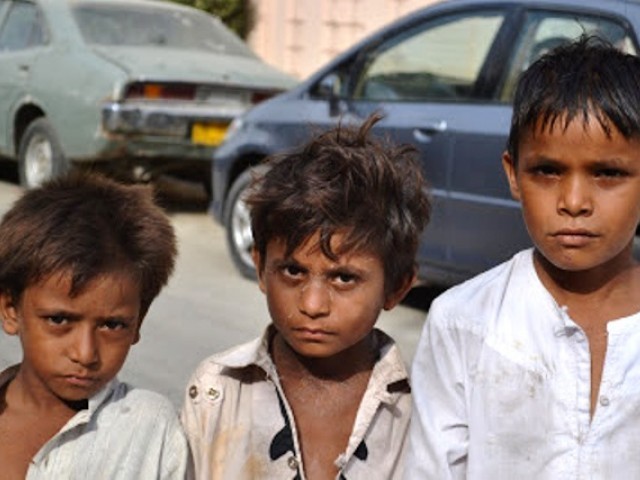 My friend and I were eating a burger on a Saturday evening, when a seven-year-old boy interrupted us.
Boy: Bhai I'm hungry, please buy me something to eat.
Me: Allah ke hawalay!  Khaaney do!
(For God's sake! Let us eat!)
Boy: Bhai, I'm hungry!
Ameer: How do we buy you food? We are students, we don't have extra money!
Boy: Bhai, at least buy me a burger?
Ameer: Haven't you heard what we said? Go away.
Me: Ameer, wait!
I took out a Rs5 coin from my pocket and handed it to the boy.
Me: Take this and go!
Boy: Will this be enough to buy a burger? I want to eat the same burger as you!
Ameer: I think I should give him my burger; I won't be able to eat it now anyway.
Me: Not a bad idea, you and I can share.
——————————————————————–
The boy sat down next to us and started eating. We couldn't help but be intrigued by him. We couldn't resist the temptation of not knowing more about his life, and so we asked:
Me: Where are you from?
Boy: I'm from Rawalpindi.
Me: Oh! So what are you doing in Islamabad?
Boy: I come here and beg every day.
Me: You are not old enough to travel alone, how do you reach here?
Boy: My father drops at the wagon stop.  He gives me Rs12 every day.  I spend Rs10 on the wagon fare.
Ameer: What do you do with the remaining Rs2?
Boy: I have my lunch.
Upon hearing this, Ameer and I exchanged looks.
How can a person survive on such little money? Especially in a city like Islamabad, where a chapatti costs Rs5?
Me: What do you eat?
Boy: I buy two toffees.
Me: That's all! That is enough for you?  Is that enough for you to survive on all day?
Boy: Bhai, they are tasty, especially the red ones and the yellow ones. I can only buy two, so I get one red and one yellow every day. I eat one in the morning and the other in the afternoon.
Ameer: Raafay, I can't eat anymore.
We both stopped eating and ordered three cold drinks.
The conversation continued.
Me: Don't you want to study?
Boy: (Put the burger down, stretched his arms out, his eyes lit up!) This much; I want to study this much.
Ameer: Then why don't you study? Ask your dad to put you in a school.
Boy: I will one day, but not now. My father says "you have a certain responsibility".
Me: What responsibility do you have? You are so young! Your father should work and you should study.
Boy: (Grunts under his breath.) You rich people don't understand anything!
There was silence.
The waiter arrived and placed the drinks on the table. The young boy resumed eating.
Meanwhile, Ameer and I started talking amongst ourselves. We couldn't believe that a seven-year-old could be this mature! It was fascinating.
Me: So, you beg and collect money? Give it to your father? Is that it?
Boy: Yes! We are a family of ten people, two of my siblings have died. They were ill and we had no money. My father wanted to teach us, but then he lost his job.
Got no job and had to beg. Simple as that!
Ameer: How much do you collect in a day?
Boy: Rs30-40.
Ameer: So what is the responsibility that you speak about?
Boy: We all beg and collect money. We give it to our elder brother and he studies in a good school.
Me: So how much do you all collect in a month?
Boy: We are hardly able to save any money for food after his fees, other dues, books and all that. But, one day, he will become a doctor and our lives will be easy. I just know it!
He had finished eating his burger at this point and started sipping on his coke.
I tried observing his facial expressions but there were none. However, his eyes continued to sparkle.
Boy: When I grow up, I will be Shah Rukh Khan, he is a don!
We all started laughing. What a cute wish, I thought.
Me: How will you go back, it's getting darker?
Boy: I have this wagon that will stop here (he pointed at the stop.) It drops me near my house at around 9pm.
Me: You are a brave boy, you know that?
Boy: Yes I know, my mother says that too.
Ameer: Raafay, isn't he more responsible than us?
Me: No doubt yaar!
Boy: 'Mazay ka tha.'
(It was delicious!)
Boy: I have been watching people eat this burger for a long time now and today was my first time tasting it! It was delicious.
There was nothing more to say and there was nothing left to ask. We paid the bill and left.
Fate, I thought. What a funny thing it is!
This post originally appeared here
Read more by Raafay here, or follow him on Twitter @raafayawan