Yes, we need Misbah!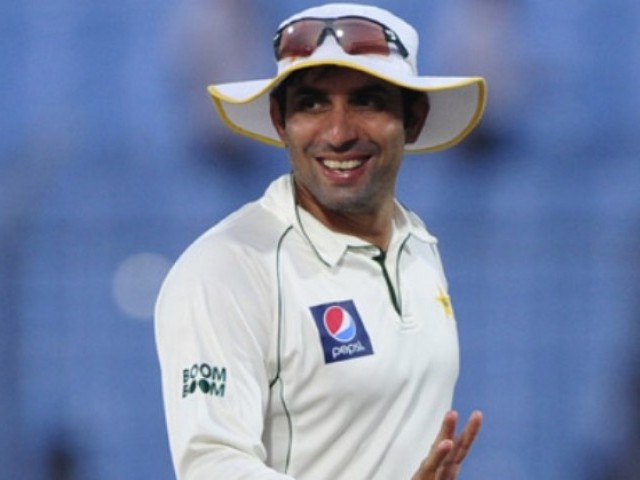 Not surprisingly, Misbah's bad form with the bat in past three ODIs against India has yet again given a chance to his critics to call for his head.
For example, this blog, published in The Express Tribune, harshly criticises Misbahul Haq, and suggests dropping him from ODI team.
The criticism in this the aforementioned blog, however, appears to be superficial, because the author has not presented any concrete facts, statistics and figures and merely takes into account the series against India to evaluate Misbah's spot in the middle order.
Surely, a player should not be dropped based on his performance in the last three matches alone, right?
It is important to take a closer look at Pakistan's struggling middle order batting in ODIs over the past two years, and let us compare Misbah's batting performance with his colleagues to get a better idea of the situation.
Since January 1, 2011 Misbah has played 51 ODIs and scored 1498 runs with a brilliant average of 45.39. During the same period, here are the stats of other middle order batsmen who are still in current ODI team (minimum 10 matches).
Azhar Ali – 452 runs at 41.09 in 14 ODIs
Younis Khan – 985 runs at 29.84 in 41 ODIs
Umar Akmal – 1217 runs at 38.03 in 47 ODIs
Asad Shafiq – 694 runs at 33.04 in 25 ODIs
Shoaib Malik – 128 runs at 12.80 in 14 ODIs
Misbah is comfortably the leading run scorer with the highest batting average; moreover, most of these runs were scored by him with the added responsibility and pressure of being the captain of the side.
During this period, he has been instrumental in significant number of victories. In 32 wins since 1st Jan 2011, his average is 61.17. This underlines his contributions with the bat. Add to that, his ability to masterfully utilise the resources at his disposal in the field, and we will probably be able to see his true value.
Let us look at the contribution of other batsmen with the same criteria,
Azhar Ali – averages 28.00
Younis Khan – averages  38.59
Umar Akmal – averages 47.43
Asad Shafiq – averages  32.90
Shoaib Malik – averages 13.28
The above figures clearly show that Misbah has been leading contributor in the matches which we have won over the past two years.
Admittedly, he has scored runs slower, but this is the role that he has defined for himself in the team. He is no Shahid Afridi or Sehwag who will give you more than a run per ball. His role is to prevent the usual Pakistani collapse by holding up one end and it is the other player's responsibility to bat around him and help him out in tough situations.
Matches are not won by a single player always.
Had that been the case, India and West Indies would have been hugely successful ODI sides in the presence of Tendulkar and Lara respectively.
He is not a Michael Beven or a Steve Waugh; Misbah has had his share of bad performances, but he is still the best we have as shown by the above statistics. If you take away his performances and substitute it with another mediocre set of performances you might see the overall performance of our middle order dip considerably.
It is true that he looks ugly when he gets into that block-block rut, but every batsman has his weaknesses which can be worked on by talking to the coach and altering the game plan, which he should be able to do in forthcoming matches.
A more worrying thing for the team management (and fans) should be the dearth of skilful young batsmen in the middle order. Not even one young Pakistani middle order batsman has impressed the world during past two years as far as ODIs are concerned.
Umar Akmal is talented, but keeps throwing away his wicket at crucial moments (even after having a fair experience of 71 matches); Asad Shafiq has not done anything notable in past two years in ODIs; Younis Khan has been below par; Azhar Ali looks promising, but it is too early to predict his future in ODIs.
All these batsmen have been given fair chances during this time and none of them has been consistent enough. Yet, all the so called critics find a way to criticise Misbah and that's it! They only blame him for all the ills of Pakistan's middle order batting.
It is true that we need to build a team for 2015 World Cup, but in my humble opinion Misbah should not call it a day – not yet anyway. He should keep leading the team at least till the Champions Trophy this year, while selectors keep looking for reliable middle order batsmen.
Youngsters in the team can still benefit from his calm leadership and overall experience.
Read more by Raja here or follow him on Twitter @ghulamrasool1