The hunt for Karachi's constituency map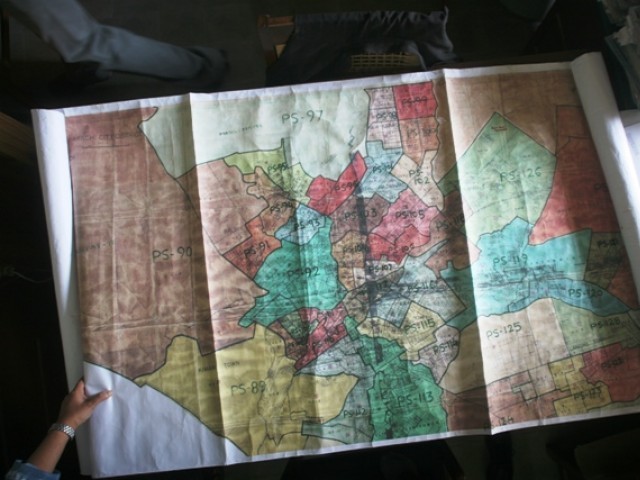 Maps are supposed to show you where to go. But what about the hunt for a map itself?
When the icky subject of delimitation came up, our reporter came with the astounding information that constituencies had been messed with so badly in 2002 that in some instances disconnected chunks of Karachi were put down as one unit.
I didn't believe him.
There was only one way to find out – look at the maps.
Don't get me wrong; I couldn't care less about delimitation, which is a word that makes my brain freeze. But maps I like. I commissioned stories. But the text would only dress up a story that had to be visual.
Easy, I thought, just go to the Election Commission of Pakistan's website. I'd take the whole map of Karachi's constituencies and print it. Except this is what I found;
There were just outlines of constituencies.
"So how do I know where to place this chunk," I asked the reporter.
He shrugged.
"Use Google maps?"
But that was impossible because there was no reference point or landmark to peg each piece to – they were free floating.
My nightmare had begun.
Everyone I asked said that they had not seen a full map of all of Karachi's constituencies. Surely, this is public information I thought. I went to Petiwalla in Saddar where you can find official publications like the Constitution.
No luck.
The Pak Law House was also disappointing. At the Survey of Pakistan they had maps, but not the ones I was looking for. I was avoiding the source: the ECP.
As it was facing criticism, I felt its staff wouldn't cooperate. The ECP office is located opposite the passport office. It's a sad, saggy building. Steel sandookchas or trunks lined the wall, a miserable cat rubbed against one of the rotted wooden cupboards.
I poked my head in one room.
A friendly staffer, sufficiently egged on by my wide-eyed questioning, eagerly explained the system of charges, circles, constituencies.
"But don't quote me," he said. "I really don't have the authority to speak."
I felt like reassuring him that he wasn't divulging nuclear secrets.
"Don't you have a map of Karachi's constituencies," I asked.
Rummaging through the government-issue grey steel cupboard yielded a map. It was a beautiful hand-drawn one with all the data. I felt like Indiana Jones and the Holy Grail.
"You can get an ammonia print of this," said the staffer.
But then he added, dubiously,
"But perhaps you should ask Najeeb sahib first. He even has soft copies on his computer."
Najeeb Sahib, it turned out, was the director of the ECP Sindh office. He was also the rudest man I've met in a long time.
"Why did you go to junior officers when I am sitting here," he snapped at me.
Oh bhai, I thought, charhai na karo (Hey man, you don't need to come down so heavy).
). I had just schlepped all over the damn city in search of a map that should be on their website.
"Najeeb sahib, I am just looking for information that should be available to the public and which your office should be providing," I retorted.
"You have a soft copy on your computer, I want it."

"I don't have a soft copy."
He then gave me some BS about how only the district officers could hand out that kind of information. I would have to go to that office at the City Courts.
Ok buddy, I thought. This ain't happening today.
I left his room. I then walked swiftly back to the map room. A peon came after me and summoned the staffer I had talked to.
"Najeeb sahib bola rahe hain," (Sir Najeeb is calling) he told him.
Oh boy, I thought, shaamat a gai (I am in trouble.)
As both of them exited I whipped out my cell phone and started taking pictures of the map. Kachick, kachick, kachick.
I then ran out of the office.
Eat this, I nearly yelled as I jumped into my car and sped off. Back at The Express Tribune the Creative team was delighted with the information. They got to work. We were almost ready when they hit a snag. There was a problem with PS 129, which wasn't aligning properly.
Hey maa, I thought, I can't go back to the ECP.
All the hard work was going to go down the drain.
I conferred with a reporter in Islamabad. He agreed that this was public information and spoke to the secretary of the ECP.
"No, problem," the reporter told me. "He's told the Karachi office to give you what you want. Just go meet Sono Khan Baloch."
I thought, wow. Mujhe oopar se ana chahye tha (I should have started at the top tier).
And indeed, when I went back I was welcomed and they allowed me to take all the photos I wanted. They even gave me a soft copy! (Najeeb was lying) (While I was there a fella from the Intelligence Bureau arrived for 1998 information.)
All it took was one phone call.
Fortunately, the people at the helm at the ECP understood that yes, this was public information and everyone had a right to walk into the ECP and ask for it.
We went back to the drawing board. And the result was a beautiful two-page spread to give the voter in Karachi the information they deserved to have all along.
While I was immensely happy it worked out, I felt angry that if an average voter had gone to the ECP office and asked to see the map, the petty bureaucrats sitting there would have denied them.
I would urge the ECP to put the map up on the website.
But if it doesn't, you can always see it in its entirety here at The Express Tribune.
Read more by Mahim here or follow her on Twitter @Mahim_Maher