The girl in the shabby clothes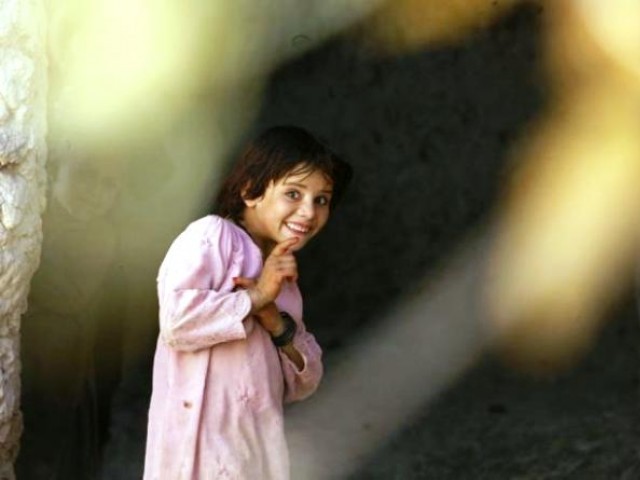 This time, it feels different. This time, the view has changed. Or maybe it's not the view that has changed; it's the person gazing upon it who has changed.
This time, I have changed.
Seven years ago when I was here, all I saw were the dirt strewn, littered streets. I saw girls getting married at a sadly young age; I saw how women were limited to indoor activities. I saw families with more children than they could afford to raise. Most troubling of all, I saw a severe lack of education. Words like ambition and individualism were foreign concepts here. It seemed like the people here were unaware of man's progress and achievements. Clearly, they were not living in the 21st century.
I realise now, that it was my perspective that was wrong. I looked at everything with a pre-conceived bias, with detest. I only saw what was on the surface. I saw what I had already decided I would see. Today, it is those same things that harbour my curiosity and encourage me to go back and understand; to take a look at the same scene with a new perspective; to be the harbinger of positive change.
Today is my first day in the village. We arrived here from Islamabad last night, that's where we land and spend a couple of days before heading to Bebe's house in the village. I saw the little girl who comes to help out at the house with chores and errands twice a week. She is older than she looks. My aunt told me she's an 11-year-old, and has 12 siblings. She walks all the way from the neighbouring village to ours early morning, and helps out in several houses in this neighbourhood to earn some money in order to put food on the table for her ridiculously large family. Her father has another family and does not contribute much. Her mother and her siblings work in other houses in villages nearby.
I observe her as she sits in the straw strewn bed we call a charpai, picking peas from a pod, and cutting vegetables. We are both sitting across from each other in the charpai in the veranda, soaking up in the sun. Its winter time and early afternoon is the only time of day the sun is high in the sky and its heat balances the cool, chilling breeze.
This little girl surprises me. As I watch her skipping around lightly, going about her chores with a shy smile on her face, and energy in her step, I am amazed. Her slippers are torn, and so is her dupata in various places. She is wearing mismatched clothes, and looks like she hasn't showered in days. Underneath all that, I see the honey streaked hair, the striking green eyes, and the captivating smile. As I watch her, I wonder what she would look like if someone scrubbed her clean, washed her hair, and put pretty clothes on her. I get distracted by her humming and the image I was sketching in my mind fades away.
As I look at her, I know that she steals glances at me too and knows where I come from. I wonder if she thinks I'm "Dubai folk" and could not possibly know anything of struggle and hardship.
Despite her situation and misfortunes, she goes about her chores in such a positive manner. She is confident; in those torn slippers, and dirty clothes, she is sure of whom she is and what she has to do for her family and she enjoys it while she is at it. She is humming some familiar tune that I fail to recognise.
When she was done for the day, and was getting ready to leave, I stepped out of my room to give her a big box of Jewels chocolates. She looks surprised and does not know how to react. I'm sure she does not usually get big boxes of chocolates as presents. Actually, I am pretty sure she hardly ever gets presents. I urge her to take it, and to enjoy the chocolates on her walk home, and share them with her siblings. She looks lost for words and smiles widely at me before taking the box, hiding it underneath her shawl as she wears her chail and walks out the front door.
My last day in the village, I was hugging everybody goodbye when I saw her. She was peeking out from the window of the room where she had been cleaning. She was shy, I had tried talking to her before, but I think she was intimidated by me and did not know what to say. She doesn't talk to anyone, but she smiles at me. It was our thing; we would just smile at each other. I wave goodbye to her, and she gave me another innocent smile and waved back.
On the flight back to Dubai, I was thinking about her. I realised that she and I were not very different. We both came from the same place. I could have been her.
She could have been me.
A year later, I was in the same village house at the funeral of my beloved uncle. The news had reached us in the middle of the night, and we had taken the first flight out to Peshawar. In the huge swarm of mourning, grieving people, I did not really see or recognise anybody except for my family. I was there physically, but not mentally. Faces did not register with me; names did not ring any bells. I just shook hands with a lot of people, and checked on my family to make sure they were keeping themselves hydrated and physically stable.
While taking care of everyone else, I did not have time to do other chores that needed to be done. Magically though, my clothes would always be ironed, laid out on the bed ready for me before I would step into the shower.
I saw her lurking around and then I finally recognised her. She would follow me around, and try to help- without me even noticing her. I looked at her and she gave me that heart warming smile again. I smile back and realise that I know what I'm going to give her next; books.
I realised that just because I am not her is no reason why she still could not be me.
Follow her on Twitter @haifa_badi