Bronze medal: A start towards golden times in Hockey?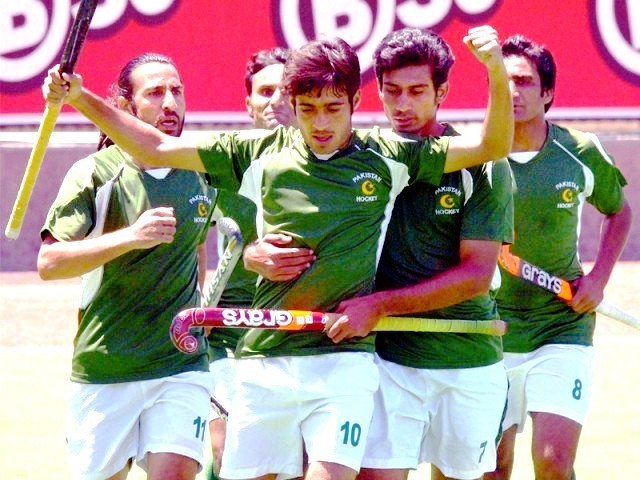 Pakistan was able to end the draught by winning its first FIH medal in eight years! This was only possible after defeating India by a margin of 3-2 in the Champions Trophy Hockey. This was also Pakistan's first medal after the gold in the Asian Games 2010.
Is this victory of any significance? Questions we should be asking are; how did we perform throughout the tournament? Who were the outstanding players? What's in store for the future of Pakistan?
Yes, this victory is significant, considering Pakistan's performance in the Olympic Games, where we were able to secure the seventh position, this is definitely an improvement. We should also keep in mind that all the major teams in the tournament were played by younger players and almost all of them had second string squads.
Being able to attain a bronze medal in such a competitive tournament will help motivate the Pakistani players. Furthermore, it will instil the belief that they can win amidst constant pressure and against top teams.
This victory will hopefully improve Pakistan's ranking. According to the new FIH ranking system, Pakistan should earn 170 rating points. If these are implemented, it will help them secure the fifth or sixth position from their current, ninth position.
Moreover, this victory can be the start of a revival for Pakistan's hockey games, provided we stop changing the captains, coaches, players and goal keepers in every tournament. Instead, we should focus on giving these selective players and management more time to improve their skills and gain further confidence.
Pakistan performed extremely well in most of the matches played. Starting from the first match of the tournament against Netherlands, where they were able to take the lead but couldn't apply enough pressure to score more goals and ended up losing 1-3.
Pakistan absolutely outclassed Belgium; they are higher ranked than Pakistan and we won the match 2-0. The last match of the group stage was against, the world's number one team and Olympics champion, Australia. However, Pakistan gave them a rather tough time. Had it not been for a controversial penalty corner, Pakistan could have performed better. They lost to Australia 0-1.
Fortunately, the new format of the tournament – in which quarter finals were introduced for the first time – worked towards Pakistan's advantage. Pakistan out played Germany and were able to qualify for the semi final. The semi final result, however, was predicted and Netherlands won by a huge margin of 5-2.
Lastly, the biggest and most significant match was Pakistan versus India for the bronze medal. The match started at the usual brisk pace and India was able to score in the eighth minute. After that, it was all Pakistan. Most of the match was played in the Indian half with Pakistan getting ample chances to score; they did avail some of them and won the match comfortably with a margin of 3-2.
However they missed out on the simpler chances. These include not being able to trick the goal keeper and even when they were able to, they missed the target. In the match against Australia during the first half, Pakistan had 79% possession against such an outstanding team. They had nine shots on the goal in the first 25 minutes but were still unable to score. This is one area in which Pakistan should look into and improve.
Having said as much, Pakistan had many proud moments during this championship.
Shakeel Abbasi was named player of the tournament. Not only was he able to score goals at crucial stages, he also provided many chances and opportunities for the team to win. Moreover, the highlight of the tournament has to be his performance in the match against Germany, in which he won the match for Pakistan by scoring both the goals.
One man shows are rare in hockey, but with Shakeel Abbasi, they are not non-existent.
Imran Butt was also exceptional, for the most pat. This time around his performance was significant in Pakistan's success. He was able to save many penalty corners and shots on goals. Haseem Khan and Umar Bhutta are the younger players who will be an asset for Pakistan hockey in the coming years.
Pakistan's next challenge is the 2nd Asian Champions Trophy that starts in Doha from December 20, 2012. With teams like India, Korea and Malaysia this is not going to be an easy tournament. Pakistan has a few scores to settle as they lost to India in the final, inaugural tournament on penalty shoot outs.
A successful win here will ensure that champion's trophy wasn't just a one time, by chance win; it will confirm that Pakistan hockey is going in the right direction.
Read more by Raafay here, or follow him on Twitter @raafayawan