Zeeshan Abbasi: Assassination by phenyl and other conspiracy theories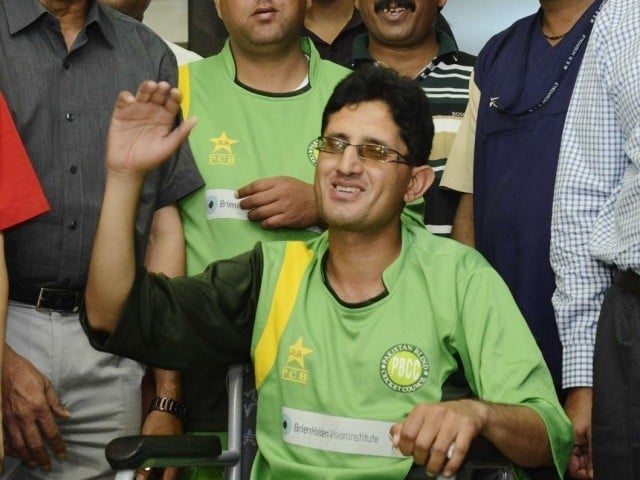 The news of Pakistan's visually impaired cricketer, Zeeshan Abbasi ingesting diluted phenyl (as reported by Indian and Pakistani media respectively) was both shocking as well as unfortunate.
Here is a guy, who has overcome all odds in his life, to valiantly claim his rightful place under the sun. Abbasi is an inspiration to all of us. That he had to suffer such hardships on foreign soil -that too in a country which takes great pride in its tradition of "Atithi Devo Bhavah" (The guest is god) – should make Indians more concerned about this issue than Pakistanis.
Thankfully, Abbasi received proper medical attention and was out of hospital within a few hours.
While Abbasi was recuperating, an unfortunate set of allegations and counter allegations was unfolding in the media.
As with most issues involving our countries, this too was sensationalised.
Pakistanis were hurt, and rightly so. I can imagine the kind of angst I would feel if one of the Indian cricket players suffered food poisoning while on tour to Pakistan. But to suggest that there was a bigger conspiracy and that Indians tried to kill Abbasi is outright demeaning.
Here are my reasons;
Pakistani cricketers like Saeed Anwar, Inzamamul Haq and Javed Miandad, to name a few, toured India numerous times and blew Indian bowling attack to smithereens. They were never poisoned. My point here isn't that Abbasi is a lesser player. My point is, considering the kind of volatile relationship between the two countries, neither one can afford to let anything bad happen to the other country's players/dignitaries on their soil.
Assassination by phenyl? Let's sit back, cool down and think logically. Does it sound like the most subtle way to take out an 'enemy'?
What this issue highlights is the gaping trust deficit between the two countries.
Whenever something happens, we are quick at pointing fingers at each other. Indian Mujahideen might plant a bomb in Bangalore, but the first suspect is always Pakistan. Indigenous Baluchis might be fighting for their own rights, but the story won't be compelling unless RAW is involved.
Sensationalism is the staple diet on which the hawks in both the countries thrive. The Indian hawk knows that a section of Indian population doesn't buy the 'Superpower India' story. He knows that the Maoists and a section of disillusioned Kashmiris are our own people and their grievances must be heard and addressed. But that seems like a tedious process to him. So what does he do? He simply blames the ISI for funding and arming every damned soul who tries to take on the Indian state.
The Pakistani hawk knows how cheated the people of Balochistan feel when their resource rich land is used to brighten the lives of millions of Pakistanis while they are forced to live in abject poverty. But instead of sitting with them and giving them what's rightly theirs, a nexus of RAW-CIA-Mossad is blamed for all the killings and fighting.
Sadly, this attitude is pervading the psyche of ordinary Indians and Pakistanis.
At times, we get paranoid and that makes us to conclude the worst, no matter how implausible it sounds.
I once drank half a cup of mustard oil in darkness thinking I was holding a cup of tea. A friend of mine once tried brushing his teeth with Fair and Handsome which was kept beside his toothpaste.
My point is, while foul play cannot be completely ruled out, let's not indulge in imagining all sorts of conspiracy theories until the investigation is complete.
The only foul play I find plausible is that some ignorant mischief monger did this to the poor guy, but that again is for the Bangalore police to investigate. When in India, Abbasi is India's responsibility and we cannot shy away from it. The least the Indian administration can do is conduct a fast and fair investigation into the issue and, if there was any foul play, punish the guilty with the strictest punishment prescribed for such an offence.
The attendants of Pakistani players need to be more careful in keeping an eye on what the players eat and drink.
Until then, let's pray for the speedy and complete recovery of Zeeshan Abbasi.
Let this incident be an eye opener for all of us to indulge in positive confidence building discussions instead of jumping to conspiracy theories at the every available opportunity.
Loading ...
Read more by Kunal here, or follow him on Twitter @kunal_anand1