Manahil & Khalil: Ishq ab mamnoon na raha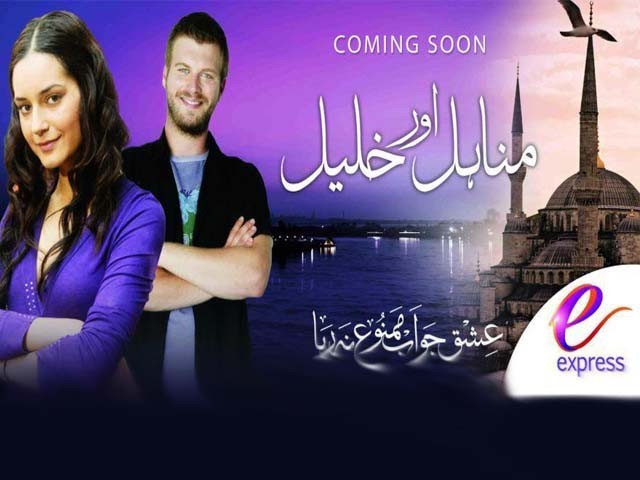 Amidst our fast-paced, monotonous and increasingly modern world, we need an out – some form of escapism. Between crunching numbers to seize business deals and clinging on to our precious children, each one of us craves for that moment of solitude.
I find this tranquillity within the underlying fashion, love, betrayal and glamour. Devoting a couple of uninterrupted hours to soaps, on a local television channel seems to be my recipe to a sane life. A recent believer of this quick, daily therapeutic tip, I have become addicted.
Try it out, if you aren't a victim yet.
A confession, the cause of this is none but the infamous Ishq-e-Mamnoo.
This Turkish TV serial sucks you in and before you know it, you are stuck trying to balance two worlds. Cuddled in your favourite comfy spot on the couch with eyes glued on to the television, struggling to eat, we become vigilant. Ignoring our world, we indulge and start alternating lives.
It sounds great but what happens when this show comes to an end?
Yes, all good things have to come to an end but as Marilyn Monroe says, "good things fall apart so better things can fall together".
Trust me, it's true.
After such a profound success and a vast audience, word on the street is a similar Turkish soap, Manahil & Khalil (Ishq ab mamnoon na raha) featuring Khalil (Behlul) and Manahil is coming up on Express Entertainment!
If this isn't hope for us avid television viewers then I don't know what hope is.
Aside from the very obvious entertainment that these soaps provide, they are exposing our sheltered population to some much needed diversity- something that Pakistan desperately lacks. It's easy to say that diversity brings with it modernity, but so what? While I agree that conservatism is a part of our culture, this does not mean we shun everything that differs from what we believe in. We needn't adopt the lifestyle portrayed by these dubbed shows, but by just welcoming them, we are encouraging the concept of acceptance and open-mindedness.
I salute these TV series that bring back awareness, acceptance and opportunity.
Through these series aired on local channels, the common man is able to see places he/she may never be able to but desires to visit. It seems to be a battle against ignorance and a haven for fantasy.
I have invested my free time watching these series and most of my not-free time, discussing them; I have surreal expectations. Provided, the dubbing isn't as obvious and the necklines are not that low. Moderate is good.
The story in this one revolves around a Turkish girl who resides in Germany. She is torn between familial ties and love. Later, she seeks refuge in Turkey with her true love, Halil. The story appears to be a struggle, a true fight for an impossible love.
Yup! I'm sold.
A new plot, a familiar face and entertainment on a whole new level- what more could one want? After having stalked every Facebook picture and video, I can't wait! See, even in the bleakest of times the road to hope may be narrow but it surely exists!
The truth is as Pakistanis we need to learn the concept of acceptance. We need to learn how to grow, learn to respect and give space to other people, their ideas and their way of life. Perhaps, these shows are making the common man more tolerant and dare I say, aware?
Here's to Ishq Jo Ab Mamnoon Na Raha, airing Dec 17, 2012.
Read more by Bushra here, or follow her on Twitter @bushraparekh